Maria Mc Cormack is a Churchill native who is best known as the friendly face behind The Happy Camper Cafe. 
The pancake master has been serving up treats and smiles to people outside Glenveagh since June 2016. The cafe was the brainchild of Maria and her sister Jane, who went on to set up the Happy Camper cafe at Cooneys Letterkenny.
Maria was a full-time singer/songwriter for three years before the cafe. She even sang 'My Donegal'!
She is the proud mum of nine-year-old Ultan, who works with her during the summer holidays.
Maria had a bumpy year in 2017, when her beloved campervan was destroyed after rolling into a bog at Easter. The accident prompted a huge outpouring of kindness from the community and it wasn't long before Happy Camper Mark 2 was back on the road.
Maria uses her famous pancakes to raise funds for local charities, and has so far fundraised around €5,000 for organisations including iCAN, the Donkey Sanctuary, the Churchill Playground and Pieta House.
Maria is looking forward to raising more money for charity at an exciting event next week – For The Love Of Street Food! 
Manor Picnic Area will be turned into a foodie hub on January 27th to raise funds for The North West Simon Community. The Happy Camper, 9ine Hostages Coffee Co. and The Spicy Bird will be serving great pancakes, coffee, artisan treats and savoury dishes from 10am to 4pm.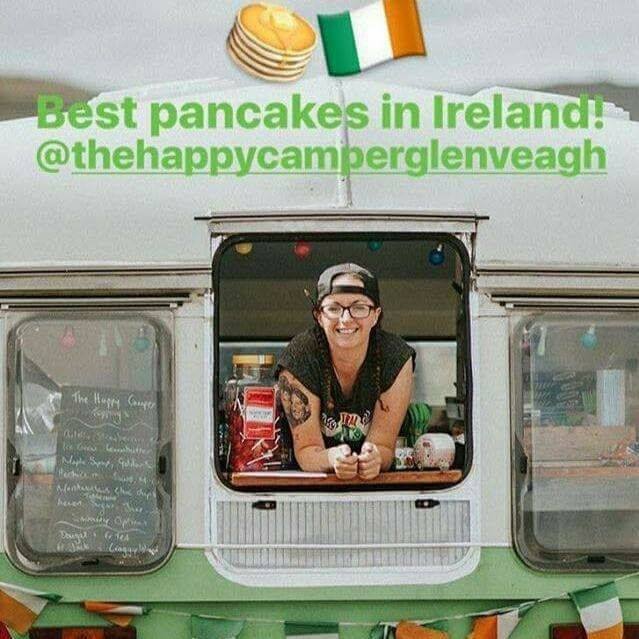 Here is Maria's My Donegal…
Where is your favourite place in 

Donegal

 and why?
My favourite place in Donegal is Tory Island. I have only visited twice but I think  I left my heart there.
Who is the one person in 

Donegal

 that you look up to and why?
Last year's Donegal person of the year award Stephen McCahill.  I listened to his speech when he opened the Churchill fair last year and he blew me away with his true love and care for improving his community.
What do you think is Donegal's best tourist attraction?
Donegal has so many incredible attractions but for me, it has to be Glenveagh National Park.  Its beauty takes my breath away each time I visit.
Do you prefer Donegal summers or Donegal winters?
Summer … myself and my son Ultan love to get camping and swimming as.much as possible around the county.
What is your favourite 

Donegal

-made product?
Bogman Beanies
Who is 

Donegal

's most successful businessperson in your opinion?
Enya
Who is your favourite 

Donegal

 sportsperson of all time?
Packie Bonner
What is your favourite 

Donegal

 restaurant?
Bayview Dungloe
If you could change one thing about 

Donegal

 what would it be?
The litter along our roads.
What is your favourite 

Donegal

 saying or expression?
How's she cutting? Full of the blade.
What is your favourite 

Donegal

 food?
Happy Camper pancakes of course.
Do you have a favourite local band?
In Their Thousands… I would go to the moon to see them.
Daniel O'Donnell or Packie Bonner?
Daniel … I would give Maire Rua a run for her money for No 1 fan. He is a gentleman and I hope he comes for pancakes someday.
Do you want to take part in the My Donegal interview series? Let us know by emailing info@donegaldaily.com
Tags: