Siblings of children with disabilities and special needs are set to have their own youth club in Inishowen, starting this week. 
Parent-run youth service iCARE Buncrana identified the need for a weekly club for siblings to meet up, enjoy fun activities and explore their feelings.
Organisers said, "Having a child with special needs affects the whole family, including any siblings. Siblings may experience feelings of loss and resentment when their brother or sister with special needs hogs a large part of parental time and attention.
"Siblings may be unable to talk to other people about their experiences, which can lead to feelings of isolation, particularly if parents don't always want to share details of their sibling's condition with them."

The youth club, established by iCARE workers Catriona McEleney and Agnes Doherty, will run activities including dancing, music, cookery, arts, sport, support, home work club and informal education.
Organisers said: "The effects of growing up in a household that includes a special needs child are being recognised more and more, and there are sibling support groups providing information and contact with other people who get what it's like. That's why iCARE are starting this all new youth club for siblings of a child with a disability."
Catriona adds: "We are really excited about starting this new club, it will be youth led and we would like to see as many siblings join as possible, we hope to organise fun activities throughout the year, including trips away in the summer."
The new club starts on Thursday 8th February 2018 at 5pm in the iCARE Centre, registration starts at 4:45pm, non iCARE members are welcome, this club is open to any child aged 4-12 years old from Inishowen area. The new club will then meet every Thursday from 5pm – 7pm.
 For more information contact the iCARE centre on 0749362226 or Mobile 0861081200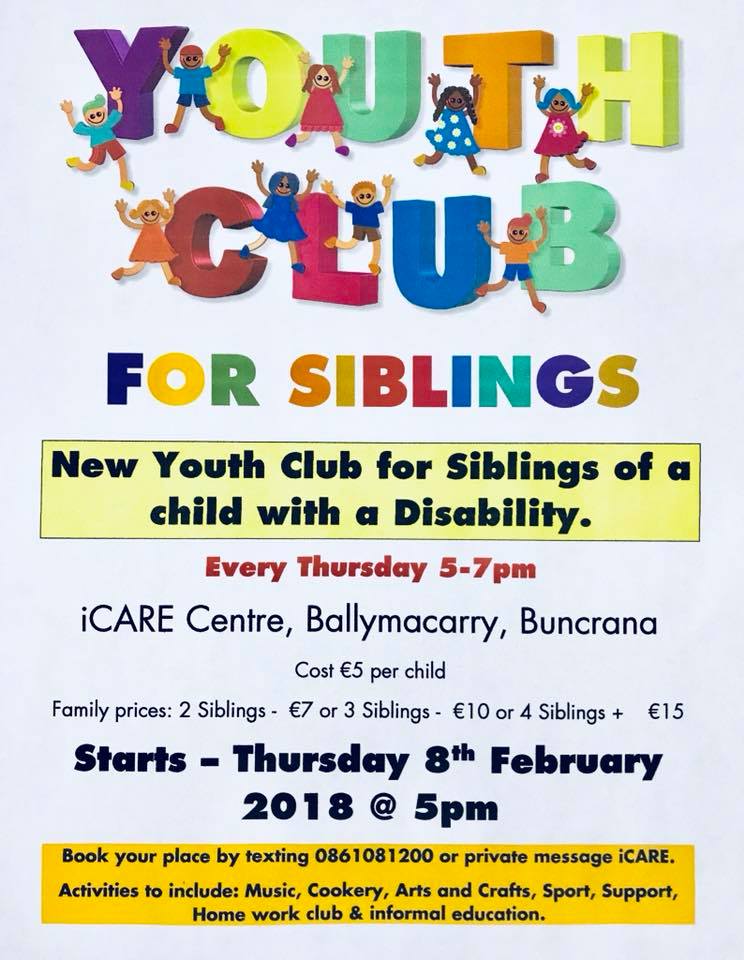 Tags: