No Barriers Foundation proves itself as a LEADER in supporting disabilities in hard to reach communities with the announcement of a 75% grant for the purchase of a revolutionary suit.
The "No Barriers Foundation" committee have announced and acknowledged generous funding received from LEADER for the purchase of a revolutionary one size fits all "Exoskeleton Bionic Rehabilitation Suit".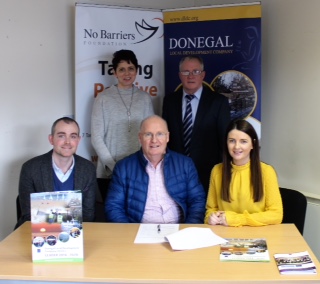 Front Row: Left: Johnny Loughrey (Director and Lead Physio for The No Barriers Foundation) Michael Gallagher (CEO No Barriers Foundation) Aisling McGee (LEADER Project Officer) Back Row Left: Sonia McGarvey Secretary No Barriers Foundation and Frank Kelly (Rural Development Manager)
The project will allow people living with physical and intellectual disabilities to get active within their communities in Donegal. The Exoskeleton Robotic Suit is a wearable bionic suit in a 'one size fits all' design.
It will ultimately allow persons with disabilities in hard to reach communities access to modern, innovative equipment which ultimately will change their lives, both mentally and physically.
This equipment is revolutionary and will transform the area of Neuro Rehab within the community in Donegal.
The No Barriers Foundation CLG Committee is a voluntary group of people who are dedicated to the wellbeing of people with certain disabilities in Donegal. The Committee includes experienced health professionals including Physiotherapists, Occupational Therapists and GPs, all of whom provide formidable and sustainable management of the organisation.
No Barriers Foundation are based in Letterkenny, however although they intend to roll out the service in the town initially it will be followed by further additional geographically centres located around Donegal, ensuring clients have access to the Suit within an acceptable distance to home.
As part of the experience a specially trained physio therapist will accompany and assist the service user at all times.
Speaking on behalf of DLDC, Frank Kelly, LEADER, said the funding will have a massive impact on those with limited mobility / disability in Donegal.
Mr Kelly said: "Funding under the Basic Services measure of LEADER targeted at "hard to reach communities" is a perfect fit with this project".
LEADER will contribute funding of €121,035 to the project at a grant rate of 75% with the No Barriers Foundation committee contributing in excess of €40,000 of their own funding fundraising to the project.
In Letterkenny, LEADER is implemented by Donegal Local Development CLG, Partner to the Donegal Local Community Development Committee, Donegal County Council and the Department of Rural & Community Development through grant aid received under The European Agricultural Fund for Rural Development in Ireland 2014-2020: "Europe investing in rural areas."
The purchase and launch of the Exoskeleton Bionic Rehabilitation Suit is due to be announced in the coming months.
For more information, contact No Barriers Foundation: Call:  0749111010  Email: www.nobarries.ie or alternatively find us on Facebook: No Barriers Foundation
Tags: