Fanad United came from behind against Swilly Rovers at Traigh-a-Loch on Saturday, to open up a six-point lead at the top of the Donegal Youth League
Fanad United 3 Swilly Rovers 1
The first chance of the game arrived after five minutes when Jason McDaid's well hit shot from out side the box went just over the Fanad crossbar.
Both teams tried to play decent football but the strong crosswind made this difficult.
The next chance of note fell to Darren McElwaine for Fanad in the 35th minute, but his well hit shot produced a fine save from Jamie Blaney in the Swilly goals.
Two minutes later Padraig McGinty headed wide after being set up by Keelin McGroddy.
Five minutes before the break, Fanad left back Shaun Kerr hit the crossbar with a well hit shot and Keelin McGroddy seen his shot from the rebound well blocked.
Ten minutes into the second half, Bernard McGettigan went on a storming run down the right and his cross was met by Padraig McGinty who headed wide.
In the 65th minute Ryan Toye unleashed a superb shot from 30 yards out which smashed off the post.
Slightly against the run of play Swilly took the lead in the 70th minute.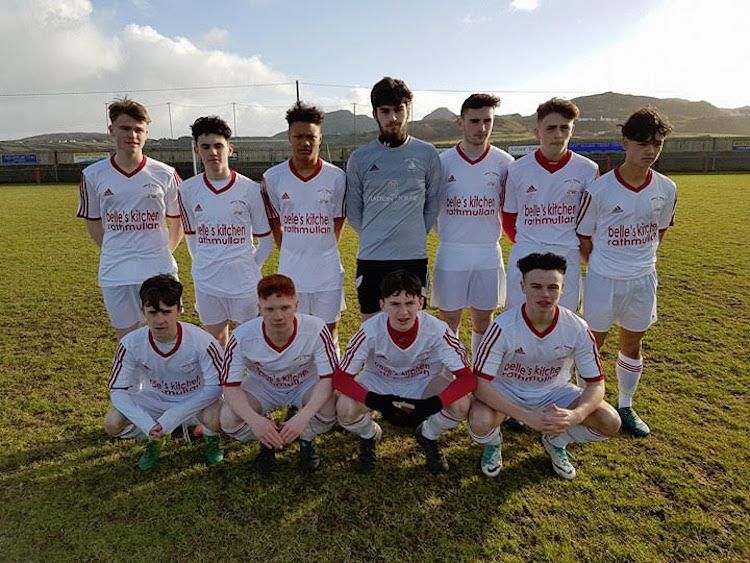 When Finnian O'Donnell was sent clear he held off the attentions of two Fanad players and produced an accomplished finish into the bottom corner.
Fanad started to apply pressure after that and got an equaliser with eight minutes remaining.
Darren McElwaine showed great skill to evade two challenges in the box and he squared the ball to Padraig McGinty who slotted home from close range.
Fanad continued to press and went ahead with three minutes remaining when McGinty headed home a Keelin McGroddy corner.
With one of the last kicks of the game Fanad got the insurance goal.
Darragh Greene broke into the box and crossed to Keelin McGroddy who controlled the ball before firing home. 
Fanad United: Eoghan Jordan, Bernard McGettigan, Shaun Kerr, Matthew Gallagher, Peter Curran, Darren McElwaine, Paul Bradley, Padraig McGinty, Fergus Friel (Darragh Greene 60), Keelin McGroddy, Ryan Toye
Swilly Rovers: Jamie Blaney, Odrahn Brogan, Jack McCauley, Johnny Gallagher, Jason McDaid (Gerard McAteer 61), Connor O'Donnell, Eoin Logue, Matthew McLaughlin, Finnian O'Donnell, Jordan Nugent, Kyle McMullan
Referee: Vincent McLaughlin
Tags: