Ballybofey based Finn Wheelers Cycling Club are appealing for TDs to vote on the amendment to the Road Traffic Bill on this Wednesday which will introduce the minimum passing distance to 1.5 metres between a vehicle and a cyclist.
Fianna Fáil TD Robert Troy is spearheading the bill, which if passed will penalise motorists who pass cyclists with 1 metre between them when the vehicle is travelling at 50km/h, and 1.5 metres at over 50km/h respectively.
The Finn Wheelers are fully supportive of the proposal which will help to safeguard cyclists safety on our roads at a time when cyclists deaths have increased dramatically – a 50% increase from 2016 to 2017 – while other road deaths have fallen.
Between 2010 and 2013, 27 cyclists died on Irish roads. This almost doubled to 46 fatalities between 2014 and 2017.
This legislation is supported by Minister Ciarán Cannon, FG Minister of State for the Diaspora and International Development, and Minister Regina Doherty, FG Minister for Employment Affairs and Social Protection, who originally brought it forward in the form of a Private Member's Bill. This (Private Member's) Bill received all-party approval at its First Stage reading in the Dáil but did not proceed to a second reading.
The local cycling club are now hoping that Donegal TDs will get on board with the amendment.
The amendment has received cross-party support, and is supported by 50 TDs, but 29 other TD's support is needed for a majority rule.
A spokesperson for the Finn Wheelers says: "This life-saving Minimum Passing Distance Legislation (MPDL) is now operative in a total of 42 jurisdictions around the world.
"It has proven to lead to the saving of lives. For the past number of years, the Stayin' Alive at 1.5 Campaign has been campaigning for this measure to be brought into Irish road traffic law.
"It is time that we in Ireland do the same and we urge you to help get this critical road safety measure over the line by supporting the proposed amendment."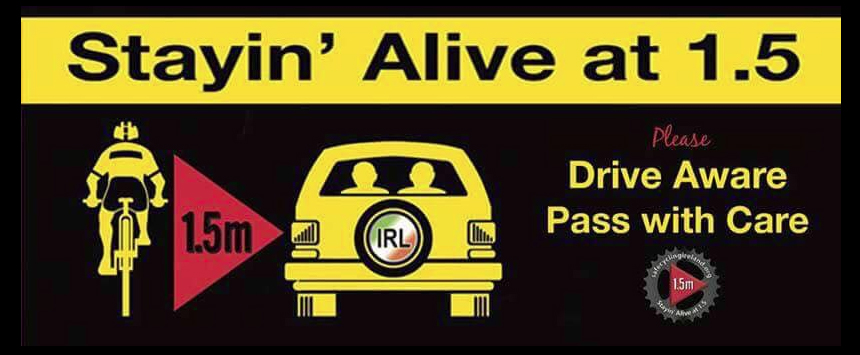 Tags: