When a 12-year-old John Haran first walked through the echoing corridors of St Jarlath's College in Tuam, the framed pictures of the folklored teams of yesteryear dotted the walls.
If those walls could talk, the stories they'd tell could fill many an evening. By then, the Galway secondary school had won the Hogan Cup on 10 occasions, a record that has since stretched to 12.
Haran grew up in Hawthorn Heights in Letterkenny, an estate that literally is in the shadows of St Eunan's College. However, when his father Seamus told him "if there's football in you then St Jarlath's will get it out of you," John, in September 1989, made the decision to follow the path down the N17 his older brother Eamon had made a year beforehand.
Despite their successes in the Hogan Cup, St Jarlath's last victory in the competition came in 1984 with another Letterkenny native, Leslie McGettigan, on board. And having also lost the inaugural final in 1946, were beaten finalists in 1990, 1992 and 1993. During those years, Eamon Haran and Ronan Dillon from Letterkenny possessed hard luck stories, as did Falcarragh's Alan McFadden.
Life, though, was simple for John Haran.
"You heard the stories about all the teams that had gone before," he says. "As a boarder you went to school, studied, trained, played football and talked football. Football was life. I just stuck with it, made friends, got used to it and soon loved it.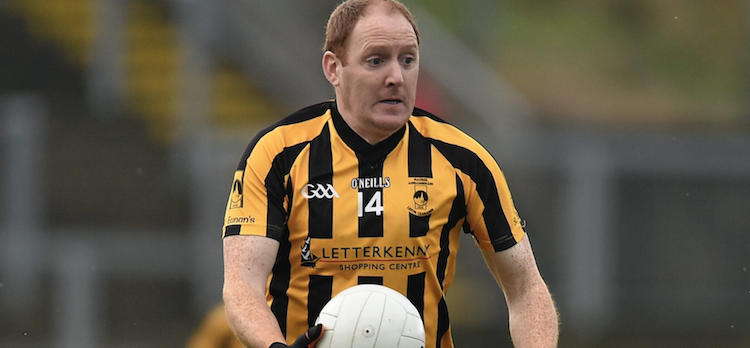 "It was boarding for seven nights and then you'd get home once a month for a long weekend. Most of the club football at home around this time was played in the summer so I can't recall ever missing too much with St Eunan's at the various underage levels."
By the time the 1993/94 school year came around, St Jarlath's were moulding a considerable team. It was a team so good in fact, it would provide the backbone for the Galway senior panel who would go on to win Sam Maguire in 1998 and again in 2001, losing the 2000 final against Kerry in a replay played on October's first Saturday.
"There were some exceptional footballers there looking back," Haran adds. "Just look at the fact that Michael Donnellan was Footballer of the Year in 1998, Declan Meehan in 2001 and Padraic Joyce, well, was Padraic Joyce."
Tomás Meehan, John Divily and John Concannon would also star for Galway as the West was awakened, having learned their trade in Tuam. Another Letterkenny native and St Eunan's forward, Kevin Winston, had come to St Jarlath's after his Junior Cert.
The 1994 Connacht final couldn't have been a more local affair, with St Jarlath's overcoming St Patrick's College from "across the wall" in Tuam before St Mel's College from Longford were defeated in the All-Ireland semi-final.
In the final, which took place in Longford, at Pearse Park, with Haran lining out at wing-forward, St Jarlath's were in imperious form, brushing aside the challenge of St Patrick's College from Maghera, Co Derry, on a 3-11 to 0-9 scoreline. Padraic Joyce, as captain, lifted the trophy after the most comprehensive of wins.
"There was big pressure on you when you went to St Jarlath's," Haran adds. "There was a big history there to contend with but they were good times.
"In 2014, we had our 20-year reunion and it was great to meet up with everyone again. We're on a Wassap group but there was more talk on it this week about Man United playing Spurs than Donegal's game with Galway!"

Tomorrow afternoon Haran, now the St Eunan's club vice-chairman, will be at O'Donnell Park, perhaps selling tickets and greeting supporters from both Galway and from Donegal.
After the Hogan Cup, Haran would go onto make his senior debut for St Eunan's in 1995 and this is the first season the O'Donnell Park club will be without his services since. With Donegal, Haran's standout moment came at Croke Park in the 2003 All-Ireland quarter-final when he kicked the equalizing point against none other than Galway.
Brian McEniff's Donegal, relegated from Division 1 and beaten by Fermanagh in Ulster, upset the form book in the replay at MacHale Park, winning 0-14 to 0-11. Haran left Croke Park having exchanged jerseys with Tommy Joyce and came home from Castlebar with Declan Meehan's. He still has both at home, describing them as "prized possessions."
St Jarlath's and St Eunan's certainly benefitted from the education picked up from a youngster who took to the road before his teens. Haran's father Seamus – all those years ago – was right: St Jarlath's certainly did get the football out of him.
Tags: