There were course record from Greg Roberts and Teresa Doherty at the Glenmore 10 mile event today.
The Finn Valley AC-hosted event had 550 starters over a great course.
The second annual event was won by City of Derry AC's Roberts in 53 minutes and 22 seconds, a course record there.
Finn Valley's Mark McPaul (56:15) was second with his club mate John McElhill (56:30) in third.
Doherty also set a course record as she won the women's race in 57:50, just ahead of Natasha Adams from Letterkenny AC (58:42).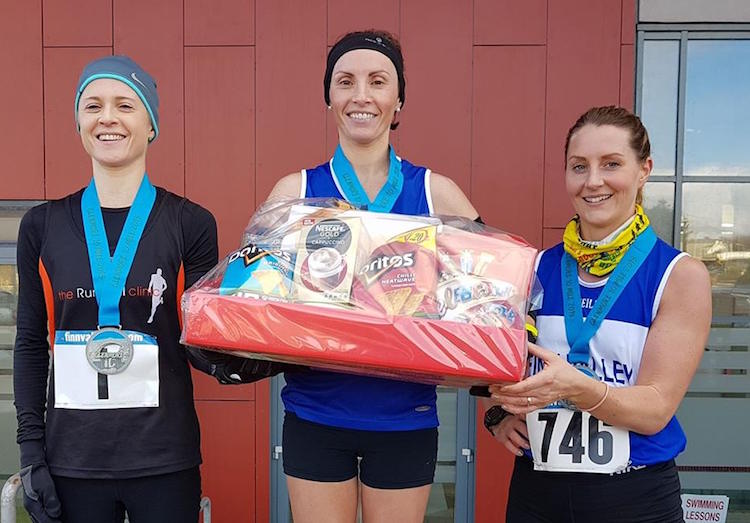 Enjoying the sponsorship of Ulster Tyres, Andies, Rite Financial, Callaghan Doors, Donegal Glass, McElhinneys and Supervalu plus Aurivo the host club will be encouraged.
Glenmore 10 Mile 2018
Place
Bib
Name
Gender
AG
Club
ChipTime
GunTime
1.
810
Roberts Greg
m
MO
City of derry
0:53:22
0:53:22
2.
717
Mc Paul Mark
m
MO
Finn Valley AC
0:56:14
0:56:15
3.
436
MC ELHILL John
m
M40
Finn Valley AC
0:56:30
0:56:30
4.
169
DOHERTY TERESA
f
FO
Finn Valley AC
0:57:49
0:57:50
5.
1
Adams Natasha
f
FO
Letterkenny AC
0:58:42
0:58:42
6.
438
Mc Fadden John
m
MO
0:59:21
0:59:22
7.
335
Kerr Michael
m
M40
Carmen Runners AC
0:59:28
0:59:29
8.
328
Kelly Paul
m
MO
Lifford Strabane AC
0:59:33
0:59:33
9.
385
MC CALLION THOMAS
m
M40
Rise Running Club
0:59:38
0:59:38
10.
734
Melaugh Kenny
m
MO
Lifford Strabane AC
0:59:39
0:59:39
11.
103
CONNOR STEPHEN
m
MO
FOYLE VALLEY AC
0:59:42
0:59:43
12.
820
Ryan Paddy
m
MO
MILFORD AC
0:59:45
0:59:46
13.
745
Mullan Benny
m
M40
Inishowen AC
0:59:58
0:59:59
14.
210
FISHER JOHN
m
MO
Rise Running Club
1:00:03
1:00:05
15.
190
Duncan bill
m
M50
Lifford Strabane AC
1:00:09
1:00:10
16.
456
Mc Fadden Sean
m
M40
Letterkenny AC
1:00:11
1:00:12
17.
149
Doherty Anthony
m
M40
MILFORD AC
1:00:41
1:00:43
18.
38
Boyle Gerard
m
MO
Dunfanaghy ABC
1:01:00
1:01:00
19.
289
Harkin Maurice
m
MO
1:01:04
1:01:06
20.
368
Matthews Ronan
m
MO
Tír Chonaill AC
1:01:26
1:01:27
21.
444
Mc Gee Eamonn
m
M40
ROSSES AC
1:01:29
1:01:29
22.
384
MC CALLION EDDIE
m
MO
Rise Running Club
1:01:36
1:01:36
23.
764
O Donnell Charlie
m
M40
ROSSES AC
1:01:49
1:01:49
24.
243
Marshall Finley
m
MO
ROSSES AC
1:02:14
1:02:14
25.
484
Mc Hugh Michael
m
M40
MILFORD AC
1:02:28
1:02:31
26.
776
O Donnell Shane
m
MO
ROSSES AC
1:02:44
1:02:45
27.
445
Mc Gee Fergal
m
MO
ROSSES AC
1:02:48
1:02:48
28.
56
BRENNAN PATRICK
m
MO
Letterkenny AC
1:03:19
1:03:21
29.
766
O Donnell Eamonn
m
MO
ROSSES AC
1:03:37
1:03:37
30.
121
Cullen Paul
m
M40
Letterkenny 24/7 Triathlon Club
1:03:41
1:03:42
31.
13
Beattie James
m
M40
1:04:00
1:04:02
32.
31
Bonner Seamus
m
M40
1:04:12
1:04:15
33.
191
Duncan Michael
m
M50
Lifford Strabane AC
1:04:20
1:04:21
34.
142
Dillon Paul
m
M40
Lifford Strabane AC
1:04:46
1:04:46
35.
359
Ferry Paul
m
MO
ROSSES AC
1:04:45
1:04:47
36.
160
Doherty Liam
m
M40
Letterkenny AC
1:04:54
1:04:55
37.
374
Mc Bride Declan
m
MO
Cranford AC
1:04:54
1:04:56
38.
702
Mullen Leoni
f
FO
Finn Valley AC
1:05:13
1:05:13
39.
485
Mc Hugh Philip
m
MO
1:05:16
1:05:19
40.
128
DALY BRIAN
m
M40
Rise Running Club
1:05:29
1:05:32
41.
233
Gallagher Niall
m
M40
ROSSES AC
1:05:44
1:05:44
42.
750
Murphy Damian
m
M40
Raphoe Road Runners
1:05:54
1:05:56
43.
189
DUFFY PATRICK
m
M40
MILFORD AC
1:06:00
1:06:03
44.
226
GALLAGHER GERARD
m
MO
Finn Valley AC
1:06:06
1:06:07
45.
241
GALLAGHER SHANE
m
MO
Finn Valley AC
1:06:07
1:06:08
46.
775
O Donnell Seamus
m
M40
Finn Valley AC
1:06:07
1:06:09
47.
102
Mc Nulty Shane
m
M40
Finn Valley AC
1:06:09
1:06:10
48.
375
Mc Bride Manus
m
M40
Finn Valley AC
1:06:30
1:06:34
49.
483
Mc Hugh Manus
m
MO
ROSSES AC
1:06:34
1:06:36
50.
198
Fagan Marty
m
M40
1:06:43
1:06:48
51.
749
Murphy Daithi
m
M50
Carrick on Shannon AC
1:06:45
1:06:49
52.
251
GALLEN EUGENE
m
MO
Finn Valley AC
1:06:52
1:06:55
53.
457
Duffy Chris
m
MO
AGHYARAN ATHLETICS
1:07:00
1:07:01
54.
244
John Mc Clafferty
m
MO
1:07:18
1:07:21
55.
789
Patterson Garvan
m
MO
Two Square Wheels
1:07:35
1:07:39
56.
162
Doherty Paul
m
M40
1:07:50
1:07:59
57.
346
Leighton Andrew
m
M40
CONVOY AC
1:07:59
1:08:05
58.
755
Neely Gary
m
M40
10K Swanlings
1:08:03
1:08:07
59.
236
Gallagher Patrick
m
MO
Springwell RC
1:08:08
1:08:11
60.
270
Gillespie Declan
m
M40
1:08:11
1:08:15
61.
199
Farrelly John
m
M40
Rock Runners
1:08:18
1:08:19
62.
489
Mc Kelvey Paul
m
MO
ROSSES AC
1:08:22
1:08:23
63.
832
Murray Darren
m
MO
1:08:40
1:08:43
64.
207
Ferry Mark
m
M40
MELVIN WJR
1:08:41
1:08:47
65.
451
Mc Gettigan Eugene
m
M40
Letterkenny 24/7 Triathlon Club
1:08:53
1:08:53
66.
92
Catterson Shona
f
FO
MELVIN WJR
1:08:54
1:08:57
67.
380
Mc Cafferty Eugene
m
M40
ROSSES AC
1:08:56
1:08:59
68.
364
O Hagan Fintan
m
M40
CASTLEFINN RUNNING
1:08:52
1:08:59
69.
219
Gallagher Barry
m
M40
Finn Valley AC
1:09:00
1:09:02
70.
69
BURNS STEPHEN
m
MO
1:08:54
1:09:03
71.
458
Mc Ginley Frankie
m
MO
1:08:58
1:09:04
72.
339
King Jason
m
M40
Letterkenny 24/7 Triathlon Club
1:09:12
1:09:16
73.
852
Trimble Patrick
m
M40
ROSSES AC
1:09:38
1:09:39
74.
314
HUGHES JOHN
m
M50
Letterkenny AC
1:09:40
1:09:42
75.
75
Callaghan Adrian
m
M40
Letterkenny AC
1:10:01
1:10:03
76.
713
MC NULTY DAVID
m
MO
Finn Valley AC
1:10:04
1:10:08
77.
110
COYLE OWEN J
m
M60
ROSSES AC
1:10:36
1:10:38
78.
291
Harkin Paddy
m
M40
1:10:38
1:10:41
79.
409
Mc Crossan Gary
m
M40
1:10:40
1:10:44
80.
790
Patterson Paul
m
MO
Tír Chonaill AC
1:10:43
1:10:45
81.
261
Gamble Pat
m
M40
U Turn Running Club
1:10:47
1:10:47
82.
439
Mc Fadden John Paul
m
MO
1:10:50
1:10:54
83.
93
Chambers Barry
m
MO
Finn Valley AC
1:11:00
1:11:00
84.
746
Mullen Leoni
f
FO
Finn Valley AC
1:10:58
1:11:00
85.
114
Doherty Hugo
m
M40
Lifford Strabane AC
1:10:55
1:11:02
86.
848
Tinney Liam
m
M40
Letterkenny 24/7 Triathlon Club
1:11:06
1:11:07
87.
432
MC ELCHAR AINE
f
FO
Finn Valley AC
1:11:19
1:11:22
88.
324
Kelly Martin
m
MO
Lifford Strabane AC
1:11:19
1:11:29
89.
784
O NEILL CATHAL
m
MO
Clann Na nGael
1:11:24
1:11:31
90.
711
Mc Namee Paul
m
M50
Lifford Strabane AC
1:11:34
1:11:43
91.
258
Gallen Steafain
m
MO
1:11:45
1:11:45
92.
202
Farren Thomas
m
M40
Inishowen AC
1:11:52
1:11:54
93.
54
BREEN PAUL
m
M40
Finn Valley AC
1:11:48
1:11:57
94.
206
Ferry Danny
m
MO
ROSSES AC
1:11:58
1:12:01
95.
338
kiely kevin
m
M60
Letterkenny AC
1:12:01
1:12:03
96.
403
Mc Crea Brian
m
MO
Finn Valley AC
1:12:15
1:12:18
97.
292
Harper Marie
f
F40
Finn Valley AC
1:12:16
1:12:19
98.
71
Byrne Shaun Paul
m
M40
Finn Valley AC
1:12:28
1:12:32
99.
736
Lee Paul
m
M50
Letterkenny AC
1:12:28
1:12:33
100.
186
Duffy Jarlath
m
M40
Letterkenny 24/7 Triathlon Club
1:12:25
1:12:40
101.
86
Carlin Sean
m
MO
Lifford Strabane AC
1:12:33
1:12:43
102.
305
Hewett Daniel
m
MO
MILFORD AC
1:12:39
1:12:43
103.
53
Brady pat
m
M50
Letterkenny 24/7 Triathlon Club
1:12:38
1:12:44
104.
78
CALLAGHAN DEREK
m
M40
Finn Valley AC
1:12:42
1:12:44
105.
307
Hewett martin
m
M40
1:12:41
1:12:44
106.
325
Kelly Natasha
f
FO
Letterkenny 24/7 Triathlon Club
1:12:40
1:12:45
107.
130
Day conor
m
M40
1:12:59
1:12:59
108.
12
Bates Rodney
m
M40
CONVOY AC
1:12:52
1:13:02
109.
377
Mc Cabe Marty
m
M40
1:12:58
1:13:02
110.
809
Robb Dwain
m
MO
1:13:02
1:13:05
111.
76
Mc Fadden Irene
f
F40
Letterkenny AC
1:13:04
1:13:09
112.
472
Mc Govern Philip
m
M40
MILFORD AC
1:13:07
1:13:11
113.
87
Carron Tara
f
F40
MILFORD AC
1:13:09
1:13:13
114.
275
Larkin Fionnuala
f
FO
Letterkenny 24/7 Triathlon Club
1:13:13
1:13:19
115.
52
BRADLEY JOHN
m
MO
KCR
1:13:21
1:13:25
116.
323
Kelly Ita
f
F40
Finn Valley AC
1:13:22
1:13:25
117.
326
Kelly Paddy
m
MO
Pro fitness
1:13:13
1:13:30
118.
329
Kelly Philip
m
M40
Lifford Strabane AC
1:13:36
1:13:36
119.
481
Mc Grinder Michael
m
M50
Lifford Strabane AC
1:13:35
1:13:36
120.
835
Stephens Simon
m
MO
1:13:37
1:13:45
121.
168
DOHERTY STEPHEN
m
MO
1:13:49
1:13:54
122.
393
Noel Mc Elhone
m
MO
Carmen Runners AC
1:13:59
1:13:59
123.
302
Herron Dean
m
MO
Glenfin
1:13:44
1:14:01
124.
303
Herron Sandra
f
FO
Finn Valley AC
1:13:45
1:14:01
125.
492
MC KINLEY CATHERINE
f
F40
Letterkenny AC
1:13:58
1:14:04
126.
850
Travers Stephen
m
M50
Tír Chonaill AC
1:14:01
1:14:08
127.
783
O Mahoney Stephen
m
M50
1:14:31
1:14:38
128.
839
Sweeney John
m
M50
1:14:32
1:14:39
129.
141
Dillon Deirdre
f
F50
Tír Chonaill AC
1:14:36
1:14:40
130.
125
CURRAN SEAMUS
m
MO
FALCARRAGH
1:14:35
1:14:41
131.
767
O Donnell Gareth
m
MO
Kilcar
1:14:31
1:14:47
132.
705
Mc Nabb Joanne
f
FO
Finn Valley AC
1:14:54
1:14:56
133.
798
Pinder Frank
m
M50
Letterkenny AC
1:14:54
1:15:00
134.
311
Hippsley Mary
f
F40
Finn Valley AC
1:15:11
1:15:15
135.
477
Mc Grath Linda
f
FO
Lifford Strabane AC
1:15:16
1:15:27
136.
470
MC GONAGLE CONOR
m
M40
CASTLEFINN RUNNING
1:15:34
1:15:34
137.
192
Duncan Richie
m
M40
CASTLEFINN RUNNING
1:15:28
1:15:34
138.
830
Shiels Patrick
m
M50
Milford ac
1:15:35
1:15:40
139.
196
Novakova Veronika
f
FO
Lifford Strabane AC
1:15:31
1:15:41
140.
437
Mc Elwaine Colette
f
F40
MILFORD AC
1:15:42
1:15:46
141.
847
THOMPSON MICHAEL
m
M40
Finn Valley AC
1:15:48
1:15:51
142.
782
O LEARY SEAN
m
M50
Finn Valley AC
1:16:13
1:16:16
143.
65
Browne Jonathan
m
MO
Clann Na nGael
1:16:27
1:16:34
144.
296
Fletcher Keith
m
M50
Letterkenny 24/7 Triathlon Club
1:16:29
1:16:37
145.
194
Edwards Jonathan
m
MO
Letterkenny 24/7 Triathlon Club
1:16:37
1:16:39
146.
221
Gallagher Declan
m
MO
ROSSES AC
1:16:45
1:16:48
147.
387
Mc cann Sean paul
m
MO
Raphoe Road Runners
1:16:40
1:16:49
148.
60
Mc Elchar Jerome
m
M40
Finn Valley AC
1:16:54
1:17:11
149.
341
Coyle Keiran
m
M40
Finn Valley AC
1:16:54
1:17:11
150.
250
GALLEN DESSIE
m
M40
Finn Valley AC
1:16:55
1:17:11
151.
318
Kearns James
m
M40
1:17:04
1:17:12
152.
80
CALLAGHAN KIERAN
m
MO
1:16:56
1:17:12
153.
449
Quigg Damien
m
MO
Star of the Larne
1:17:06
1:17:17
154.
424
O Neill Aidan
m
MO
Lifford Strabane AC
1:17:10
1:17:21
155.
430
Mc Devitt Terry
m
M40
1:17:16
1:17:23
156.
730
Mc Lean Norman
m
M40
1:17:20
1:17:25
157.
468
Mc Goldrick Elaine
f
F40
CASTLEFINN RUNNING
1:17:27
1:17:31
158.
460
MC GINTY LIAM
m
M50
Finn Valley AC
1:17:25
1:17:32
159.
785
O'Neill Lynne
f
F40
Finn Valley AC
1:17:32
1:17:35
160.
184
DUFFNER KARIN
f
FO
Finn Valley AC
1:17:22
1:17:37
161.
254
Gallen Niall
m
MO
MOURNE DERG WJR
1:17:32
1:17:42
162.
821
SCANLON ANDY
m
M50
Finn Valley AC
1:17:52
1:17:57
163.
26
Bonner HUgh
m
M50
ROSSES AC
1:17:53
1:18:01
164.
143
Diver Francis
m
M50
MILFORD AC
1:18:04
1:18:04
165.
816
Rodgers Michael
m
M50
Rosses AC
1:17:54
1:18:10
166.
158
DOHERTY KP
m
M40
Finn Valley AC
1:17:58
1:18:13
167.
455
MC GINLEY DAMIEN
m
M40
MELVIN WJR
1:18:02
1:18:13
168.
410
Mc Crossan Michael
m
MO
1:18:10
1:18:13
169.
763
O Donaill Gavin
m
MO
ROSSES AC
1:18:14
1:18:15
170.
282
GRIFFIN JOHN
m
M50
Finn Valley AC
1:18:08
1:18:23
171.
317
Jordan Martin
m
MO
Convoy AC
1:18:00
1:18:26
172.
96
Cleary Liam
m
M40
Lifford Strabane AC
1:18:13
1:18:28
173.
443
Mc Gavigan Daniel
m
MO
1:18:23
1:18:28
174.
475
Lynch Noel
m
M50
Letterkenny AC
1:18:15
1:18:31
175.
408
Mc Crossan Dermot
m
M50
1:18:30
1:18:33
176.
234
Christopher Mc Glynn
m
MO
1:18:21
1:18:35
177.
104
Connors David
m
MO
MILFORD AC
1:18:30
1:18:36
178.
266
Gibson Dessie
m
M60
1:18:34
1:18:42
179.
400
MC CONNEL SINEAD
f
F40
Finn Valley AC
1:18:38
1:18:42
180.
768
O Donnell Garrett
m
M40
1:18:37
1:18:46
181.
738
Monaghan Amanda
f
F40
MELVIN WJR
1:18:43
1:18:46
182.
837
Stewart Richard
m
MO
1:18:59
1:19:02
183.
11
Ashmore Chris
m
M50
Run for Fun Letterkenny
1:18:54
1:19:03
184.
161
DOHERTY PADDY
m
MO
Finn Valley AC
1:18:49
1:19:07
185.
187
Duffy Johnny
m
MO
Letterkenny 24/7 Triathlon Club
1:19:10
1:19:17
186.
486
Mc Hugh Siobhan
f
FO
MILFORD AC
1:19:21
1:19:25
187.
120
Cullen Daniel
m
MO
MILFORD AC
1:19:21
1:19:28
188.
710
Mc Namee Patrick gerard
m
M40
Finn Valley AC
1:19:23
1:19:30
189.
722
Mc Cauley Tina
f
F40
1:19:16
1:19:30
190.
279
Greenan Kevin
m
M60
Letterkenny AC
1:19:31
1:19:35
191.
9
ANDERSON MARTIN
m
M40
Finn Valley AC
1:19:33
1:19:37
192.
401
Mc Connell Gerard
m
MO
10K Swanlings
1:19:21
1:19:46
193.
295
Harte Ed
m
M40
1:19:34
1:19:49
194.
293
Harper Robbie
m
M40
1:19:49
1:19:53
195.
304
Hetherington Alistair
m
M40
Letterkenny 24/7 Triathlon Club
1:19:40
1:19:55
196.
66
Browne Philip
m
M40
Letterkenny 24/7 Triathlon Club
1:19:44
1:19:59
197.
177
Dooher Carol
m
MO
Clann Na nGael
1:19:53
1:20:00
198.
179
Dooher Mark
m
M40
Clann Na nGael
1:19:50
1:20:00
199.
127
Daly Anne
f
FO
Clann Na nGael
1:19:53
1:20:00
200.
33
Kelly Gavin
m
M40
1:20:08
1:20:10
201.
84
Campbell Verona
f
F40
1:20:11
1:20:11
202.
153
Doherty Daniel
m
M50
1:20:11
1:20:11
203.
337
Keys Claire
f
F40
Lifford Strabane AC
1:20:02
1:20:12
204.
381
mc cafferty gerry
m
M50
Tír Chonaill AC
1:20:02
1:20:14
205.
176
DOOHAN GRACIE
f
FO
FALCARRAGH
1:20:12
1:20:17
206.
729
Mc Laughlin Siobhan
f
FO
Inishowen AC
1:19:56
1:20:22
207.
216
Quinn Seamus
m
M40
Letterkenny Parkrun
1:20:10
1:20:26
208.
862
Ward Linda
f
F50
Tír Chonaill AC
1:20:16
1:20:29
209.
10
ARNHOLD KEVIN
m
MO
Finn Valley AC
1:20:22
1:20:29
210.
861
WARD LIAM
m
M50
1:20:16
1:20:33
211.
367
Shane Deery
m
M40
Finn Valley AC
1:20:22
1:20:41
212.
496
Mc Laughlin Matthew
m
M40
Inishowen AC
1:20:29
1:20:41
213.
15
Bell Eilish
f
F40
1:20:21
1:20:44
214.
238
Gallagher Ramona
f
FO
Finn Valley AC
1:20:41
1:20:50
215.
814
Rodgers Kathleen
f
F40
Rosses AC
1:20:42
1:20:53
216.
358
Maguire Damian
m
MO
Clann Na nGael
1:20:43
1:20:53
217.
429
MC DEVITT PACKIE
m
M50
ROSSES AC
1:20:42
1:20:53
218.
211
Foley Barry
m
MO
1:20:38
1:20:55
219.
91
CATTERSON ALAN
m
MO
Finn Valley AC
1:20:39
1:20:56
220.
274
Gleeson Eoghan
m
MO
Run for Fun Letterkenny
1:20:48
1:20:57
221.
756
Neeson Kieran
m
M40
Finn Valley AC
1:20:54
1:21:03
222.
793
PATTON BRENDAN
m
M50
Finn Valley AC
1:20:48
1:21:03
223.
808
Reid Margaret
f
F40
Finn Valley AC
1:20:59
1:21:08
224.
872
Winston Teresa
f
FO
MILFORD AC
1:21:05
1:21:10
225.
833
Spencer Dean
m
M40
Run for Fun Letterkenny
1:21:06
1:21:16
226.
136
Carlin Dominic
m
M40
Lifford Strabane AC
1:21:07
1:21:18
227.
101
Colvin Will
m
M40
Springwell RC
1:21:23
1:21:29
228.
390
Mc Cauley Ciaran
m
M40
Lifford Strabane AC
1:21:24
1:21:35
229.
297
Harvey Jackie
f
F50
Tír Chonaill AC
1:21:35
1:21:39
230.
815
Rodgers Marian
f
FO
ROSSES AC
1:21:42
1:21:42
231.
240
GALLAGHER SEAN
m
MO
1:21:44
1:21:44
232.
716
Mc Nulty Joe
m
M40
Precision Plumbing
1:21:34
1:21:44
233.
356
mag loingsigh padraig
m
M50
Lifford Strabane AC
1:21:36
1:21:44
234.
369
O Hagan Fintan
m
M40
MOURNE DERG WJR
1:21:43
1:21:51
235.
252
GALLEN GARY
m
MO
Finn Valley AC
1:21:51
1:22:09
236.
29
Bonner Noreen
f
F60
Finn Valley AC
1:22:11
1:22:16
237.
762
O Doherty Johnny
m
MO
MILFORD AC
1:22:15
1:22:20
238.
183
Duddy peter
m
MO
Bruckless Road Runners
1:22:05
1:22:26
239.
39
Boyle Jacinta
f
F40
Bruckless Road Runners
1:22:05
1:22:27
240.
774
O DONNELL MICHAEL
m
MO
ROSSES AC
1:22:22
1:22:33
241.
21
Boner Denis
m
M40
ROSSES AC
1:22:10
1:22:33
242.
218
GALLAGHER ANTHONY
m
M40
ROSSES AC
1:22:34
1:22:34
243.
867
Whoriskey Áine
f
F40
MILFORD AC
1:22:30
1:22:34
244.
272
GILLESPIE GARY
m
MO
CONVOY AC
1:22:35
1:22:45
245.
287
Hamilton Caroline
f
F40
Rock Runners
1:22:34
1:22:46
246.
309
Hill Tommy
m
M50
Letterkenny 24/7 Triathlon Club
1:22:33
1:22:50
247.
300
Heaney Rosie
f
FO
KCR
1:22:45
1:22:51
248.
83
campbell joanne
f
F40
Finn Valley AC
1:22:57
1:22:57
249.
68
BURNS MARIA
f
F40
1:23:08
1:23:10
250.
85
Cannon Jarlath
m
MO
1:23:12
1:23:14
251.
856
Walker Paul
m
M50
Run for Fun Letterkenny
1:23:10
1:23:23
252.
795
PATTON MARTIN
m
MO
1:23:11
1:23:26
253.
350
Lyons Jo
f
F40
1:23:31
1:23:31
254.
117
Crawford Stephen
m
MO
Lifford Strabane AC
1:23:31
1:23:40
255.
751
MURPHY JJ
m
M40
Finn Valley AC
1:23:32
1:23:42
256.
873
WISEMAN EIMEAR
f
FO
1:23:46
1:23:49
257.
273
GILLESPIE SHELLEY
f
FO
CONVOY AC
1:23:28
1:23:54
258.
188
Duffy lorraine
f
F40
1:23:35
1:23:57
259.
802
Quinn Andrew
m
M40
1:23:50
1:24:01
260.
770
O Donnell Joanne
f
F40
NORTH FERMANAGH FC
1:23:55
1:24:04
261.
799
Porter Gerard
m
M40
MELVIN WJR
1:23:47
1:24:09
262.
779
O Grady Maura
f
F50
Letterkenny AC
1:23:51
1:24:14
263.
740
Mooney Colin
m
M40
1:24:04
1:24:15
264.
827
Sharkey Seamus
m
M50
Clann Na nGael
1:24:07
1:24:17
265.
733
Meehan Clare
f
FO
AGHYARAN ATHLETICS
1:23:56
1:24:19
266.
479
Mc Grinder Lorraine
f
F40
Lifford Strabane AC
1:24:11
1:24:21
267.
156
Friel Roisin
f
F50
Lifford Strabane AC
1:24:03
1:24:23
268.
482
MC GUIRE CAROLINE
f
F40
1:24:23
1:24:23
269.
178
DOOHER CHARLIE
m
M50
MELVIN WJR
1:24:02
1:24:24
270.
105
Connors Edel
f
FO
MILFORD AC
1:24:19
1:24:24
271.
294
HARRON BARRY
m
MO
Finn Valley AC
1:24:02
1:24:25
272.
185
DUFFY DECKI
m
M40
MELVIN WJR
1:24:03
1:24:25
273.
32
Boyce Bernie
f
FO
Run for Fun Letterkenny
1:24:11
1:24:28
274.
721
Mc Shane Martin
m
M40
1:24:21
1:24:33
275.
723
Mc Cole Stephen
m
MO
1:24:09
1:24:34
276.
205
FERGUSON LISA
f
FO
Finn Valley AC
1:24:27
1:24:35
277.
265
Gibbons Michael
m
M40
Run for Fun Letterkenny
1:24:20
1:24:40
278.
255
GALLEN PAUL
m
MO
KCR
1:24:37
1:24:42
279.
138
Devlin Catherine
f
F40
MOURNE DERG WJR
1:24:36
1:24:44
280.
709
MC NAMEE NANCY
f
F50
Finn Valley AC
1:24:44
1:24:48
281.
383
Mc Caffrey Siobhan
f
FO
Rock Runners
1:24:39
1:25:03
282.
363
MARLEY GORETTI
f
FO
Finn Valley AC
1:24:49
1:25:07
283.
124
CURRAN CAROLINE
f
FO
FALCARRAGH
1:25:04
1:25:10
284.
389
Mc Cauley Andrea
f
F40
NORTH FERMANAGH FC
1:25:03
1:25:12
285.
164
Doherty Pius
m
MO
Lifford Strabane AC
1:25:17
1:25:25
286.
34
BOYD ROSEANNE
f
FO
FALCARRAGH
1:25:39
1:25:45
287.
61
Brown Colleen
f
FO
1:25:37
1:25:46
288.
386
Mc Cann Seamus
m
M50
Enniskillen Running Club
1:25:21
1:25:46
289.
313
Houston Iggy
m
M50
MELVIN WJR
1:25:38
1:25:47
290.
299
HEALY THOMAS
m
MO
1:25:41
1:25:55
291.
838
STRAIN MARIA
f
FO
1:25:42
1:25:56
292.
150
Doherty Brian
m
M40
10K Swanlings
1:25:54
1:26:05
293.
759
Nic Giolla Rua Sorcha
f
FO
1:25:51
1:26:10
294.
416
Mc Cusker Colette
f
FO
1:25:51
1:26:10
295.
180
Doyle Malachy
m
M60
ROSSES AC
1:25:58
1:26:11
296.
170
Donaghey Gloria
f
F50
Finn Valley AC
1:26:21
1:26:21
297.
450
MC GEEHAN EVELYN
f
FO
Finn Valley AC
1:26:07
1:26:25
298.
476
Mc Grath Art
m
M60
Letterkenny Parkrun
1:26:29
1:26:29
299.
182
Moore Orla
f
F40
Lifford Strabane AC
1:26:42
1:26:54
300.
181
Doyle Michael
m
M50
Finn Valley AC
1:26:49
1:27:06
301.
231
Gallagher Mary T
f
FO
1:26:46
1:27:07
302.
4
ALEXANDER DAMIEN
m
MO
Finn Valley AC
1:27:14
1:27:14
303.
41
Boyle John
m
M40
Rock Runners
1:26:52
1:27:16
304.
247
Gallen Conor
m
MO
MOURNE DERG WJR
1:27:14
1:27:25
305.
259
GALVIN ROSEMARY
f
F40
Finn Valley AC
1:27:12
1:27:27
306.
271
Gillespie Donna
f
FO
1:27:26
1:27:39
307.
58
Breslin Cathy
f
F40
ROSSES AC
1:27:24
1:27:39
308.
379
MC CAFFERTY BRIGID
f
FO
Finn Valley AC
1:27:35
1:27:40
309.
859
Ward Gerry
m
M50
1:27:26
1:27:41
310.
414
Mc curdy Mark
m
MO
Lifford Strabane AC
1:27:34
1:27:49
311.
805
Quinn Terence
m
M50
Raphoe Road Runners
1:27:28
1:27:51
312.
366
Martin Mary
f
F60
Finn Valley AC
1:27:35
1:27:53
313.
353
Mac donald Wendy
f
F40
1:27:46
1:27:59
314.
152
Doherty Bridgeen
f
F40
Run for Fun Letterkenny
1:27:41
1:28:00
315.
95
Clarke Leanne
f
FO
MELVIN WJR
1:27:45
1:28:05
316.
869
Mc Fadden Eddie
m
M50
1:27:55
1:28:11
317.
703
Mc Menamin Odette
f
F40
AGHYARAN ATHLETICS
1:27:48
1:28:11
318.
348
Lorinyenko Sean
m
M50
Tír Chonaill AC
1:28:12
1:28:16
319.
801
Quigley Stephen
m
MO
1:27:57
1:28:21
320.
137
Devine Jonathan
m
M40
CASTLEFINN RUNNING
1:28:23
1:28:23
321.
463
Mc Glinchey JEAN
f
F50
Letterkenny Parkrun
1:28:13
1:28:27
322.
25
Bonner Emily
f
FO
1:28:19
1:28:31
323.
111
Coyle Paul
m
M40
Finn Valley AC
1:28:19
1:28:32
324.
151
Rosalee O Beirne
f
F40
ROSSES AC
1:28:37
1:28:37
325.
499
Mc menamin Andrea
f
FO
Tír Chonaill AC
1:28:12
1:28:38
326.
365
Martin Bernie
f
F50
KCR
1:28:29
1:28:42
327.
857
WALSH JAY
m
M50
Lifford Strabane AC
1:28:46
1:28:46
328.
16
Bell Rachel
f
F40
Raphoe Road Runners
1:28:28
1:28:51
329.
391
Gallagher Jimmy
m
M40
The village road runners
1:28:31
1:28:52
330.
166
Doherty Sean
m
M40
MELVIN WJR
1:28:33
1:28:53
331.
413
Mc curdy Maddy
f
F40
Lifford Strabane AC
1:28:41
1:28:56
332.
807
Reid Georgina
f
FO
Run for Fun Letterkenny
1:28:43
1:28:59
333.
3
Mc Menamin Helene
f
F40
Finn Valley AC
1:28:44
1:29:01
334.
399
Mc Colgan Johanne
f
FO
Inishowen AC
1:28:38
1:29:02
335.
116
CRAWFORD PAUL
m
M40
1:28:39
1:29:03
336.
727
Mc Elduff Claire
f
FO
1:28:56
1:29:07
337.
382
Mc caffrey Cathy
f
F40
Rock Runners
1:28:50
1:29:14
338.
831
Sleigh Richard
m
MO
1:29:04
1:29:14
339.
376
Mc Bride Marcella
f
F50
CASTLEFINN RUNNING
1:29:10
1:29:15
340.
37
Boyle Geraldine
f
F50
1:28:58
1:29:17
341.
728
Mc Laughlin Liam
m
M50
1:29:02
1:29:22
342.
421
Mc Daid Martina
f
FO
Letterkenny 24/7 Triathlon Club
1:29:10
1:29:22
343.
77
Callaghan Demelza
f
FO
Glenswilly
1:29:00
1:29:25
344.
8
Anderson Marie
f
F40
MOURNE DERG WJR
1:29:20
1:29:26
345.
312
Houston Carl
m
M50
CASTLEFINN RUNNING
1:29:20
1:29:28
346.
222
Gallagher Diane
f
F50
KCR
1:29:17
1:29:30
347.
113
CRAWFORD EDWARD
m
M40
Finn Valley AC
1:29:16
1:29:33
348.
94
Charlesworth Paul
m
M40
1:29:12
1:29:36
349.
332
Kennedy Caroline
f
F40
Bruckless Road Runners
1:29:25
1:29:37
350.
310
Hindley Gaynor
f
F40
AGHYARAN ATHLETICS
1:29:31
1:29:43
351.
797
Pierce Eric
m
M50
1:29:26
1:29:48
352.
330
Kelly Shauna
f
F40
Raphoe Road Runners
1:29:29
1:29:51
353.
5
Allan Hugh
m
MO
Raphoe Road Runners
1:29:29
1:29:52
354.
851
Trimble Angie
f
F40
1:29:42
1:29:56
355.
777
O Donnell Sonya
f
F40
Finn Valley AC
1:29:40
1:29:58
356.
459
Mc ginley Mark
m
M40
1:29:39
1:30:04
357.
806
Redden Ciaran
m
MO
1:29:41
1:30:05
358.
860
Ward John
m
M40
Tír Chonaill AC
1:29:52
1:30:09
359.
812
Robinson Anne
f
FO
Letterkenny 24/7 Triathlon Club
1:30:23
1:30:35
360.
780
O Hagan Breda
f
F40
Run for Fun Letterkenny
1:30:20
1:30:39
361.
281
GRIFFIN DEE
f
FO
CONVOY AC
1:30:32
1:30:46
362.
813
Roche Annmarie
f
FO
Run for Fun Letterkenny
1:30:33
1:30:46
363.
836
Stewart Fred
m
M60
1:30:33
1:30:47
364.
844
Temle Fiona
f
F40
Letterkenny 24/7 Triathlon Club
1:30:34
1:30:47
365.
719
Mc Shane Amanda
f
F40
Tír Chonaill AC
1:30:43
1:30:58
366.
420
MC DAID LISA
f
FO
CASTLEFINN RUNNING
1:30:53
1:30:59
367.
343
LAURENCE EMMA
f
FO
CASTLEFINN RUNNING
1:30:54
1:31:00
368.
119
cronin linda
f
FO
Letterkenny Parkrun
1:30:47
1:31:01
369.
422
Mc Daid Mary
f
F40
MILFORD AC
1:30:55
1:31:02
370.
407
Mc crory Declan
m
MO
MOURNE DERG WJR
1:30:45
1:31:03
371.
147
Doherty Aine
f
F40
Rise Running Club
1:31:06
1:31:31
372.
70
Byrne Colette
f
F40
1:31:33
1:31:48
373.
488
mc ivor sean
m
MO
U Turn Running Club
1:31:24
1:31:49
374.
173
Donaghey Mary
f
FO
MELVIN WJR
1:31:23
1:31:49
375.
235
GALLAGHER PATRICK
m
M40
DERRY
1:31:23
1:31:49
376.
212
Foley Sinead
f
F40
Tír Chonaill AC
1:31:42
1:32:04
377.
811
Roberts Jessica
f
FO
MELVIN WJR
1:31:51
1:32:10
378.
288
Harkin gerard
m
M40
Bolt
1:31:52
1:32:11
379.
129
Dawson Deborah
f
F40
Tír Chonaill AC
1:32:00
1:32:22
380.
817
RULE JENNIFER
f
FO
1:32:20
1:32:28
381.
6
Mc Ginty Dympna
f
FO
Finn Valley AC
1:32:20
1:32:28
382.
321
Keenan Colette
f
FO
Carmen Runners AC
1:32:31
1:32:43
383.
357
Magee Claire
f
F40
1:32:33
1:32:47
384.
217
Gallagher Anita
f
F50
Run for Fun Letterkenny
1:32:32
1:32:49
385.
404
Ciara Mc Elhone
f
FO
Carmen Runners AC
1:32:37
1:32:50
386.
825
SHARKEY PATRICIA
f
FO
FALCARRAGH
1:32:48
1:32:53
387.
800
Mc Menamin Paul
m
M50
1:32:38
1:32:54
388.
134
Devine Adrian
m
M40
CASTLEFINN RUNNING
1:32:46
1:32:59
389.
347
Liggett Sharon
f
FO
1:32:54
1:33:09
390.
74
Cairns Donal
m
M40
MELVIN WJR
1:32:51
1:33:12
391.
276
Gormley Carmel
f
FO
Tír Chonaill AC
1:32:54
1:33:16
392.
351
LYONS SEAMUS
m
M40
Finn Valley AC
1:33:02
1:33:20
393.
362
Maguire Mairead
f
F40
MELVIN WJR
1:33:01
1:33:21
394.
172
Donaghey Mark
m
M40
MELVIN WJR
1:33:01
1:33:21
395.
27
BONNER KAY
f
F50
CONVOY AC
1:33:26
1:33:46
396.
452
Mc ghee Sabrina
f
FO
CASTLEFINN RUNNING
1:33:42
1:33:48
397.
224
Gallagher Eleanor
f
F40
Tír Chonaill AC
1:33:54
1:33:54
398.
392
MC CAULEY EDEL
f
F40
URNAI-RUNNERS
1:33:40
1:33:54
399.
498
Mc Menamin Adrian
m
M50
Lifford Strabane AC
1:33:46
1:34:02
400.
874
WISEMAN THERESA
f
FO
1:33:59
1:34:04
401.
787
O'Neill Claire
f
FO
NORTH FERMANAGH FC
1:33:56
1:34:09
402.
788
PARKINSON ROSEMARY
f
FO
CONVOY AC
1:33:51
1:34:12
403.
478
Mc Grath Lynsey
f
FO
NORTH FERMANAGH FC
1:34:00
1:34:13
404.
412
Mc Cullagh Fiona
f
FO
Carmen Runners AC
1:34:01
1:34:14
405.
394
Mc Cay Chris
m
M40
MELVIN WJR
1:34:02
1:34:22
406.
306
Hewett Eileen
f
FO
1:34:01
1:34:27
407.
342
LARKIN IGGY
m
MO
KCR
1:34:28
1:34:38
408.
107
Coulter Tanya
f
FO
1:34:29
1:34:43
409.
417
Quigley Clara
f
FO
Letterkenny 24/7 Triathlon Club
1:34:34
1:34:46
410.
89
Casburn Desiree
f
F40
Letterkenny 24/7 Triathlon Club
1:34:34
1:34:46
411.
331
Kelly Sophie
f
F40
1:34:28
1:34:48
412.
753
murray alison
f
FO
Bruckless Road Runners
1:34:49
1:35:01
413.
227
Friel John
m
M40
The village road runners
1:34:45
1:35:06
414.
62
BROWNE CARMEL
f
FO
Finn Valley AC
1:35:01
1:35:21
415.
336
Kerr Sinead
f
FO
Carmen Runners AC
1:35:14
1:35:27
416.
843
Sweeney Teresa
f
F40
1:35:04
1:35:30
417.
334
Meehan David
m
MO
Lifford Strabane AC
1:35:37
1:35:37
418.
378
Marie Sweeney Mc Garvey
f
F40
ROSSES AC
1:35:23
1:35:39
419.
863
Wauchope Yvonne
f
F40
MELVIN WJR
1:35:20
1:35:40
420.
371
Mc Beth Kathy
f
FO
MELVIN WJR
1:35:21
1:35:41
421.
98
Colhoun Noreen
f
F40
MELVIN WJR
1:35:31
1:35:50
422.
298
HEALY MARTINA
f
FO
Finn Valley AC
1:35:43
1:35:57
423.
228
Gallagher Lisa
f
F40
1:35:31
1:35:58
424.
48
Boyle Marina
f
F40
1:35:43
1:36:10
425.
109
Coyle Eamon
m
M40
1:35:59
1:36:19
426.
796
PEARSON HILARY
f
F50
1:36:30
1:36:39
427.
744
MULHERN JOE
m
M40
KCR
1:36:35
1:36:51
428.
406
MC Crory Catherine
f
FO
AGHYARAN ATHLETICS
1:37:00
1:37:16
429.
263
Gavigan Claire
f
FO
Bruckless Road Runners
1:37:09
1:37:23
430.
864
Whelan Darren
m
MO
Tír Chonaill AC
1:37:00
1:37:26
431.
858
Ward Caroline
f
F40
Tír Chonaill AC
1:37:33
1:37:56
432.
772
O Donnell Leona
f
FO
ROSSES AC
1:37:42
1:38:04
433.
765
O Donnell Claire
f
FO
ROSSES AC
1:37:46
1:38:08
434.
146
Doherty Agnes
f
F60
1:37:56
1:38:14
435.
112
Gallagher Ollie
m
MO
1:37:57
1:38:17
436.
280
Greene Laura
f
FO
ROSSES AC
1:38:02
1:38:25
437.
215
Friel Gloria
f
FO
1:38:15
1:38:41
438.
100
Colton Pauline
f
F60
NORTH FERMANAGH FC
1:38:36
1:38:44
439.
743
MOSS DENISE
f
FO
AGHYARAN ATHLETICS
1:38:38
1:38:51
440.
333
Mc Nulty Orla
f
F40
Lifford Strabane AC
1:38:53
1:39:09
441.
159
DOHERTY LAURENCE
m
M50
Lifford Strabane AC
1:38:45
1:39:11
442.
778
O Gara Celine
f
F40
ROSSES AC
1:39:11
1:39:27
443.
794
Patton Leanne
f
FO
CASTLEFINN RUNNING
1:39:26
1:39:32
444.
106
Conway Martin
m
M50
1:39:19
1:39:37
445.
773
O Donnell Margaret
f
F50
Letterkenny Parkrun
1:39:28
1:39:42
446.
707
MC NAMEE MICHELLE
f
FO
1:39:44
1:39:47
447.
345
LAWNE EMMA
f
FO
Finn Valley AC
1:39:41
1:40:00
448.
465
Mc Glynn Frances
m
MO
Finn Valley AC
1:39:41
1:40:00
449.
741
Mooney Paul
m
M40
Rock Runners
1:39:37
1:40:01
450.
760
Nugent-Murphy Maria
f
F50
Rock Runners
1:39:38
1:40:02
451.
249
Gallen Darren
m
MO
CASTLEFINN RUNNING
1:39:58
1:40:04
452.
73
BYRNE SUE
m
M40
Finn Valley AC
1:39:45
1:40:05
453.
204
Ferguson Denise
f
FO
Finn Valley AC
1:39:52
1:40:11
454.
737
Molloy Bridget
f
FO
1:40:00
1:40:14
455.
497
Mc loone Veronica
f
F40
1:40:01
1:40:14
456.
36
Boyle Elaine
f
F40
Bruckless Road Runners
1:40:14
1:40:28
457.
230
Gallagher Mary
f
F50
Letterkenny Parkrun
1:40:26
1:40:44
458.
742
MORNING EILEEN
f
F40
1:40:28
1:40:50
459.
870
Wilson Frances
f
FO
KCR
1:40:53
1:41:15
460.
495
Mc laughlin Emer
f
FO
AGHYARAN ATHLETICS
1:41:19
1:41:26
461.
72
Byrne Siobhan
f
F50
AGHYARAN ATHLETICS
1:41:21
1:41:29
462.
267
O Donnell Paula
f
F40
1:41:09
1:41:30
463.
823
Sadi Mc Devitt
f
F50
ROSSES AC
1:41:53
1:42:06
464.
818
RUSHE STEPHANIE
f
FO
Finn Valley AC
1:42:02
1:42:12
465.
754
NEELY EDEL
f
F50
Finn Valley AC
1:42:02
1:42:13
466.
781
O Hagan Mary
f
F50
MELVIN WJR
1:42:10
1:42:31
467.
718
Mc Quaid Maggie
f
F60
NORTH FERMANAGH FC
1:42:17
1:42:40
468.
320
Kee Nicola
f
F40
KCR
1:42:19
1:42:41
469.
22
Bonnar Mary
f
F50
Letterkenny Parkrun
1:42:26
1:42:43
470.
214
FRIEL DEIRDRE
f
F50
1:42:34
1:43:01
471.
248
GALLEN DANIEL
m
MO
Finn Valley AC
1:42:45
1:43:02
472.
434
MC ELCHAR ANNE
f
FO
KCR
1:43:03
1:43:03
473.
64
Browne Hazel
f
F40
1:42:45
1:43:03
474.
411
Mc crudden Georgina
f
FO
Letterkenny 24/7 Triathlon Club
1:42:45
1:43:03
475.
849
Travers Edel
f
F40
Tír Chonaill AC
1:42:40
1:43:04
476.
758
ni dhonaill marie
f
F40
ROSSES AC
1:42:50
1:43:08
477.
90
Cassidy Tara
f
F40
1:43:02
1:43:13
478.
88
Carter Ian
m
MO
Glenswilly
1:42:59
1:43:25
479.
131
Deery Mary
f
F50
1:43:18
1:43:36
480.
145
Diver Sinead
f
F40
ROSSES AC
1:43:29
1:43:44
481.
59
Breslin eddie
m
M50
Lifford Strabane AC
1:43:36
1:43:53
482.
220
Gallagher Keith
m
MO
1:43:40
1:43:54
483.
415
Mc curdy Mickey
m
M40
Lifford Strabane AC
1:43:39
1:43:55
484.
140
Devlin Kate
f
FO
AGHYARAN ATHLETICS
1:44:01
1:44:11
485.
283
GRIFFIN KATHLEEN
f
F40
ROSSES AC
1:44:02
1:44:16
486.
854
Virtue Ciara
f
FO
NORTH FERMANAGH FC
1:44:15
1:44:38
487.
865
WHITE NOELLE
f
FO
1:44:12
1:44:38
488.
725
Mc Goldrick Manny
f
F40
1:44:14
1:44:38
489.
285
Hagan Sinead
f
F40
1:44:12
1:44:38
490.
469
Mc Goldrick Pauline
f
F40
NORTH FERMANAGH FC
1:44:16
1:44:39
491.
804
Quinn Elaine
f
FO
MELVIN WJR
1:44:33
1:44:53
492.
428
MC DEVITT KATHLEEN
f
F50
1:44:44
1:44:57
493.
757
Neeson Sharon
f
FO
1:44:55
1:45:05
494.
819
RUSSELL SELENA
f
FO
Finn Valley AC
1:44:56
1:45:06
495.
467
Duffy Chris
m
MO
AGHYARAN ATHLETICS
1:45:15
1:45:25
496.
316
Jinks Irina
f
F40
1:44:59
1:45:26
497.
735
Mernor Mark
m
M50
MELVIN WJR
1:45:40
1:46:02
498.
442
Mc Garvey Mary-Bridget
f
FO
1:46:10
1:46:27
499.
139
Devlin Kevin
m
M40
AGHYARAN ATHLETICS
1:46:49
1:46:58
500.
871
Wilson Sarah
f
FO
1:47:00
1:47:21
501.
706
Andrews John
m
MO
The village road runners
1:47:00
1:47:21
502.
315
iu Laifeartaigh Caitlin
f
F40
ROSSES AC
1:47:33
1:47:52
503.
197
Ellis Pauline
f
F40
Tír Chonaill AC
1:47:55
1:48:15
504.
45
Boyle Majella
f
F40
1:47:55
1:48:15
505.
388
Mc Carron Hughie
m
MO
ROSSES AC
1:48:30
1:48:33
506.
148
Doherty Allister
m
MO
1:48:58
1:49:17
507.
239
GALLAGHER ROSANNE
f
FO
1:49:21
1:49:47
508.
769
O Donnell Grace
f
FO
CONVOY AC
1:49:38
1:50:03
509.
834
Stephens Aisling
f
FO
Finn Valley AC
1:49:39
1:50:03
510.
225
Gallagher Garvan
m
M40
Run for Fun Letterkenny
1:49:39
1:50:04
511.
223
Gallagher Dympna
f
F40
1:49:39
1:50:04
512.
229
Gallagher Mairied
f
F50
1:50:53
1:51:10
513.
840
Sweeney Manus
m
M50
1:50:51
1:51:10
514.
841
Sweeney Mary
f
F40
1:50:57
1:51:16
515.
195
Elder Steven
m
MO
1:51:00
1:51:25
516.
419
Quigg Damien
m
MO
URNAI-RUNNERS
1:51:06
1:51:33
517.
174
Donaghy Michelle
f
F40
Inishowen AC
1:51:06
1:51:33
518.
123
Curran Anne
f
F50
ROSSES AC
1:51:55
1:52:11
519.
28
Bonner Mona
f
F50
1:51:55
1:52:11
520.
245
GALLAHER MARIE
f
FO
AGHYARAN ATHLETICS
1:52:50
1:52:50
521.
35
Boyle Ciaran
m
MO
Two Square Wheels
1:52:40
1:53:02
522.
441
MC GARRIGLE DIANE
f
F40
Finn Valley AC
1:53:18
1:53:28
523.
453
Mc Gill Marie
f
F40
1:53:03
1:53:32
524.
402
Mc Cool Nuala
f
FO
1:53:04
1:53:33
525.
24
BONNER EDEL
f
FO
1:53:10
1:53:34
526.
845
TEMPLE CORINNE
f
FO
1:53:10
1:53:35
527.
490
Mc Kenzie Elizabeth
f
FO
Tír Chonaill AC
1:53:14
1:53:40
528.
277
Goudie Louise
f
F40
Raphoe Road Runners
1:53:21
1:53:48
529.
260
Gamble Ita
f
F40
U Turn Running Club
1:54:21
1:54:32
530.
63
BROWNE DEIRDRE
f
FO
Finn Valley AC
1:55:19
1:55:30
531.
701
MC MENAMIN KARINA
f
FO
Finn Valley AC
1:55:19
1:55:30
532.
246
GALLEN BRIDGEEN
f
FO
Finn Valley AC
1:55:21
1:55:32
533.
462
Mc Glinchey Carol
f
F40
Star
1:55:30
1:55:53
534.
803
Quinn Brenda
f
FO
Star
1:55:29
1:55:53
535.
822
Sharkey Grace
f
F40
ROSSES AC
1:57:08
1:57:37
536.
67
Browne Teresa
f
F40
Raphoe Road Runners
1:57:16
1:57:43
537.
427
Mc Devitt Crona
f
F40
1:58:51
1:59:11
538.
724
Mc Ginty Breid
f
F40
1:58:51
1:59:11
539.
46
Boyle Maria
f
F40
Finn Valley AC
1:59:24
1:59:42
540.
44
Boyle Justin
m
M40
Finn Valley AC
2:01:03
2:01:22
541.
122
Cunningham Caroline
f
F40
2:01:42
2:02:09
542.
81
Callaghan Martina
f
F40
Inishowen AC
2:01:42
2:02:10
543.
355
Madden Bernadine
f
F40
KCR
2:02:07
2:02:34
544.
51
Bradley Damien
m
M40
2:03:52
2:04:10
545.
824
Sharkey Karen
f
F40
ROSSES AC
2:04:19
2:04:48
546.
826
Sharkey Ronan
m
MO
ROSSES AC
2:04:24
2:04:53
547.
829
Shiels AnnMarie
f
FO
Run for Fun Letterkenny
2:05:23
2:05:37
548.
2
Alexander Bailey
m
M40
Finn Valley AC
2:17:19
2:17:19
549.
97
Hannon Debbie
f
F50
Finn Valley AC
2:38:18
2:38:46
550.
397
Mc Closkey Rachel
f
FO
U Turn Running Club
2:44:16
2:44:45
551.
242
Gallagher Tanya
f
F40
U Turn Running Club
2:44:16
2:44:45