The Irish Pan Celtic committee is seeking Irish traditional artists to represent Ireland during The International Pan Celtic Festival which will be held in Letterkenny, Co. Donegal from 3-8 April 2018. A wide range of competitions were announced recently including fiddle, harp, duet, choral and dance.
"The Pan Celtic competitions give a great insight into the culture of the other Celtic Nations, as well as providing a new creative platform for Irish traditional performing artists", said Máirín Nic Dhonnchadha, CEO of the International Pan Celtic Council.
"Irish artists have performed well in the competitions over the years, particularly in the singing competitions. This year we would like to see similar success in the dancing, instrumental and choral competitions and promote the wonderful rich heritage and culture of Ireland amongst our Celtic friends," she said.
The festival programme will provide an array of events for musicians, singers, composers, dancers, choirs, poets and storytellers.
Closing date for entries is the 1 March 2018. Entry forms are available at www.panceltic.ieand can be sent via email to competitions@panceltic.ie or by post to: Comórtais Pan Cheilteach, Oireachtas na Gaeilge, 6 Sráid Fhearchair, Baile Átha Cliath 2.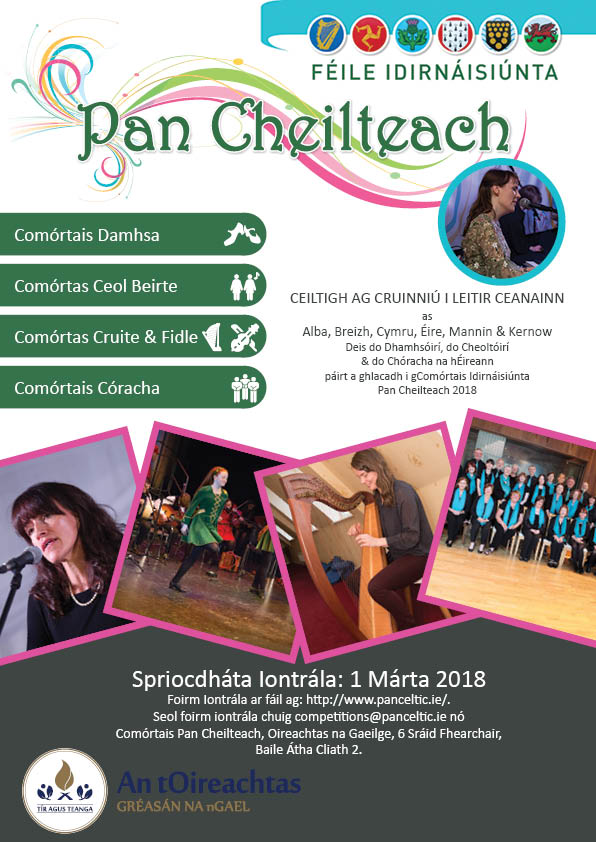 Tags: