New figures show that Ireland has 7,200 licensed pubs, employing 230,000 people. In 2017, these pubs spent more than €2.9 billion annually in wages, and accounted for €6.5 billion in tourism revenues.
The AIB Pubs Outlook reveals that Donegal has 365 pubs, and with a population of just over 150,000 – that's 417 punters per pub!
The county with the most bars is Cork, with 955 licensed boozers. Surprisingly, there's almost 200 more pubs in the Rebel County than there is in the capital, with Dublin boasting 772 pubs.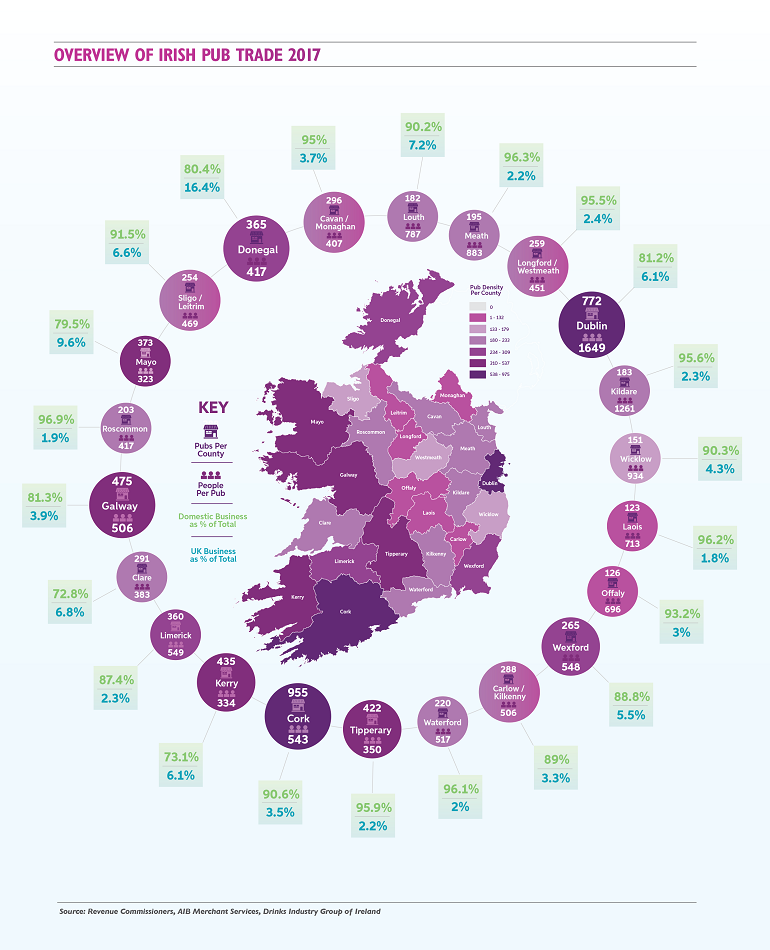 The report has highlighted the strain of rural pubs however, as it has been revealed that rural bars need to have a turnover of between €8,000 and €9,000 to keep their heads above water.
"If a pub is not turning over €8,000-€9,000 a week in rural areas, then it's going to be very difficult for them to survive.
"The same is true of Dublin and if a pub is not turning over between €12,000-€13,000 a week, it's in trouble," says Tony Morrissey, Managing Director of Morrissey's, the Dublin based auctioneering and consultancy firm that specialises in the pub and hotel sectors.
Over the past decade, pubs have changed considerably to adapt to the changes in consumer habits and behaviours. This includes catering towards the growing popularity of craft beers, cocktails, and spirits such as whiskey and gin.
"Although the craft beer market still only represents 4% of the overall market for beer, it's growing and many pubs now have to offer a number of craft beers to their customers who clearly favour them over the traditional brands. It's the same with spirits- there has been a significant growth in the number of independent Irish distilleries over the past five years as demand increases and this looks set to continue because it's what the market wants," Tony adds.
The report also shows that 16.4% of Donegal's total pub revenue comes from the UK market.
AIB's Head of Hospitality & Tourism, David McCarthy says that Brexit is unlikely to impact Irish pubs as on average, 85% of their turnover is derived from the domestic market. Despite a decline in the amount of UK visitors drinking in Irish pubs, the market actually grew over the past 12 months. One of the key threats of Brexit for publicans however is the cost to import booze from across the border may rise.
"Some pubs do have a higher level of exposure to UK visitors and they need to be mindful of the implications of further Sterling devaluations and any potential future travel restrictions postBrexit. As many of the wholesalers currently import goods cross border, there may be indirect exposure to additional costs coming because of Brexit. This also may erode margins for publicans across the country," McCarthy says.
"The Irish food service market for hotels, pubs and restaurants is worth €2.64bn, according to Bord Bia, and overall food service in the hospitality sector has increased by 5.6% over the past 12 months," he adds.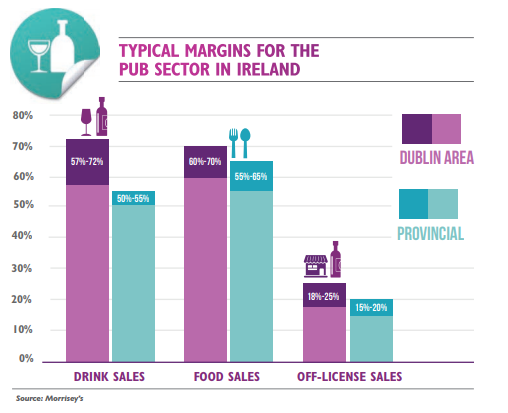 Tags: