'Healthy, happy, learn' was the motto for the recent Operation Transformation organises at Letterkenny Educate Together NS.
A superb six-week programme saw pupils go through six weeks of learning the values of exercise, nutrition, team work, well being and fun.
Each week brought new activities, visitors and experiences.
The programme came to a conclusion this week.
Week one was exercise, week two focussed on nutrition, mental health was the theme for week three, having fun was week four's aim, with teamwork taught in week five.
Week six centred on well-being which encompasses all of the previous week's topics.
The programme was officially launched by the LETNS Sports Council, which is made up of pupils from senior infants to sixth class.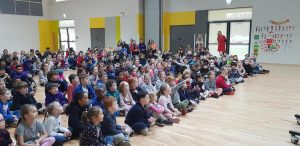 "Our motto Healthy, Happy, Learn was central to the initiative and it was certainly evident throughout our school community," said a school spokesperson.
"We have had such positive feedback from the children, the staff, the families in our school community and our local community.
"We held our closing ceremony and invited back our very special visitors to help us celebrate this amazing achievement.
"We watched a video which showed us all the amazing moments captured during Operation Transformation.
"The Sports Council representatives spoke on behalf of their classes and shared their favourite parts of the initiative.
"We are so proud of all the amazing work we have done to educate the children, staff and families on the importance of getting active, eating healthy foods, minding our mental health, having fun with others and working together with lots of new members of our locality to improve our well-being."
Tags: