Is this the biggest Christmas thank you in Ireland? Over 40 local businesses in the Twin Towns came together over the festive period to thank their customers with a unique prize draw.
Offering prizes from hotel stays to afternoon tea, from hampers to music lessons, customers entered the draw by nominating someone special to win – someone they want to say thank you to in turn.
Without the support of the community throughout the year Donegal businesses would not be able to thrive, grow, and in turn give back.
The Twin Town businesses give back to the community throughout the year by providing sponsorship, prizes for competitions etc. This Christmas they wanted to do something extra special. And in saying thank you themselves, they wanted to help others to say thank you too.
Over 40 businesses are involved from the largest and most established – Jacksons Hotel, Villa Rose Hotel and Spa, Kee's Hotel, – to the smallest and newest – The Buttercup Tearoom, Pluck It Brow Bar, etc.
Our supermarkets and restaurants, our gift shops and music schools, gyms, fish & chip shops, pubs, cafés, financial advisors – you name it, they took part.
Prizes ranged from hotel stays, spa treatments, Sunday lunches, Winter warmer gifts, subscriptions to the local paper, afternoon tea, music classes, free personal trainer sessions, and much more.
Leah Fairman from The Ballybofey& Chamber of Commerce says: "The Twin Towns Big Thank You is everything our towns are about – businesses and the community supporting each other, and remembering that at Christmas we've all got people to be grateful for."
Participating businesses included: Alexanders General Store; Andies Supermarket; Ballybofey Carpets; Ballybofey Florist; Balor Arts Centre; Barca Bar; Beauty Secrets; Bodyfuel; Buttercup Tea Room; Centra; Charles Bonner & Sons; Cheers Bar; Conkers; Cozy Barber; Farrah's; Fierce Hair & Beauty; FPI Fitness; Flatley's Pharmacy; Foy & Co; Fred's Golf Shop; Hair by Anne O'Gorman; Igloo/ Patton Frozen Foods; Jackson's Hotel; The John Dory; Kee's Hotel; Maguire's Foodfare; Mr G's; Pheonix Fitness; Public Image; Razor 34; Rite Financial Solutions; Rodney Deery Music; Stitch It Bernie; Stranorlar Dental Surgery; Stockhouse; Swift Stitch; The Book Centre; The Flower Shop; The Handmade Shop; The Hatter Tea Room; The Just Inn; Villa Rose Hotel; The Finn Valley Voice
Find out more details by visiting the Ballybofey & Stranorlar Chamber of Commerce Facebook page.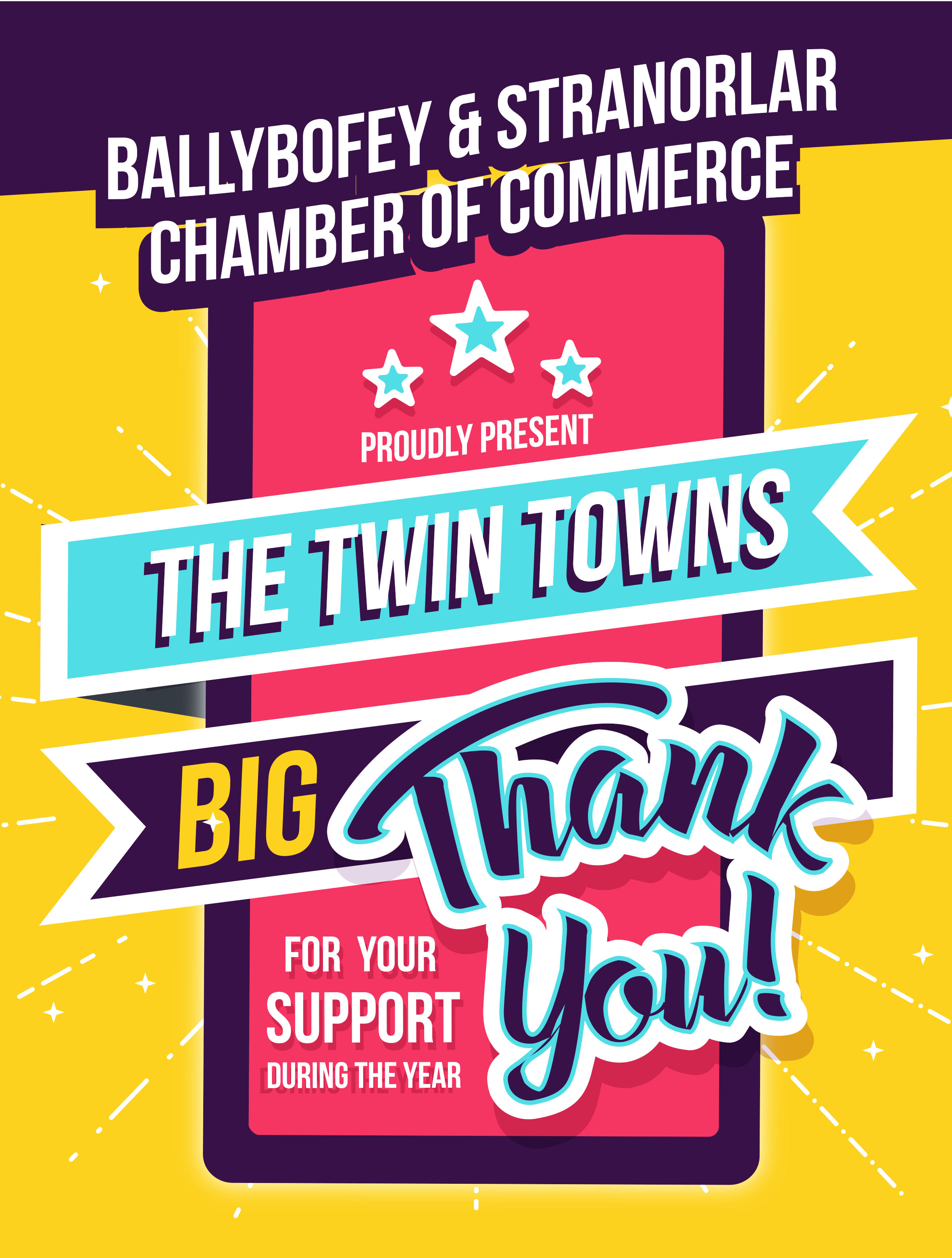 Tags: