It's been almost 20 years since Daniel O'Donnell hosted one of his famous tea parties, but when fellow Donegal man Chef Brian McDermott came to visit, only a tea party would do!
The county's favourite singer welcomed the Moville chef and his family to his Kincasslagh home recently for a cup of tea and a few cooking lessons.
Brian's new cookery book, Brian McDermott's Donegal Table, launches in Donegal on Wednesday, and Brian was keen to give Daniel the opportunity to try a recipe for himself.
"We all know there's only one man in Ireland who knows how to throw a good tea party," said Brian, "and of course nothing goes better with tea than some proper home baking."
During their tea party – which was filmed by RTE – Brian teaches Daniel how to make a traditional Donegal barmbrack.
"Daniel was actually the first person to cook a recipe from the new book, which was a real honour for me," said Brian.
"As we were cooking, I asked him about his tea parties and how they came about, and he really opened up to me about his mother and Donegal hospitality, and how he missed his mother," said Brian.
Daniel's mother Julia died in 2014, aged 94.
"I grew up with Daniel," said Brian, "and it felt as if he was always in our living room because he was always on the television singing.
"I loved the fact that he was welcoming me into the house where he grew up, and you could tell there was such a connection between him and his mother.
"Daniel told me how he would be in the kitchen cooking with her and do things like lick the bowl.
"He said that was actually the last time he baked in the kitchen was with his mother.
"It really struck a chord with me, because it was the influence of my mother that made me want to become a chef.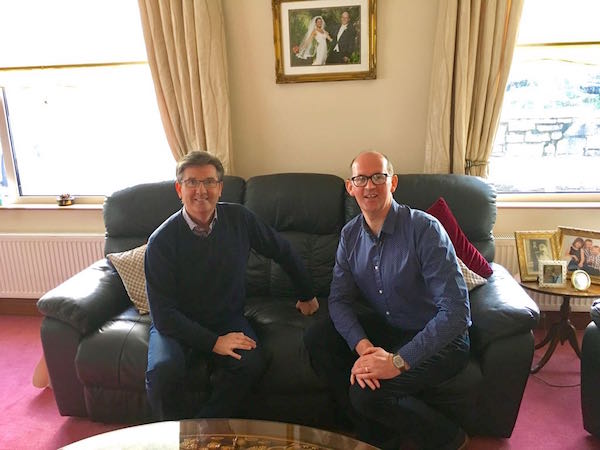 "She was always cooking in our kitchen, either for the men on the farm or for all fourteen of us in our house, and still to this day she's always cooking and baking."
The pair then sat down to a "private tea party" accompanied by Brian's wife Brenda and daughters Niamh and Aoife.
"I've often described him the King of Donegal," said Brian. "He's a real ambassador for the county, and everywhere you go, when people hear you're from Donegal they always ask you about Daniel O'Donnell.
"Either him or Michael Murphy, they're the two iconic figures people associate with Donegal.
"To be able to sit with Daniel and celebrate Donegal food together was such a privilege.
"It was the best tea party I've ever been to!"
Brian and Daniel's tea party will be aired on RTÉ's Today Show with Dáithí & Maura at 3.30pm on Monday 12th March on RTÉ 1, with Brian cooking also live in studio.
Brian McDermott's new book, Brian McDermott's Donegal Table, launches in the Redcastle Hotel and Spa on Wednesday 8 March at 7.30pm, and is available from bookshops nationwide from 12 March.