With less than four weeks to go until the 47th International Pan Celtic Festival gets underway in Letterkenny, the new 2018 Festival Programme was unveiled yesterday at a special event in An Grianan Theatre in Letterkenny by Cathaoirleach of Donegal County Council Cllr. Gerry McMonagle along with the Mayor of Letterkenny Cllr Jimmy Kavanagh.
This programme sets out details on what's on over the course of the festival which will take place from 3 – 8 April.
The International Pan Celtic Festival is a unique celebration of the Celtic culture and bears witness to majestic displays of Celtic dancing, pipe band performances, choral performances and even Celtic rock and pop music in all of the Celtic languages from Scotland, Wales, Cornwall, Isle of Man, Brittany and of course Ireland.
There will be many highlights during the week but one of the most colourful will be the carnival street parade and busking competition that will take place in Letterkenny on Friday 6 April.
Speaking at the launch Cllr McMonagle said that we in Donegal we have a rich abundance of culture in our heritage, language and our traditional music, saying "it is this which is our unique selling point when promoting Donegal around the world.
"Some of our most respected traditional musicians and singers hail from Donegal, including Dinny McLaughlin, Clannad, Altan and Mairead Ni Mhaonaigh who will be helping us officially open the Festival on Tuesday 3rd April at 7.30pm in the Mount Errigal Hotel. It is therefore fitting that we can share this mix of Celtic arts with our fellow Celts from Wales, Cornwall, Brittany, Scotland and the Isle of Man."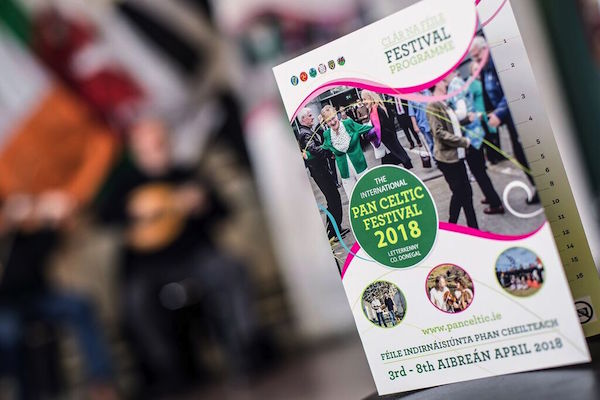 Mayor of Letterkenny Cllr Jimmy Kavanagh is looking forward to the week long celebration which will see up to 5,000 visitors coming to Letterkenny especially for the festival.
"This festival was last hosted in Letterkenny in 2007 and it was a wonderful celebration of our shared cultures and traditions and I am sure that our visitors will receive another warm and hearty welcome from the people of Letterkenny and indeed the entire county."
Máirín Nic Dhonnchadha Cathaoirleach of Comhairle Idirnáisiúnta Pan Cheilteach is delighted to be back in Leitir Ceanainn again, having enjoyed the warmth of this host-town's welcome and hospitality in the past.
She said "we look forward to renewing old friendships and, most importantly, to embracing a new generation who will continue to celebrate our shared Celtic heritage. Our greatest aspiration is to encourage networks of cooperation across our six nations to support the work of each nation in strengthening our languages, our culture and our traditional arts."
Liam Ward Director of Service with Donegal County Council acknowledged the massive role played by the local community and other stakeholders in developing this exciting programme for this event.
"Donegal County Council is delighted to be leading out on this initiative but we could not have developed such a diverse and exciting programme without the buy-in of all the community. I want to acknowledge our stakeholders who have contributed to the festival and without whose help and support this would not be possible. Gabhaim míle buíochas le Líonra Leitir Ceanainn, Cumann Luthchleas Gael Naomh Adhamhnáin, an Bord Camogaíochta Dhún na nGall, Donegal Volunteer Centre, Coláiste Ailigh, Letterkenny Chamber of Commerce, Shop LK, Letterkenny Cathedral Quarter and of course Comhaltas Leitir Ceanainn."
The Cathaoirleach concluded the launch by encouraging the people of Letterkenny and Donegal to come along and enjoy the many events and activities planned for the week. To find out more about what's on, check out the festival programme at www.donegalcoco.ie or pick up your free brochure at the Tourist Information Office, Council Office or library.
Tags: