Lifford-Strabane AC duo Ella Costello and Ashleigh McArdle both won silver medals at the Scottish Indoor Championships at the weekend.
Costello was the silver medallist in the Girls U13 long jump with McArdle claiming silver in the Girls U13 high jump event in Glasgow.
Costello (above, left) leaped to a new PB of 4.26m, a jump that was some 30cm past her previous best set at the recent Ulster Indoor Championships.
McArdle (below, left) also reached new heights as she reached out to 1.41m in the high jump.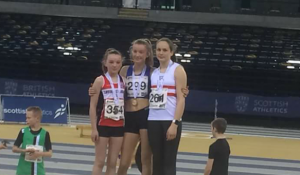 Elsewhere, Adrienne Gallen was fourth in the Girls U15 shot, missing out on a medal by just 10cm.
Gallen had to move up an age group and was, therefore, throwing a heavier 3kg shot. She'll be back again at this age group in 12 months' time.
Harriet McCrossan had a busy day, coming through the rounds in the Girls U15 60m. After getting through her heat, McCrossan finished third in the fastest semi-final in 8.29 seconds to reach the final.
There, McCrossan finished eighth in a highly-competitive race in 8.34 seconds.