Start-up companies established by students in Pobalscoil Ghaoth Dobhair and Gairmscoil Chú Uladh, Béal an Átha Móir were the joint winners of the Údarás na Gaeltachta Clár na gComhlachtaí Donegal Regional Final and will now represent the Ulster Gaeltacht at the National Final in Galway.
5 schools and 15 companies took part in the Regional Final and the companies 'Stetsons & Steps' from Gairmscoil Chú Uladh and 'Boue' from Pobalscoil Ghaoth Dobhair will represent County Donegal at the Údarás na Gaeltachta Clár na gComhlachtaí National Final on the 15 March 2018.
Clár na gComhlachtaí is a hands-on business learning experience developed and delivered in partnership with Junior Achievement Ireland (JAI) and is taught by business volunteers through the Irish language to students in Gaeltacht regions.
Three of the participating schools were also presented with special awards at the regional final. Coláiste na Carraige, received the judges special recognition award, Pobalscoil Ghaoth Dobhair triumphed in the 'Innovation' award category, while Gairmscoil Mhic Diarmada won the 'Sales and Marketing' award.
Over 180 students and 5 schools took part in the Údarás na Gaeltachta Clár na gComhlachtaí programme in County Donegal this year. The programme provided students with numerous opportunities for the development and reinforcement of important business, academic and leadership skills, which will be invaluable to them in the future.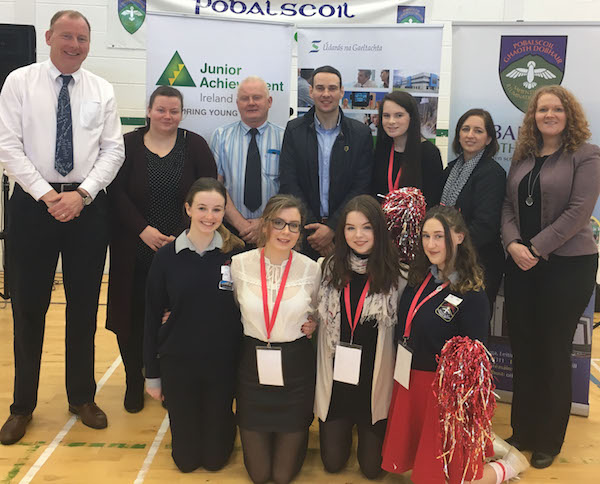 While the winning enterprises will progress to the National Final, the judges Aisling Ní Fhearraigh, Christopher MacSuibhne from Údarás na Gaeltachta and Ailís Bairéad from Donegal Airport were thoroughly impressed with the innovative products and services on display and the entrepreneurial skills which were evident in all the teams.
Micheál Mac Giolla Easpaig, Regional Manager Údarás na Gaeltachta, commented: "The Clár na gComhlachtaí Programme has been in operation in the Donegal Gaeltacht for the past 6 or 7 years and has proven both popular and beneficial for students. We are very grateful to the teachers, principals and of course the students themselves who assist us in promoting the programme which is very important for Údarás na Gaeltachta in inspiring the future entrepreneurs and business leaders of the Gaeltacht areas."
On behalf of Junior Achievement Ireland, Patricia Friel commented: "The Údarás na Gaeltachta – Clár na gComhlachtaí encourages students to maximize their potential and provides them with both business skills and life skills for their future. Thank you to the participating students, their teachers and business mentors for their dedication in showcasing the students' entrepreneurial talent and also to Údarás na Gaeltachta for ensuring these students had this exciting real-to-life opportunity to set up their own business."
Representatives from the Donegal, Mayo, Galway and Munster Gaeltacht areas will compete in the national finals which will be held in the Connemara Coast Hotel, Na Forbacha on the 15 March 2018.
Údarás na Gaeltachta Clár na gComhlachtaí Donegal Regional Final Winners:
Gairmscoil Chú Uladh, Béal an Átha Móir – 'Stetson agus Steps Ltd.'
Business: Produced a DVD to teach people how to Jive
Pobalscoil Ghaoth Dobhair – 'Boue'
Business: Produced face masks made from peat moss