Local food and music stars are coming out in support of the Donegal Youth Choir in their fundraiser for Lourdes.
A major fundraising campaign is underway to help the members of the Donegal Youth Choir take part in a special Pilgrimage to Lourdes departing on 25th March.
When the invitation first went out to the choir it was thought that as many as fifteen to twenty members might sign up to travel, but the bookings came in and forty one members of the choir will travel to Lourdes.
To help with costs the members have been organising cake sales, bag packing and raffles.  Their biggest event is happening on the 22nd March in the Mount Errigal when comedian Big O, singers Johnny Brady, Barry Kirwan and Gary Gamble take to the stage to try and copy what chef's Christopher Molloy (Lemon Tree, Letterkenny) and Martin Anderson (Sonder, Letterkenny) cook up.
To make it more interesting they will be split into two teams with one doing a main course and one doing dessert.  There will be much flipping of pancakes, whipping of cream and general messing as the guys try to become Donegal's next Celebrity Chef.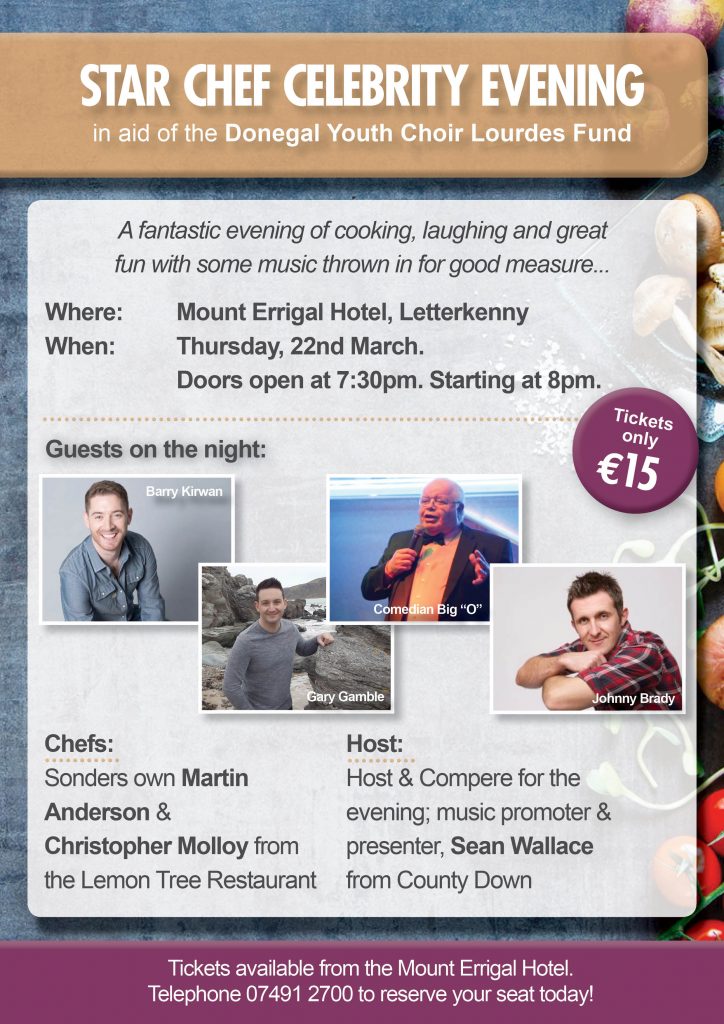 Calor Gas and Sweeney Electric are supplying the cookers, with overhead mirrors and big screens in place so that everyone in the hall can see what's going on.
Sean Wallace is a music promoter and presenter and is travelling all the way from County Down to do MC for the evening.
This has all the ingredients to be a wonderful evening with a pinch of madness, a dollop of entertainment and a lot of messing, cooking and laughter.
Our guarantee, you will laugh till you cry.  A ticket for this event makes for the perfect Mother's day present.
Tickets are on sale from the Mount Errigal Hotel and can be reserved over the phone by calling 07491 22700. Tickets €15 . Doors open at 7.30pm.
Tags: