All families and friends will be hopping over to Castle Grove Country House Hotel this Easter for some wonderful events. Plus, to celebrate the season, the team have shared a sweet and indulgent Millionaire's Shortbread recipe.
There's just no mistaking it – spring is in the air! Slowly rising temperatures and that lovely stretch in the evening give us a wonderful sense of rejuvenation. Easter is coming! It's one of our favourite times of year at Castle Grove. Outside the air is full of possibility and regrowth is everywhere. Easing ourselves into the year, Easter offers us a chance to regroup to reconnect with family and friends many of whom, we might not have seen since Christmas!
Castle Grove is the perfect setting to kick back, relax and reflect on the first three months of the year.  We've planned a weekend full of great food and fun activities to make it a memorable time for the whole family.
Easter Lunch  (Bookings Required)
Easter Saturday, Sunday and Monday we'll be laying on our traditional Easter lunch each day from 12 – 4 and on Sunday from 12 – 5. Chef Brady will be preparing a menu filled to bursting with fresh vegetables, succulent meats and delicious sauces that are sure to satisfy every pallet.
The Easter Bunny Has Lost His Eggs!  –
Complimentary Egg Hunt for Kids on Sunday with Lunch Booking!
That brings us on to the most EGGSCITING event of the weekend – the Easter Egg Hunt! There will be not one but TWO egg hunts on Sunday afternoon. The first will be held in the Castle Grove gardens at 2 pm and the second at 4pm. The hunt is always hugely popular with families and is a great way to occupy children who can become restless during the mid-term break. The egg hunt is always hugely popular with children who have loads of fun in the Castle Grove grounds.
There will be a very special guest on the day to help find those eggs – none other than the Easter Bunny himself.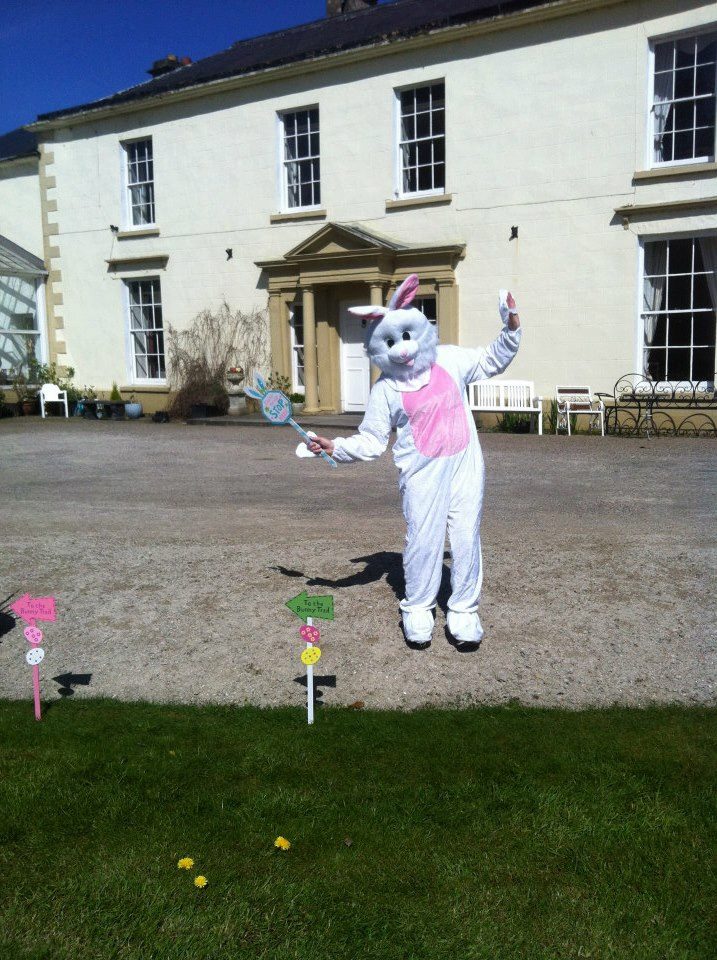 Relax and Renew with Afternoon Tea
Saturday and Monday see us setting out our exquisite Easter Afternoon Tea each day from 12 –4 which you are free to enjoy in one of our comforting drawing rooms. Filled with tasty savoury snacks and delicious sweet treats, and rounded off with a cup of hot soothing tea or ice-cold bubbly champagne, there's no experience quite like it. With a window view or a seat by the fire, you're sure to leave feeling wholly replenished.  As all of our afternoon tea treats and snacks are freshly prepared for your enjoyment, please do be advised that advanced booking is essential.
Indulge that Sweet Tooth at Home with this Delicious Castle Grove Recipe
Make some memories on the Easter holidays by gathering up the kids and baking this scrumptious Millionaire Shortbread. Buttery shortbread topped with lashings of yummy caramel and chocolate, it's sure to go down a treat with the little people (and the not so little!)  
Millionaire's shortbread
Preparation time less than 30 mins 
Cooking time 30 mins to 1 hour 
Serves Makes 20 pieces 
Ingredients 
For the shortbread 
For the topping 
Method 
Preheat the oven to 150C/300F/Gas 2. Line a 23cm/9in square cake tin with baking parchment. 

Combine the flour and butter cubes in a food processor and pulse until the mixture resembles fine breadcrumbs. (Alternatively, you can rub the butter in by hand.) 

Add in the caster sugar and pulse again until combined.  

Tip the mixture into the lined cake tin and spread it out evenly with the back of a spoon. Then press the shortbread down firmly with your knuckles so that it is tightly packed in the tin. 

Bake the shortbread for 30 minutes or until very light golden brown. Set aside to cool. 

Meanwhile, for the topping, heat the butter, condensed milk and golden syrup in a saucepan, stirring occasionally until the butter is melted and the mixture is smooth. 

Increase the heat and bring the mixture to the boil, stirring frequently. The caramel will thicken and turn golden-brown. Set aside to cool slightly, then pour over the cooled shortbread. Allow to cool completely. 

Melt the chocolate in a bowl set over a pan of simmering water (ensure that the bottom of the bowl does not touch the water), stirring occasionally. 

Pour the melted chocolate over the caramel and set aside until the chocolate has cooled completely. 

Cut into squares and serve. 
Recipe Tips 
The beauty of millionaire's shortbread is that it can be adapted to suit your taste. Like thicker shortbread and caramel layers? Make it in a 20cm/8in square tin and bake the shortbread for ten minutes longer. 
Get in Touch to Book Now
So, what are you waiting for? Call now to book your place at Castle Grove this Easter! It's a hugely popular time so advance booking for any of our Easter events is essential. On booking, please do let us know how many children you will be bringing for the hunt. We look forward to welcoming you to Castle Grove this Easter.
Booking can be made at any Castle Grove event by calling 074 91 51118 or by messaging us on Facebook or Instagram or by emailing on reservations@castlegrove.com
Tags: