WHEN JIM MCGUINNESS took over as the Donegal manager, he set about addressing the county's home form as one of his first priorities.
Derry, Antrim and Down had left Ballybofey with Championship victories in the previous three years and Sean MacCumhaill's old magic had waned.
A 1-15 to 2-10 loss against Down, after extra time, in May 2010, was Donegal's last defeat in Ballybofey in either League or Championship football.
 Since then, Donegal are unbeaten in 19 League and Championship games at MacCumhaill Park.
They can extend that record to 20 against Mayo on Sunday – a game Donegal need to win to stay in the top flight. 
Last year, the record looked set to fall when Dublin arrived and led deep into injury time, but Michael Murphy arched over a last-gasp free. Donegal stated their intent in the lead-up to that one.
Dublin themselves were on a  31-game unbeaten streak, that had stretched back over two years, going into their visit to the Finn's banks. One record was going to fall – barring a draw. But both departed with the strings intact.
To Donegal, that game meant a lot. 
"To the outside world, yes, people think you have nothing to lose playing Dublin, and that's the way it is for most teams – but we have a very proud record in Ballybofey and we haven't lost here since 2010," was Rory Gallagher's take on things beforehand.
Tyrone came for a raid in 2015, but were handed their coats. Antrim were dispatched from the Championship last year and when Donegal needed a kick-start following an Ulster semi-final battering by Tyrone, they tucked back into Ballybofey. It wasn't pretty, but the home comforts enabled Donegal to record a 0-12 to 0-7 win over Longford.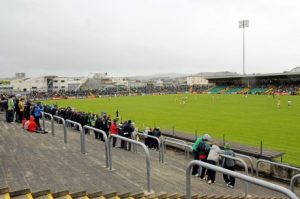 On Sunday, Mayo are the opponents for the latest instalment of a rivalry that has really taken legs in recent times.
The edge arrived in a challenge game in 2012 at Swinford and the pot has been simmering since.
"This weekend is huge for us and is huge for Mayo," Bonner says.
"Pats matches have been fairly feisty and Sunday will probably be no different. We would have accepted a dead rubber if we were already safe, but this is the hand we have.
"Ballybofey is the only place to be on Sunday. What a game to get. It's Championship style and like a dress rehearsal for May (when Donegal face Cavan in the Ulster SFC)."
This weekend, something has to give with the loser dropping to Division 2. There is everything to lose.
Since the restructuring of the Leagues in the late 1990s, Mayo have never been outside the top flight.
Donegal could still preserve their proud home record and be relegated should they draw the game, but after a disappointing sequence of results victory will be all that will occupy Declan Bonner's mind.
In the first League game in the Jim McGuinness era, a late Neil McGee goal secured a draw against Sligo that appeared unlikely for long periods. Just where that narrative would've gone otherwise is anyone's guess, but it certainly was an important moment in the tale.
There were others, too, like the win over Armagh in 2012 that was a winner-takes-all relegation battle and, of course, the Championship wins over Antrim, twice, Derry, Longford and Tyrone twice have added muscle to Ballybofey's biceps.
In the familiar surroundings once more, Donegal will expect to flex their muscle again. 
"It's great to have the game there, but we still need to bring the performance," Bonner warned.
"We want to make Ballybofey a fortress and maintain it. We want a good level of support in Ballybofey and we want the support like we'll have for the Cavan game.
"We need to look after our own corner on Sunday. It's a home game, but we still have to turn up and play the right way. We need the performance to be right and need it to be at the level we're capable of."
Tags: