Everyone loves eating McDonalds and everyone loves playing Monopoly.
Now you can do both at the newly refurbished McDonalds in Letterkenny.
The well known world-wide McDonald's Monopoly competition has arrived at the Donegal fast-food store in the form of "Prize Vault Monopoly".
There are lots of prizes to be won while eating your favourite McDonalds food in the heart of Letterkenny.
The new McDonalds outlet beside the Letterkenny retail park on the Pearse Road is now even more popular with families.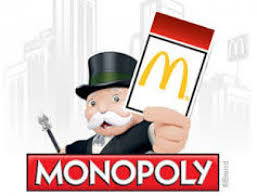 Not only can diners avail of a quicker ordering service, there are even free iPads for children to browse while you wait.
To find out more about the McDonalds' new Monopoly giveaway and all you can win simply log onto http://www.mcdonalds.ie/iehome/promotions/monopoly.html#spa-page-how
And for all the latest offers on your favourite McDonalds food see http://www.mcdonalds.ie/iehome/Promotions.html