Letterkenny Rovers and Firhouse Clover from Dublin will have to do it all again in a couple of weeks time as this highly competitive and entertaining game failed to produce a goal at Leckview Park before a good sized a crowd in perfect conditions.
Both teams finished the game with ten men as Rovers Pajo Rafferty and Firhouse captain Darren Forsyth both received red cards near the end of the game but in different circumstances.
Forsyth got a second yellow for a foul on Chris Malseed in the 96th minute while Rafferty got his in the 88th minute.
The Rovers striker was shown a yellow card by Referee Mr. Marty Mc Garrigle for an alleged late tackle near the touchline which looked a bit harsh.
However, the Rovers man's reaction brought a red card from the Referee's pocket for dissent and there then appeared to be contact between the player and the official as Rafferty approached the referee with a arm raised.
The player's fate in relation to this incident will very much depend on the Referee Mc Garrigle's report.
It was Rafferty who produced the game's best early moment, taking David Shovlin's super pass in his stride and forcing an excellent save from Ian Molloy in the 5th minute.
Three minutes later later Rafferty's corner found the head of Rovers captain Darren Mc Elwaine who's effort was just over.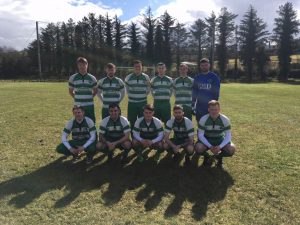 Firhouse responded when Carl Forsyth found Rory O Conner in the 14th minute but his shot was blocked by Conor Tourish. Both teams were forced into early changes as Rovers Paul Mc Veigh and Firhouse Rory O Conner picked up injuries. In the 27th minute Rovers keeper Rory Kelly produced a brillant fingertip save to deny Patrick Brophy's goalbound header from Carl Forsyth's free-kick.                                                                                                                          Two minutes later Rafferty's free found the head of Conor Tourish but his effort was deflected out for a corner. In the final minutes of the half both teams went close. Darren Mc Elwaine and David Shovlin exchanged passes before Mc Elwaine forced a good save from Molloy. Firhouse finished the half well with Chris Farrelly's snap-shot just wide and Mickie Doyle's super run and cross just failing to find the inrushing Nika Arevaoze at the far post.                                Charlie Collins reports from Leckview Park.                                                                                               Conor Doyle's curling shot from 20yds produced another super save from Rory Kelly in the 47th minute. Rovers almost grabbed the lead in the 68th minute when Conor Tourish's long pass found Garvin Grant who's cross was volleyed inches wide by Pajo Rafferty. Two minutes later David Shovlin slid a pass through to Mc Elwaine but his effort from a narrow angle was blocked out for a corner. Rovers were on top of noiw and in the 79th minute a Garvin Grant cross caused problems with several goalbound shots blocked by desperate defending by the visitors.                                                                                                                                             In between the late sending offs Rovers had a final chance when Conor Tourish's header under pressure from Chris Malseed's free was just over. So the teams will have meet again in Dublin to decide who will meet Maynooth in the final.               LETTERKENNY ROVERS ; Rory Kelly, Ryan Lonegan ( Chris Flanagan 86mins ), Ryan Gildea , Ryan Mc Connell , Conor Tourish, David Shovlin , Paul Mc Veigh ( Garvin Grant 20mins ) , Chris Malseed , Darren Mc Elwaine ( Kevin Mc Grath 83mins ), Christy Conaghan , Pajo  Rafferty.                                                                            FIRHOUSE CLOVER ; Ian Molloy, Peter O Donnell, Craig Farrelly, Luke Walsh, Patrick Brophy , Michael Mc Loughlin , Carl Forsyth, Michael Doyle , Rory O Conner ( Nika Arevaoze 25mins / Lorcan Paten 75mins  ), Conor Byrne , Darren Forsyth.                                                                                                                                                                               Referee ; Mr. Marty Mc Garrigle.  Assistants ; Vincent Mc Laughlin & Packie Coll.