Families and friends planning to enjoy a new movie during the holidays will be spoilt for choice at Eclipse Cinemas Lifford/Strabane. The luxury cinema has announced their listings for the week beginning 30th March 2018, and it's jam-packed with entertaining adventures for all ages. 
From new releases to timeless classics, browse the list below to find the perfect film for your holiday treat.
To find show times and to book your tickets, visit eclipsecinemas.com
---
Duck Duck Goose – PG – 91mins – Now Showing
Peng is a freewheeling bachelor goose who'd rather do anything than practice for the upcoming migration. He thinks he's better than everyone else and spends his time attempting crazy stunts at even crazier speeds. In one such stunt, Peng flies too near the ground, hits a flock of ducklings and separates brother and sister, Chao and Chi, from the rest. In this unlikely meeting, Peng will begin a journey that will break his wing and nearly break his heart as he grows to understand the power of unconditional love in the form of two ducklings, who likewise grow to see him as the best father they could ever have.
Blockers – Strictly 16 – 102mins – From Friday 30th March
Three parents try to stop their daughters from having sex on Prom night.
Ready Player One – 12A – 140mins – From Friday 30th March
In the year 2045, the real world is a harsh place. The only time Wade Watts (Tye Sheridan) truly feels alive is when he escapes to the OASIS, an immersive virtual universe where most of humanity spends their days. In the OASIS, you can go anywhere, do anything, be anyone-the only limits are your own imagination. The OASIS was created by the brilliant and eccentric James Halliday (Mark Rylance), who left his immense fortune and total control of the Oasis to the winner of a three-part contest he designed to find a worthy heir. When Wade conquers the first challenge of the reality-bending treasure hunt, he and his friends-aka the High Five-are hurled into a fantastical universe of discovery and danger to save the OASIS.
Peter Rabbit – G – 95mins – Now Showing – Tickets On Sale
Feature adaptation of Beatrix Potter's classic tale of a rebellious rabbit trying to sneak into a farmer's vegetable garden.
A Wrinkle In Time – PG – 110mins – From Friday 23rd March
Meg Murry and her little brother, Charles Wallace, have been without their scientist father, Mr. Murry, for five years, ever since he discovered a new planet and used the concept known as a tesseract to travel there. Joined by Meg's classmate Calvin O'Keefe and guided by the three mysterious astral travelers known as Mrs. Whatsit, Mrs. Who and Mrs. Which, the children brave a dangerous journey to a planet that possesses all of the evil in the universe.
Pacific Rim: Uprising – 12A – 111mins – From Friday 23rd March
Jake Pentecost, son of Stacker Pentecost, reunites with Mako Mori to lead a new generation of Jaeger pilots, including rival Lambert and 15-year-old hacker Amara, against a new Kaiju threat.
Tractor Ted Meets the Baby Animals – Fri 6th, Sat 7th & Sun 8th @ 12.15pm & 2pm – Pre Booking Advised
Click here to book Tractor Ted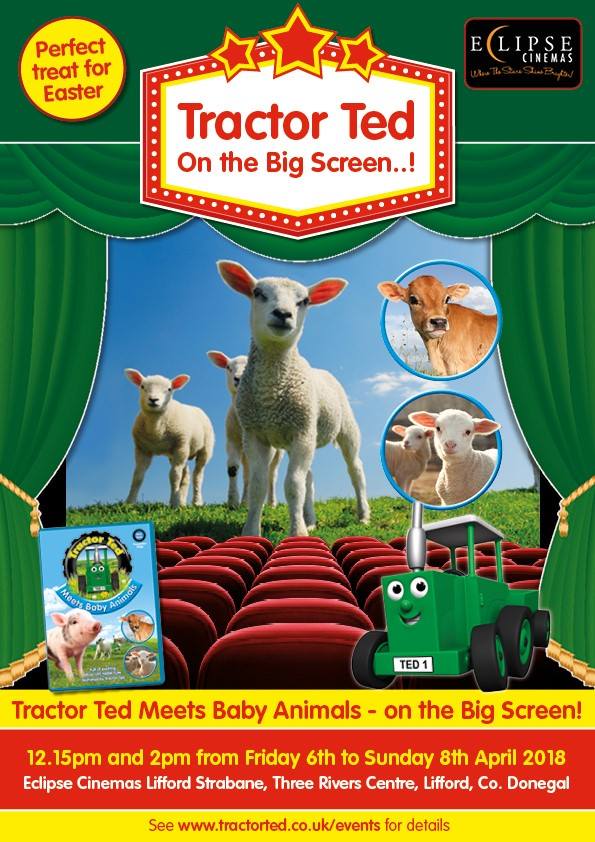 Join the UK's favourite little green tractor, Tractor Ted, as we present "Tractor Ted Meets Baby Animals" on the Big Screen from Friday 6th April 2018; a perfect post-Easter treat! Tractor Ted takes us on a tour of the farm with Fudge the dog who is full of excitement. She is desperate to show Tractor Ted the piglets all snuggled in their bed, the calves being fed and the newborn lambs in the barn.There are some exciting machines hard at work in the fields too including the JCB, tractors and a brand new telehandler is delivered to the farm.
Gift Vouchers – Perfect Gift for Easter or Confirmations – Order Online anytime from the comfort of your own home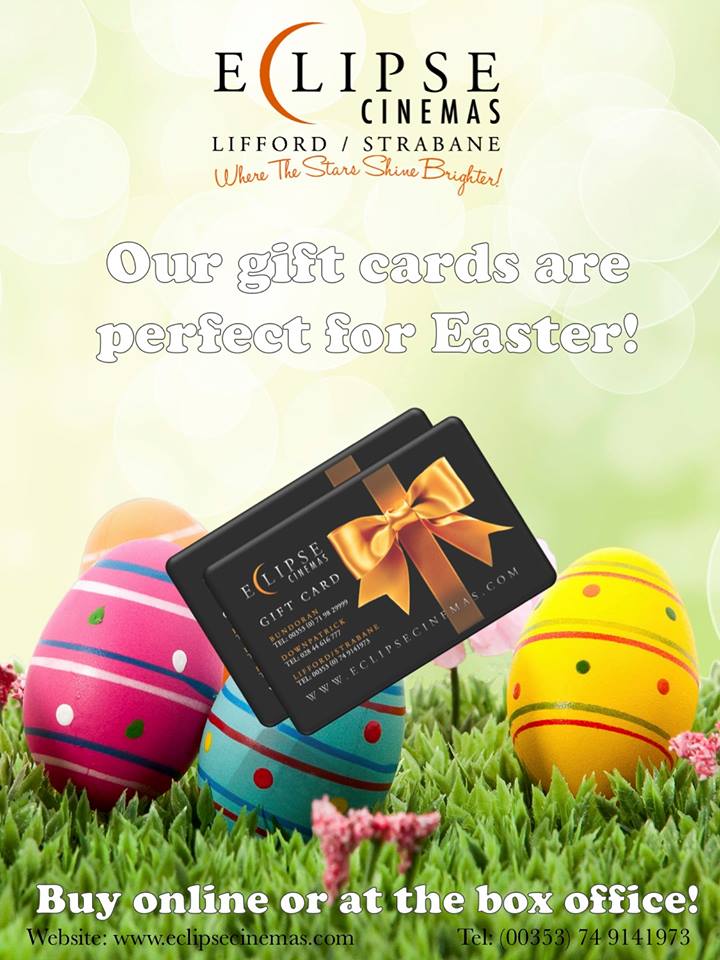 Eclipse Cinemas Lifford/Strabane are open ALL DAY Everyday from Sat 24th March – Sun 8th April
The Quiet Man (1952) – Back on the Big Screen – 1 Night Only – Sat 28th April 8.15pm – Pre Booking Advised (click here to book)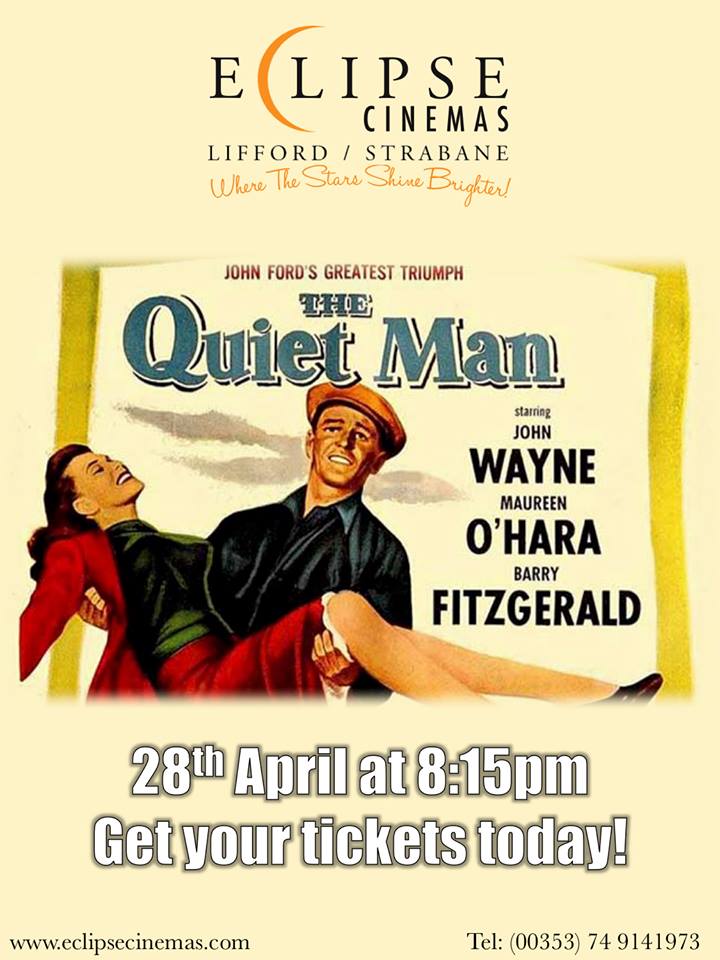 Sean Thornton has returned from America to reclaim his homestead and escape his past. Sean's eye is caught by Mary Kate Danaher, a beautiful but poor maiden, and younger sister of ill-tempered "Red" Will Danaher. The riotous relationship that forms between Sean and Mary Kate, punctuated by Will's pugnacious attempts to keep them apart, form the main plot, with Sean's past as the dark undercurrent.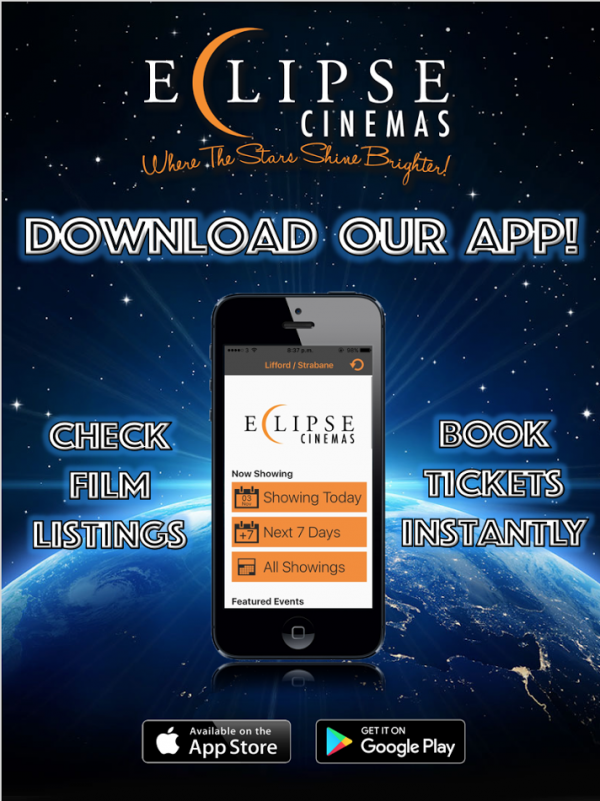 Tags: