Did you know that thousands of people on waiting lists for health treatments in Donegal are eligible to go to Northern Ireland? Here, the team at North West Independent Hospital Co. Derry explain why you have to wait no longer: 
The North West Independent Hospital is one of the longest established, privately owned, hospitals in Northern Ireland. We have been delivering high-quality healthcare since 1989 and work hard to maintain an impeccable reputation.
Our mission is to provide high quality patient centred care in an environment which is safe, which fosters respect and which encourages personal and professional growth.
With advanced surgical and medical facilities and highly qualified and professional staff, we are committed to providing our patients with excellence across a wide range of specialities. You will be cared for by a team of professionals who are dedicated to ensuring you receive the best possible treatment.
The Hospital team consists of Heads of Departments, Registered Nurses, Nursing Auxiliaries, Allied Health Professionals, administrative, ancillary and maintenance staff, who all contribute to the delivery of a safe and effective care pathway for all our patients.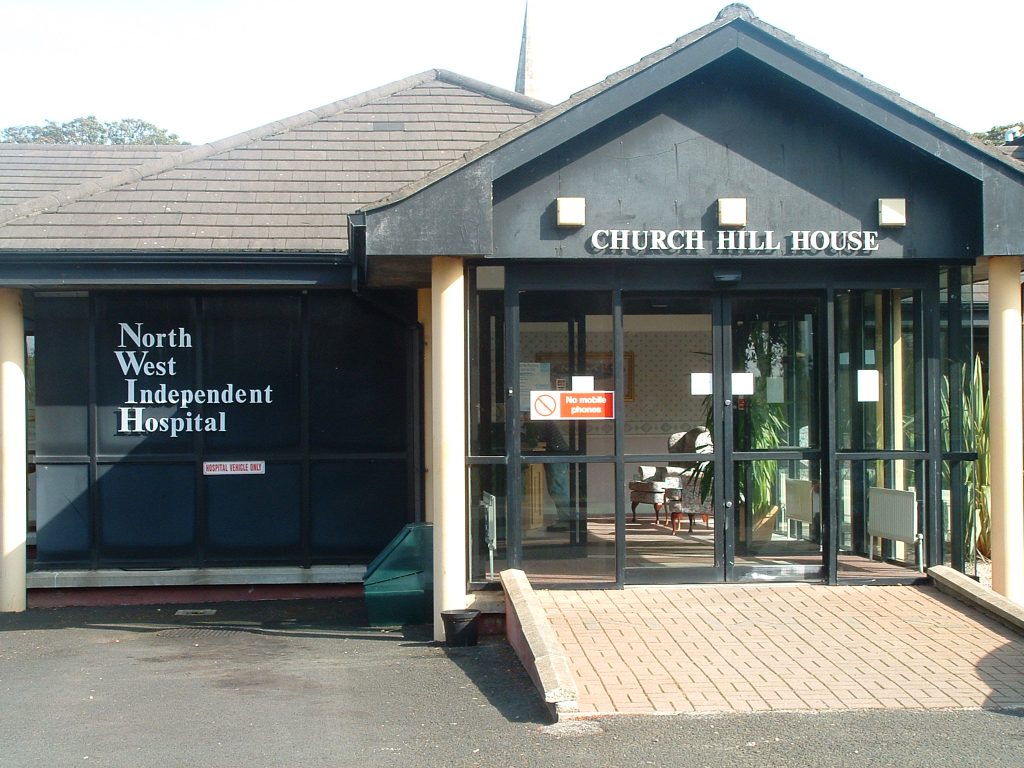 The Hospital is registered by the Regulation and Quality Improvement Authority under the Health and Personal Social Services (Quality, Improvement and Regulation) (Northern Ireland) Order 2003 as an "Independent Hospital" (IH). The Hospital is registered to provide care and treatment to patients over the age of one year and all services provided are Consultant-led.
We are proud to work in partnership with some of the most well-qualified and experienced Consultants/ Private Doctors available in their specialist field.
There is a wide range of facilities, including: 31 Single Bedrooms with En-Suite/2 Double Bedrooms with En-Suite, 13 Day Case spaces – 4 single rooms with en-suite, 1 single room, a 4-bedded room and a 4 bedded room, 3 Operating Theatres and One Endoscopy Suite, MRI Department (operated by Alliance Medical) and Physiotherapy Department.
We aim to provide a caring, high quality service and as part of our commitment to continuous improvement we strive to obtain feedback from our patients. If you are happy with your experience, we would like to hear from you as this helps us to know when we get it right. We also need to know when we have not met your expectations, so we can review shortcomings in our service delivery. The information we receive is vital for the continuous improvement of our service, questionnaires are audited monthly and the overall findings are shared with all members of our Hospital team.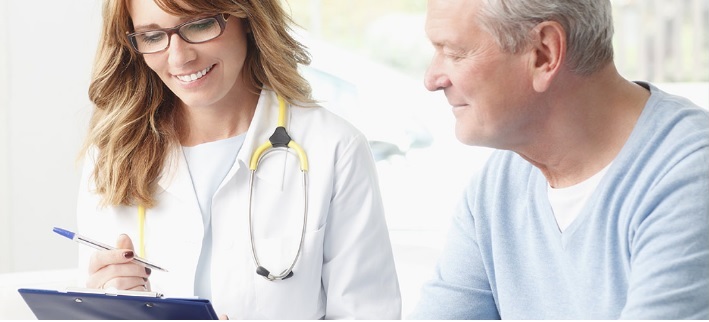 Here are some comment from past patients and family:
Jenny
From the minute I came in the door I was greeted with pleasant smiles . I have been treated with dignity and respect. Every single member of staff I have come in contact with today has been amazing . They have been attentive and couldn't do enough for me . Thank you so much.
Noelle
I had an op last week in the North West. The kindness ,dedication ,expertise ,and professionalism of every member of staff I came across was lovely to experience and really helped allay my fears and worries . You all should be proud of the excellent facility and care you provide for your patients Thank you all very much.
Cindy
I couldn't fault this hospital at all. I was only in as a day procedure case but my short stay was perfect. 
Dr Harkin made me feel very peaceful about my procedure and answered any worries I had thoroughly. He was down to earth and conducted my op with my best interests at heart.
Nurses were exceptional very friendly and chatty and extremely professional. 
Catering ladies were also first class. Very helpful and did not rush us to move on to the next customer. They were also spotless in both hygiene and appearance 
Would recommend NWIH for 1st class care
Felicity
Thank you so much to all the staff and especially Dr. McCormack and his surgical team for their wonderful care of my Mum on having her hip replaced. This is her second hip replacement here and we would definitely recommend this hospital to anyone choosing a medical facility. The friendliness, attentiveness and care is exceptional.
North West Independent Hospital, Church Hill House, Ballykelly, BT49 9HS Tel: 048 777 63090. Email: info@nwih.co.uk Web: www.nwih.co.uk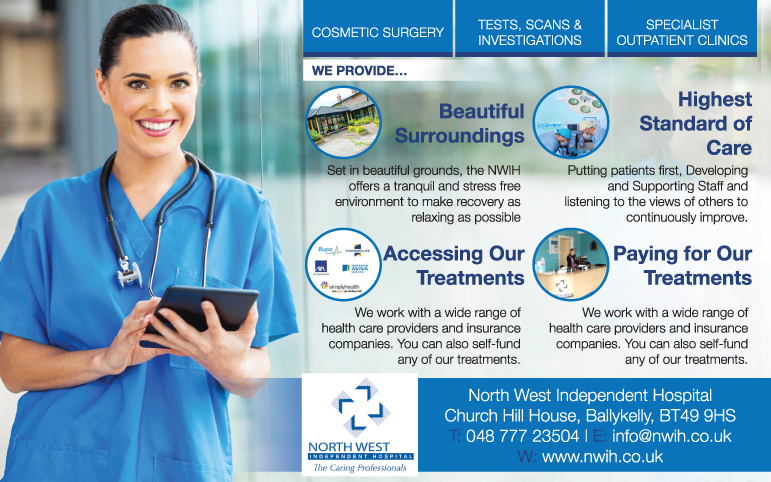 Arriving by car:
Typical car journey times to the North West Independent Hospital: Ballymena 45 minutes, Belfast 90 minutes, Donegal Town 90 minutes, Enniskillen 90 minutes, Letterkenny 45 minutes, Newry 90 minutes, Omagh 60 minutes and Strabane 35 minutes.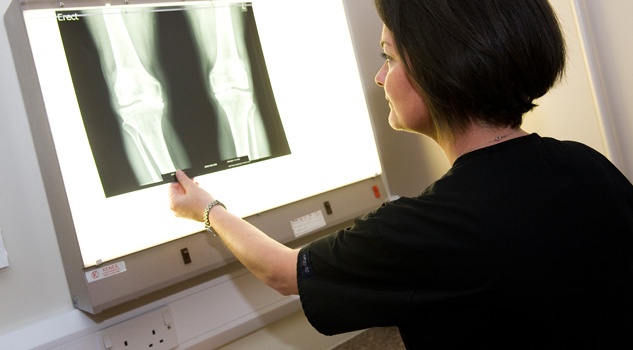 European Cross Border Health Care Directive
Thousands of people on waiting lists for treatment in Donegal are eligible to go to Northern Ireland for their treatment.
The implementation of the EU Cross Border directive will mean that the HSE WILL PAY for treatment of Donegal patients that have to endure lengthy waiting lists.
This will mean shorter or no waiting times.
The Cross Border healthcare initiative affords for a significantly better opportunity for treatment by Healthcare experts with a consequent enhancement of their wellbeing and quality of life.
The Scheme requires patients to initially fund their travel expenses and payment for treatment but the HSE is committed to paying for the treatment on receipt of the invoice. There are certain rules and regulations but nothing extensive.
The HSE operates the Cross-Border Healthcare Directive for persons entitled to public patient healthcare in Ireland who are seeking to avail of that healthcare in another EU/EEA member state.
Under the Directive of the European Parliament and of the Council on the application of patient's rights in cross-border healthcare, as per the procedures set out in governing EU Regulations and Directives and Irish legislation. 
Within these governing EU Regulations and Irish legislation, the cost of publicly funded healthcare in Ireland to be availed of in a EU/EEA member state and the costs to be reimbursed subject to compliance with the applicable administration processes adopted by the HSE in the administration of the CBD.  
Patients must familiarize themselves with the administration requirements of the HSE prior to availing of cross border healthcare in order to confirm entitlement or otherwise to reimbursement of treatment costs. 
The HSE has established a National Contact Point (NCP) office for the administration of the CBD in Ireland and the contact details for the NCP are: National Contact Point, Cross-Border Healthcare Directive Department, HSE Cross Border Directive, St Canice's Hospital, Dublin Road, Kilkenny Tel: 056 778 4546 Email: crossborderdirective@hse.ie
http://www.citizensinformation.ie/en/health/eu_healthcare/cross_border_directive.html
---
Sponsored Post
Tags: