A community campaign to give the Old Letterkenny Courthouse to Cara House has progressed into an official petition today.
Locals are backing the idea that the vacant Courthouse on Upper Main Street be opened to the management of Cara House for their many Family Resource services.
The idea has gained much support following a Facebook campaign launched by local woman Treasa Mc Keown. Now, the people of Cara House have responded to the rise in public interest to stress their need for a large facility.
Cara House moved from their 'Red Door' building at Market Square to Lower Main Street in September 2017. The building is not big enough to cater to the number of people attending courses and children's activities. Cara House serves hundreds of people each week and has been a welcoming hub in the heart of Letterkenny for years.
However, services have to be spread across seven different locations in Letterkenny. The dedicated staff and volunteers must travel from place to place, because they simply have no room to host all their programmes under the one roof at Lower Main Street.
Co-ordinator Susan McCauley said she and the committee have been requesting a bigger building for some time. A building of 10,000 sq ft is necessary to accommodate everyone, she explained.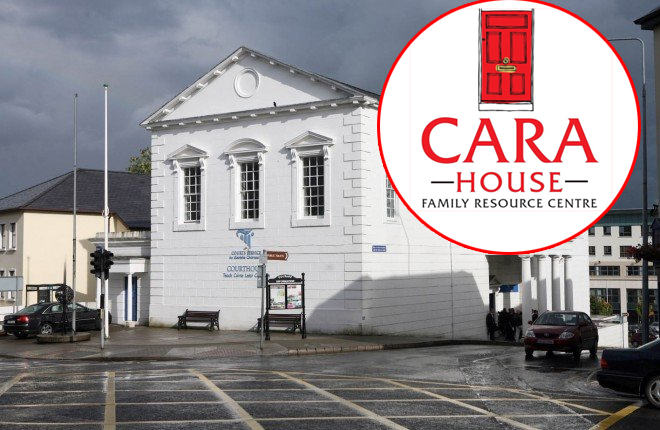 The idea to call on Donegal County Council to explore ways to give the Old Courthouse to Cara House began with an unaffiliated community member, but it has created an awareness that Cara House have welcomed. This change.org petition is the result of that campaign for change: https://www.change.org/p/donegal-daily-old-courthouse-for-cara-house…
Susan McCauley said: "We want to get a better premises from Donegal County Council. It is great that the community have seen that we need a new place.
"The Lower Main Street is really too small. We have a drop-in room and rooms upstairs, but it is a lack of space that is restricting us from having more people."
In a recent request to Donegal County Council, Susan added: "Much of the work of Cara House is not easily recognised but it serves many disadvantaged people. We have worked for the last 14 years on their behalf, concentrating on children, the intellectually disabled, those recovering from mental ill-health and older people.
"It has always been the desire of the management and staff of Cara House to bring about a community that cares in Letterkenny. We believe that this social inclusion can be best facilitated by bringing people together in one venue where they can meet informally."
Currently, some 96 children benefit from the after-school club, while other children attend the drop-in creche and preschool year. Adults take advantage of language, skills and health courses, befriending services, and social groups.
Whether it's in the Old Courthouse or another space, it is hoped that the caring Cara team can welcome everyone under one roof, through one red door, in the near future.
Click here to view the 'Old Courthouse for Cara House' petition: https://www.change.org/p/donegal-daily-old-courthouse-for-cara-house
Tags: