This week, the team at Mavericks Barbershop Letterkenny are serving up a top prescription for men to look their best:
Water is an essential component for the effective functioning of our body. Approximately 50 to 70% of our body mass is made up of water, including skin, tissues, cells and the organs. 25% of hair is made up of H2O as well so it's obvious we need to ensure we are giving our bodies enough water to be in peak condition and to look its best…
Water staves off dehydration, which is a condition in which the body doesn't have enough water to support the vital functions. It also removes toxins and waste products from the body thereby cleansing it.
We lose water through perspiration, urine, breath and bowel movements every day, therefore, it is important to replenish the bodies water levels daily.
The Institute of Medicine has determined that the daily adequate intake of water for men is 3 litres which is just short of 6.5 pints.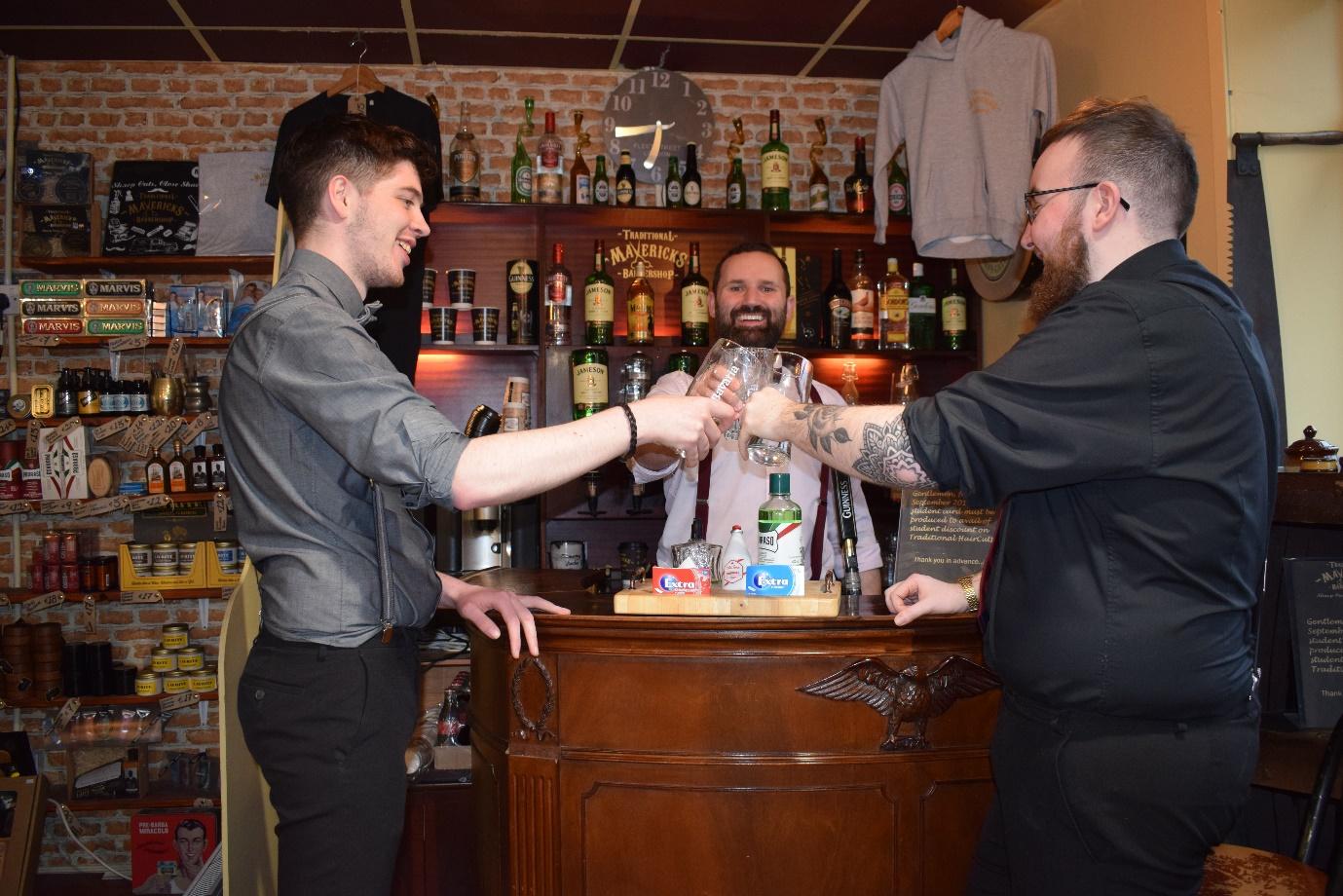 Benefits for your Skin:
Just like the other organs of our body, skin is also made of several cells. Skin cells like any other organ cells require water to function properly.
It is essential to maintain the optimum skin moisture and deliver essential nutrients to the skin cells. It replenishes the skin tissue and increases its elasticity. This helps delay the appearance of wrinkles, fine lines and dark circles around the eyes etc.
It is suggested that drinking enough water helps combats skin disorders like psoriasis, wrinkles and eczema. It also increases the metabolic rate and improves the digestive system to flush out toxins from the body. This, in turn, gives you healthy, glowing skin.
Benefits for the Barnet:
Water is a natural miracle ingredient that supports vitamin consumption and assists in efficient and healthy hair growth. Water makes almost ¼ of the weight of a hair strand therefore like the rest of your body it needs to get topped up!
Our hair thrives on moisture-rich environment and water is one of the best ways to quench its thirst. Just like our skin, hair also needs lubrication from inside out. Dehydration has a direct impact on the growth of hair. Lack of moisture results in dry and brittle hair. It may even stop growing at the maximum genetic rate if you don't drink enough water to meet your daily needs. The roots of the hair are the means by which water is transported from the body. They soak up water and provide hydration to the rest of the hair strand.
Drinking water also helps to eliminate hair problems like dandruff and Dermatitis Seborrhea.
It's not just when your going well to the gym or have a game or a 5k coming up, even just to take care of yourself at a basic level water is a must and the "brucey bonus" is you will look a whole lot better too!!!! So gentlemen 6.5 pints of WATER is the target a day, try it out for two weeks, we think you will see and feel the benefit! No doubt all our Mavericks will be asking for one of our complimentary bottles of chilled River Rock from now on…
This column is not a licence to tell your missus that you must go to the pub and drink 6.5 pints every night to get be in good shape for her! It's water gentlemen, WATER!
If you want to look your best there is only one place in town…Get into Mavericks for sharp cuts, close shaves and a bottle of water!
For more info on male grooming call into us at Mavericks Traditional Barbershop, Lower Main Street, Letterkenny, we guarantee great haircuts in a classic barbershop environment.
You can also check us out on Facebook for some giveaways this week (www.facebook.com/Maverickstraditionalbarbershop) and follow us on Instagram (maverickstraditionalbarbershop) or Twitter www.twitter.com/mavericksbaber 
Tags: