Special Garda Jack Beattie is working his way to the top of the force after an action-packed day at Garda HQ in Dublin.
The seven-year-old from Raphoe was called to duty on Wednesday to make an official visit to Phoenix Park. This was the biggest mission to date for Donegal's first Little Blue Hero.
As a Little Blue Hero, Jack is a member of an elite unit of children undergoing long-term medical treatment who are initiated as honorary members of An Garda Siochana.
Jack joined seven fellow heroes to patrol Garda HQ. They met the Garda Band and enjoyed dancing to the music and playing instruments. They inspected the Garda Dog Unit and visited the stables to see the Garda Mounted Unit. They then celebrated the day with their families with a big lunch party in the canteen.
Chief Supt Karl Heller presented each child with a medal of bravery. They also received a horseshoe each for good luck and special Garda torches.
It was a day of many unforgettable moments for Jack and his parents, Kenneth and Ruth.
Ruth tells Donegal Daily about Jack's favourite moment: "The heroes were brought on a mini-bus trip down Phoenix Park, but when the bus was full, Jack got invited to travel in the Garda patrol car. He loved this. He sat in the front seat and had the siren and lights going. If anyone asks him, he says that was the best part.
"There was a 'suspect' in the park driving a yellow car, so Jack and the gardai had to look out for it. There were ordinary people walking and running in the park, and everyone stopped to look and see what was going on with all the sirens!
"We all really enjoyed the day. It's an experience you'd never normally get to have," Ruth said.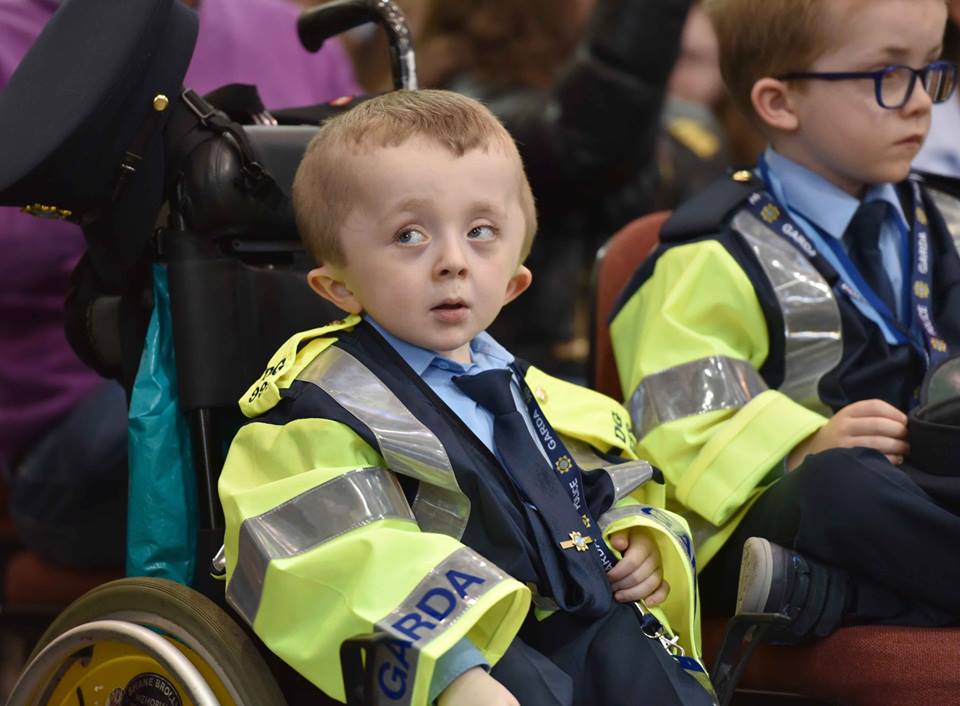 This was the largest elite unit of Little Blue Heroes yet to make this visit to Garda HQ. The event involves much organisation and excitement among the families, the gardai and suppliers in the community.
Ruth said the day was a special treat for all the little gardai. "It's lovely to see them all together. They're all going through something. It's a real treat for them, you don't know what the rest of their life is like."
Jack was born with Osteogenesis Imperfecta which is also known as Brittle Bone Disorder. He attends Temple St. Children's Hospital for regular appointments, and Ruth said he is doing well as they wait for a leg operation. Jack is also well-known as an ambassador for Bumbleance in the North West.
Jack is in senior infants at Raphoe Central NS, and plans to be a full-time garda when he's older. He has plenty of experience already, having caught criminals in Letterkenny Shopping Centre in February, patrolled the St. Patrick's Day Parade and earned his official numbers!
Photos: www.facebook.com/littleblueheroes and Ruth Beattie.
Little Blue Heroes is a charity established by Garda staff which aims to support local Gardaí in providing financial assistance to families in need in their local communities who have children undergoing long-term medical treatment for critical illness. To find out more or to donate, visit www.littleblueheroes.org
Tags: