Details have been announced for the third annual remembrance walk for Autism Awareness and Acceptance in Buncrana.
On the 23rd of  April 2018, iCARE will host 'Callum's Walk', with an important change to the event.
The walk had been held as a fundraiser for the autism support centre in past years. This year, the committee has decided to completely focus the walk on raising awareness and acceptance for autism in the community.
Organisers said: "We have chosen to not fundraise for this event, to allow the name of a much loved son, friend and valued member of iCARE to live on. Callum Dale lost his life in a tragic accident a couple of years ago, but he has not been forgotten by the iCARE & Sonas YC Community.
"So we are calling on all our local schools in Inishowen and our community to attend, and show their support, everyone is welcome, no matter your age or ability."
The walk will start at 11am, starting at the Oratory Chapel walking towards main street and ending at the iCARE centre, where we will have refreshments for everyone in application for the community's help this past year and end with a balloon release in remembrance of Callum.
This event is gratefully sponsored by Foroige, Donegal Sports Partnership, O'Flaherty's Fitness, Garvin Walker House of Wellness,  & Grow –World Community Mental Health Movement in Ireland.
Thank you to Derek Doherty for letting us use his fantastic painting for this year's poster.
Please come along, show your support & have a bit of craic on the day.
For more information call the iCARE Centre on 0749362226 or Mobile 0861081200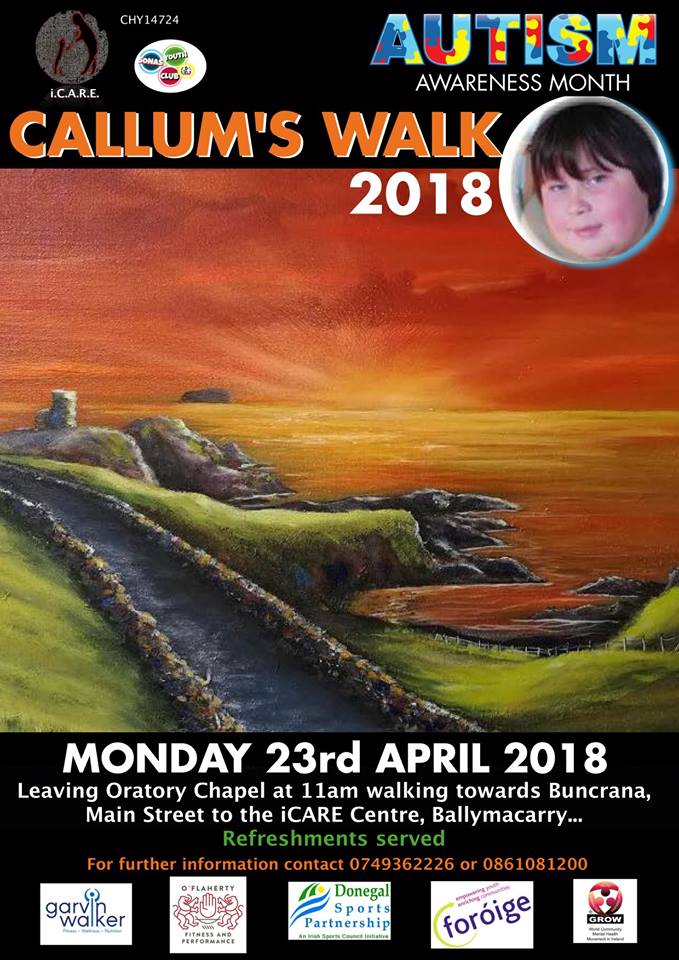 Tags: