With the North West Independent Hospital just around the corner in Derry, many Donegal patients are availing of its excellent services.
But did you know that the hospital has agreements with all major health insurance companies, including BUPA, Aviva PPP, WPA, VHI and Quinn Healthcare?
Thousands of patients from across Donegal are availing of the hospital's services using this method each year.
The hospital advises patients to contact their insurance company beforehand to inform them of your admission date, the procedure code (allocated by our Admissions Clerks) and your named Consultant and to check that the cost of your procedure will be covered by your individual policy.
Your insurance company will then issue you with an authorisation code or send out a claim form which must be completed and signed by your Consultant at the time of your admission.
This should enable the hospital's financial account, and those of the Consultants (including Anaesthetist where appropriate), to be settled directly by the insurer.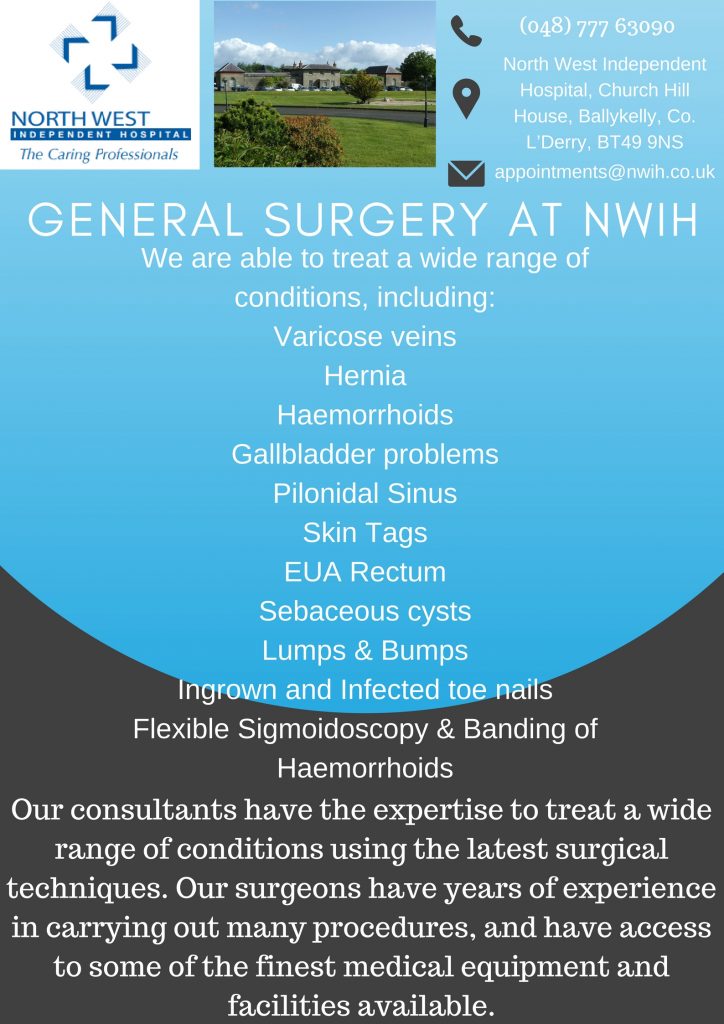 General Surgery for a Wide Range of Conditions
The team of Consultant General Surgeons at North West Independent Hospital has the expertise to treat a wide range of conditions using the latest surgical techniques.
Our surgeons have years of experience in carrying out many procedures and have access to some of the finest medical equipment and facilities available.
We are able to treat a wide range of conditions, including:
• Varicose veins
• Hernia
• Haemorrhoids
• Gallbladder problems
• Pilonidal Sinus
• Skin Tags
• EUA Rectum
• Sebaceous cysts
• Lumps & Bumps
• Ingrown and Infected toe nails
• Flexible Sigmoidoscopy & Banding of Haemorrhoids
Specialist Care Tailored to Your Individual Needs
We are constantly investing in developing the latest surgical techniques, diagnostic equipment and surgical facilities. As a result, our surgeons have been able to develop their skills in a range of sub-specialities including vascular surgery, breast surgery and colorectal surgery.
Our facilities are designed to ensure patient care is of the highest standard, whether you are attending the hospital for outpatient care or you are staying with us for a longer period.
We aim to ensure a reduced recovery time, minimal scarring and a decreased risk of infection. Our surgeons will also try to offer minimally invasive surgical techniques where possible, such as keyhole surgery.
General Surgery for All Ages
Thanks to the wide and varied skills and experience of the surgical teams within the hospital, we are able to offer general surgery to patients of all ages, including children. Our Paediatric Surgeons can offer a number of surgical services to children and young adults. The hospital offers a specialist Paediatric wing that has been purposely designed for the care and recovery of children.
At every stage of your treatment, you will receive the best care. From determining the right form of anaesthetic to planning your recovery time and aftercare, we will put your mind at rest and ensure that you are comfortable at all times. You can also expect the highest standards in safety and hygiene in every area of our hospital.

Speak to us today to arrange your surgery at our fully-equipped facilities
We are proud to specialise in many areas of general surgery. We would be very happy to speak to you if you have a particular procedure coming up, and you would like us to arrange your surgery and care. Our surgeons are constantly developing their specialist skills, and we support their progress by providing them with state-of-the-art technologies and equipment. This means as a patient, you can expect the very best care and attention at all times, knowing that you are in good hands.
From removal of varicose veins to the removal of gallstones, our general surgery services are of the highest standard and we would be very happy to give you more information. We have carried out countless procedures over the years, and specialise in many areas of general surgery.
Speak to our friendly team now to book a consultation, and to find out more about our procedures and facilities.
Call us now on 048 7776 3090, or use our website http://www.nwih.co.uk
Tags: