It has been almost a year since Now Decorate opened their doors at Mountain Top Letterkenny, and they continue to become more superior by the day.
The popular home décor store at Unit 2 & 3 Carnamuggagh Upper has become the go-to place for all wallpaper and painting needs, due to the large variety of great quality products to choose from.
The highly-experienced team are always in-the-know about the best products, and are delighted to introduce the new paint brand Colourtrend to the store.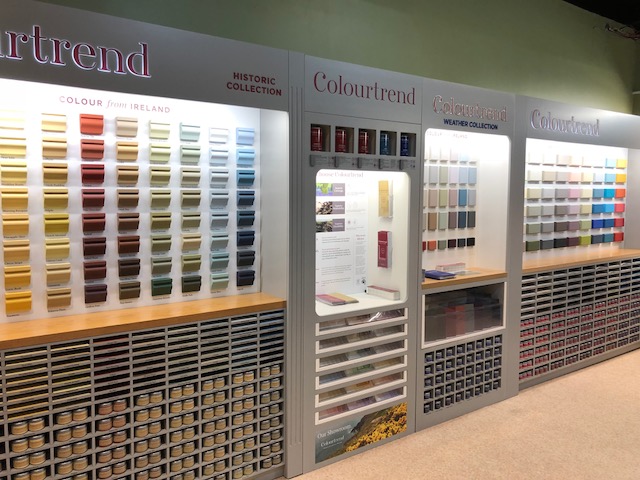 Colourtrend is Ireland's leading decorative paint brand. It is 100% Irish and 100% tougher acrylic. Now Decorate have set up an impressive display wall to showcase the brand that provides superior coverage, superior washability and superior durability.
You can visit the store this week to check out the range. The team are always there to welcome customers and answer every question about the products.
Gary and Louise have over 32 years experience in interior and exterior design. Louise Gordon came to the company from Foy & Co Letterkenny with 18 years experience. They provide top-quality customer service to ensure every customer is 100% happy.
Extra bonuses for shopping at Now Decorate include free delivery service to your home in Letterkenny and unlimited carparking.
Now Decorate opened its doors in May 2017, and have been making homes beautiful ever since.
They have a wide range of top quality wallpapers in stock and wallpaper books to order from. If you want to transform a room with creative patterns and colours, the Now Decorate team have beautiful designs and the best advice for styling your wall space.
They only stock the best paint brands too. Alongside Colourtrend, their collection includes Crown Paints, Sandtex, Sadolin, Cuprinol, Ronseal, Hammerite, Blackfriar, Zinsser and many more.
If springtime has inspired you to spruce up your home, call down to Now Decorate to get great offers and great service today. Take a virtual tour of the shop with Louise in the video below:
For more information, contact the team at (074) 912 1905
Visit: Now Decorate, Unit 2 & 3 Carnamuggagh Upper, Mountain Top Letterkenny
Follow on Facebook: https://www.facebook.com/now.decorate11/
Not sure where the store is? Watch this handy video to get the right directions:
---
Advertorial Feature