An extra-time goal by Kevin Doherty when he got the slightest of touches to Chris Carr's well struck free-kick from 30 yards but enough to deceive Rasheney keeper Sean Friel gave Cranford FC the lead for the second time in this keenly contested Ulster FA Junior Shield Final at the Lakeside grounds in Burnfoot , home of Inishowen league team Aileach FC. That goal came in the 8th minute of extra-time and Danny Mc Bride's side comfortably held on to add cup success to their promotion season in the Donegal League.                                             CRANFORD FC    2    V    1    RASHENEY FC  ( After Extra- Time ).
A strong cross-field wind made things difficult for both teams but the game quickly settled into a pattern of both pushing forward at every opportunity. Cranford suffered an early blow when Lorcan Conner had to be replaced in the 10th minute because of injury.                                                                         Keelin Mc Groddy would have a big influence on this game and two dangerous crosses from him were just missed by Padraig Mc Ginty and Conner's replacement Martin Mc Bride.  Mc Ginty had a big hand in the opening goal as he won Seamus Carr's free-kick and his knockdown was hooked in from close range by Kevin 'Gooch ' Doherty to give Cranford the lead in the 24th minute.                                             Just a minute later Cranford keeper Conor McBride didn't get the distance he wanted on a kick from the hands and Charlie Doherty's quick thinking and long range return was just wide.  Sub Martin Mc Bride almost got to a Kevin Doherty cross at the far post but five minutes later it was 1-1.                                                  Charlie Doherty's driven free-kick from wide on the right was brillantly headed home by Brendan Doherty, giving keeper Mc Bride no chance. In the 41th minute Cranford should have regained the lead, Chris Duffy's super control and prodding pass put Keelin Mc Groddy through but Sean Friel adv an edit to deny him with an excellent save.                                                                                      Charlie Collins was at the Lakeside.                                                                                                  
Rasheney began well in the second-half and Conor Mc Bride had to save well from Damien Friel.  At the other end headers by Cranford centre=back Chris Duffy would become a feature of the half. He headed wide in the 60th minute from Seamus Carr's free-kick, shot wide in the 71th minute after James Mc Bride had first miscues , headed wide in the 76th minute and again in the 79th minutes and then was a fine headed effort headed off the line by a defender in the 84th minute. In between all those Kevin Doherty had a brilliant chance but somehow headed wide from close range.                                                                                                                          In the 86th minute mC Groddy again made a nuisance of himself in the box and Shane Gordan's clumsy challenge looked like it should have been punished with a penalty . Referee Eamonn Doherty thought otherwise and after a incident in the immediate aftermath of that penalty claim Cranford's David O Donnell was shown a straight red card.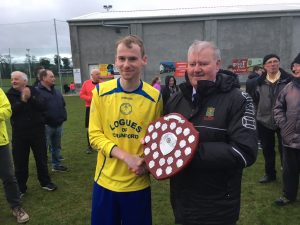 Cranford held on despite been down to ten to send the game to extra-time.  Rasheney were also down to ten men two minutes into that when Michael Toland got a second yellow for a foul on McGroddy and a minute later it was 2-1 to Cranford. Chris Carr went for goal from a 30 yard free-kick and Kevin 'Gooch ' Doherty stuck out a foot to get a slight contact but enough to deflect it past Sean Friel for what turned out to be the winning goal that gave Cranford FC the Cup.   Rasheney finished with nine players as Brendan Doherty received a straight red card from a reckless challenge which thankfully didn't make contact with the opponent involved.                                                                                               So Cup success to add to promotion to Division One of the Donegal League for next season for Cranford FC , a really good season for the club.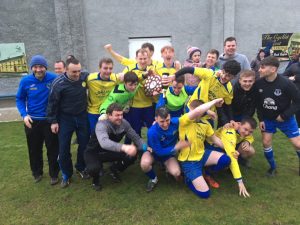 CRANFORD FC ; Conor Mc Bride , James McBride , Shane Mc Teague , Chris Duffy, Chris Carr, Seamus Carr ( Danny Mc Bride 68 mins ), Padraig Mc Ginty , Kevin Doherty, Keelin McGroddy , David O Donnell, Lorcan Conner ( Martin Mc Bride 10mins ).                                                                                                               RASHENEY FC ; Sean Friel, Peter Doherty ( Christy Ivers 98mins) , James Mc Connellogue ( Declan Mc Laughlin 34 mins ), Emyln Doherty , Shane Gordon , Micheal Toland , Brendan Doherty , Anthony Doherty, Damien Friel ( David Mc Laughlin 50mins ), Charlie Doherty , Matthew Mc Laughlin ( John Mc Laughlin 80mins ).                                                                                                                             REFEREE ; Eamonn Doherty.