Independent TD Thomas Pringle has today revealed the results of his survey of small businesses in Donegal.
According to the Deputy the results of over 100 businesses paint a stark picture of the continuing struggles small businesses face since Fine Gael came to power.
"I felt it was time to measure the health of this sector by carrying out a survey (mainly online) to hear directly from businesses what concerns they had. I believe that measuring the health of the micro-business sector measures the overall health of the rural economy. Local businesses are the backbone of rural economies providing sustainable local employment if supported.
"For me it was a priority to concentrate on small businesses which fall outside the remit of Enterprise Ireland as they are not primed for export. Coffee shops, hairdressers, butchers and many more types of businesses contacted me via the survey. Some said it was the first time they were ever asked about their concerns."
He added the results suggest that while businesses are emerging from a disastrous decade of austerity they are now facing new and existing challenges left largely ignored by the Government.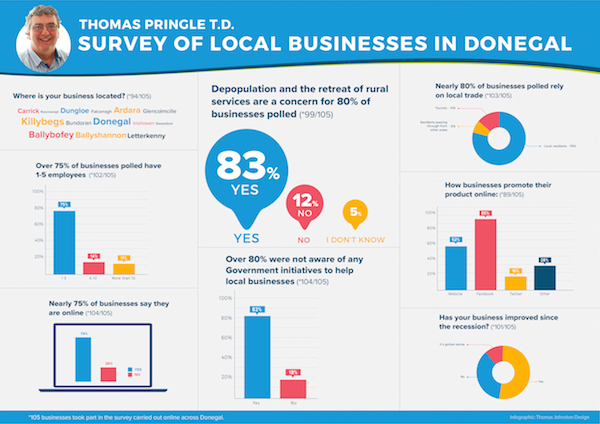 The survey also revealed that only half of the respondents said their business has improved since the recession indicating Donegal's rural economy continues to struggle.
Deputy Pringle added "More striking was that over 80% of respondents said they were concerned with depopulation trends and the retreat of rural services like post offices, Garda stations and even bank facilities in Donegal.
"80% of businesses also cited a general unawareness of Governments supports with many reporting various challenges left unaddressed by the current Government.
"Rural retreat, lack of supports outside Enterprise Ireland remit as well as anomalies in commercial rates will require a cross-departmental focus. Online marketing training and greater linkage between businesses to pull in more trade in a particular area were further requests given to me by business owners yet they were unable to get grants towards this.
"Last week I confronted the Minister for Small Businesses in the Dail on the findings of my report and asked for commitments from him to increase supports for rural businesses. He made no such commitment and I was told to look at the drop in unemployment rates in Donegal. I had to remind him that the drop he was talking about was not thanks to jobs but to net emigration.
"Furthermore the Government is quick to point out supports for businesses in tourism however strikingly my survey showed that nearly 80% of Businesses rely on local trade. This is where we need to be focusing.
"If the Government paid more attention to small businesses they have a lot of great ideas and understand local economies better than Fine Gael has been showing to date. It's time Donegal and rural Ireland got no less than a full cross-departmental commitment to address the continuing challenges facing small businesses in rural economies and to diversify funding to meet the needs of these businesses." concludes Pringle.
Tags: