The Donegal Women's Leagues are taking shape after the latest round of games during the week.
Lagan Harps lead the way in the Under-16 League while Mulroy Academy have a two-point lead over Illistrin, Bonagee United and Swilly Rovers in the Under-14 Lague.
Action continues in the Under-12 League on Monday with leaders Mulroy, Finn Valley and Illistrin all having home games.
UNDER-16 LEAGUE
Raphoe Town 2 Kilmacrennan Celtic 6
Three late goals from the visitors put gloss on a scoreline that certainly didn't tell the tale of this game in Deele College on Wednesday night. There is no doubt that Kilmacrennan were good value for their win in the end, but they were made to fight all the way for the three points by a steadily improving Raphoe Town outfit.
Raphoe were able to include Julie Wilson and Holly Johnston in their starting side for the first time this season and they were certainly more compact in the first half and unlucky not to go in at least level at the break.
Indeed good work by Shania McMonagle and Caitlyn McNulty pressed Kilmacrennan into a mistake that led to an own goal giving the Raphoe girls a lead in the 16th minute.
Kilmacrennan had rattled the post from a long range effort before that, but Raphoe were defending superbly with Bethany Magee strong in front of goalkeeper Abbie McKnight who had an inspired performance between the sticks for the home team.
The Raphoe keeper was fiercely unlucky to be penalised in the 26th minute when it seemed she had got a touch on the ball as she advanced on a Kilmacrennan attacker and she almost saved the resulting penalty from Helena McGee that had the teams on level terms.
At the other end Alannagh Kee's stinging drive forced the Kilmacrennan keeper into a superb save but it was the visitors who edged ahead before the break when Ciara McGarvey stole in at the back post to steer home from close range.
The visitors extended their lead shortly after the re-start, a long-range effort from Ciara McElwaine finding the bottom corner, but a combination of stout defending and superb saves from the excellent Abbie McKnight kept Raphoe in the game and they were always dangerous on the break.
Indeed they were right back in the game with less than ten minutes to go when Ellie McBride's free-kick glanced off a defender and into the net to make it 3-2, but a late flurry from Kilmacrennan made sure they would not have to share the spoils.
Aoife Kelly and Grace Doherty both finished well from close-range in the last few minutes and a super free-kick from Ciara McGarvey with just seconds left on the clock gave Kilmacrennan loads of breathing room at the end, but there were lots of positives again for a Raphoe side who get better every week.
Mulroy Academy 1 Swilly Rovers 1
Mulroy welcomed Swilly to Traigh-A-Loch on a windy evening for a game of football.
It was the visitors who started the strongest with Danielle Hynd and Aisling Irwin creating good link up play throughout the first half.
Mulroy had spells in the game in the first half but the majority of possession fell to Swilly.
The second half saw Mulroy get the ball down and get a grip of the game with Lisa Dugera trying to create chances going forward.
Mulroy where caught on a quick counter attack and Danielle Hynd broke free to finish well.
Mulroy responded shortly after with Eimear Sweeney taking a free kick which ended up in the back of the net.
Mulroy were trying to push for the winner but Orla Connolly was immense at the back for Swilly throughout the game. Good team performance from Swilly with Danielle, Aisling and Orla controlling a lot of the game.
Mulroy showed well in spells with Eimear Sweeny having a good game overall for Mulroy, whose Under-14 girls also played well on the night
Finn Valley 3 Lagan Harps 8
It was a goal fest on Wednesday evening as Finn Valley and Lagan Harps played out an 11-goal thriller.
Four goals by Shannon Cunningham helped shoot Lagan to victory.
Maria Bonner grabbed a hat-trick for the visitors while Lucy Canning also got in on the act for the Orchard Park side.
Aimee Lafferty (2) and CJ Doherty netted for Finn Valley.
UNDER-14 LEAGUE
Raphoe Town 7 Finn Valley 0
Raphoe Town had to draft in a number of U12s for their clash with Finn Valley on Friday night with some of their players away at confirmation rehearsals, but they were still too strong for a young Finn Valley side who themselves had several U12s in their line-up.
A five-star performance from Cody Walsh was the highlight, the Raphoe striker notching two goals in the first half and following up with three more in the second as Raphoe's strength told in the end.
Ella McHugh, one of two who chose to play for a bit and then dash to the rehearsals before the game had ended, set Raphoe under way with a fine goal in the 8th minute before a brace from Walsh extended the Raphoe lead.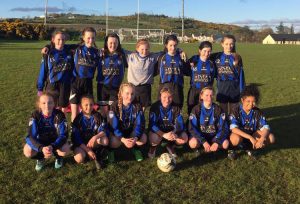 It might even have been more, but Valley defended brilliantly in the first half and worked hard as a team to keep the potent Raphoe team at bay.
Cody Walsh added two quick goals at the start of the second half and having received the ball from Mollie McGroarty she played Ella McHugh through for Raphoe's sixth of the night.
Ellie Jamieson and Leila Stowe were working hard on the flanks for Raphoe at this stage and it again took some super defending from Valley to deny Rebecca McColgan and Abigail Asokuh Temple from adding to the scoresheet.
Valley did threaten when Abbey McMenamin had a free-kick in front of goal late on, but her fierce drive smashed into the Raphoe wall and there was still time for Cody Walsh to cap a fine performance by adding her fifth of the night before the end.
Bonagee 5 Gweedore Celtic 1
Bonagee had another great performance when they defeated Gweedore Celtic at Goose Green.
The Bonagee girls started very brightly and went on attack after attack with a number of chances falling to Hannah Hopkins and Grace Murphy, however they just couldn't find the net.
On the 14th minute they got their just rewards when Hopkins got the ball in the midfield area and ran through the Gweedore defence and slotted it home. Not long after that, Murphy got on the scoresheet to make it 2-0 at half time.
Bonagee where well on top however Gweedore didn't stop fighting with Meabh Boyle playing well.
Any attack they did have was cut out from centre back Cailtin Hume and right back Cliodhna Patton who were immense for the home team.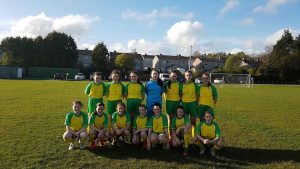 Bonagee got a deserved third with Hopkins from a corner and she got her hat-trick soon after and Bonagee's fourth of the night after a lovely ball was played through by Hume.
Gweedore pulled one back when Boyle got the ball on the left hand side and she cut inside to place it in the top corner.
The Bonagee girls didn't let that faze them and after centre was taken Murphy, not for the first time, latched onto the ball took it past the Gweedore defence and slotted it in from a very narrow angle.
Beat for Gweedore were Donnflaith, Maeve Boyle and Mary Kate.
Best for Bonagee were Hopkins, Murphy, Hume, Patton and AmyCallaghan.
Swilly Rovers 2 Kilmacrennan Celtic 0
Both teams started off very evenly matched. Heather McLaughlin had a great chance for Swilly Rovers at 8 minutes but it was well saved by the Kilmacrennan keeper.
Katherine Black had a fantastic run at goal, but her shot was cleared off the line by Anna McFadden.
Both teams had chances, but just before half time a shot from Mae McCarron was saved by the keeper, the rebound then nicely tapped in by Kirsten Stewart to make it 1-0 to Swilly at half time.
Swilly started the second half strong. Chloe Boyce was unlucky not to score on a few occasions.
Kilmacrennan came back into the game well. Katherine Black made the Swilly defence work hard and was unlucky not to score when her shot came off the crossbar.
Emma Price had a lovely run, but her shot was well saved by Ellie Duffy.
Mae McCarron added to the score, when she shot home with five minutes to go.
Best for Kilmacrennan were Siobhan Cameron and Katherine Black
Great team performance by Swilly, with their defence again being particularly strong.
Gweedore United 0 Mulroy Academy 9
Five-star Iseult Ni Mhathuna fired Mulroy Academy to a big win away to Gweedore United on Friday night.
Ni Mhathuna bagged five of the Mulroy goals with Aoife Gibbons helping herself to a hat-trick. AIdeen Friel netted the other Mulroy goal.
RESULTS
Under-16 League – Wednesday
Finn Valley 3 Lagan Harps 8
Raphoe Town 2 Kilmacrennan Celtic 6
Mulroy Academy 1 Swilly Rovers 1
Under-14 League – Friday 
Illistrin FC 0 Lagan Harps 0
Gweedore United 0 Mulroy Academy 9
Bonagee United 5 Gweedore Celtic 1
Swilly Rovers 2 Kilmacrennan Celtic 0
Raphoe Town 7 Finn Valley 0
FIXTURES
Under-12 League – Monday, April 30, 6.30pm
Mulroy Academy v Lagan Harps
Illistrin FC v Swilly Rovers
Raphoe Town v Gweedore United
Finn Valley v Kilmacrennan Celtic
Bonagee United v Mulroy S
Under-16 League – Wednesday, May 2, 6.30pm
Raphoe Town v Illistrin FC
Kilmacrennan Celtic v Mulroy Academy
Finn Valley v Swilly Rovers
Under-14 League – Friday, May 4, 6.30pm
Gweedore Celtic v Swilly Rovers
Mulroy Academy v Bonagee United
Gweedore United v Lagan Harps
Finn Valley v Illistrin FC
Kilmacrennan Celtic v Raphoe Town
| | | | | | | | | |
| --- | --- | --- | --- | --- | --- | --- | --- | --- |
| Under-12s | P | W | D | L | F | A | GD | Pts |
| Mulroy Academy | 2 | 2 | 0 | 0 | 13 | 1 | 12 | 6 |
| Finn Valley | 2 | 2 | 0 | 0 | 7 | 3 | 4 | 6 |
| Illistrin | 3 | 2 | 0 | 1 | 7 | 5 | 2 | 6 |
| Raphoe Town | 3 | 1 | 1 | 1 | 8 | 8 | 0 | 4 |
| Lagan Harps | 2 | 1 | 0 | 1 | 4 | 6 | -2 | 3 |
| Gweedore United | 3 | 1 | 0 | 2 | 5 | 9 | -4 | 3 |
| Bonagee United | 3 | 1 | 0 | 2 | 6 | 13 | -7 | 3 |
| Swilly Rovers | 2 | 0 | 1 | 1 | 6 | 8 | -2 | 1 |
| Kilmacrennan Celtic | 2 | 0 | 0 | 2 | 0 | 3 | -3 | 0 |
| | | | | | | | | |
| --- | --- | --- | --- | --- | --- | --- | --- | --- |
| Under-14s | P | W | D | L | F | A | GD | Pts |
| Mulroy Academy | 3 | 3 | 0 | 0 | 19 | 0 | 19 | 9 |
| Illistrin FC | 3 | 2 | 1 | 0 | 9 | 0 | 9 | 7 |
| Bonagee United | 3 | 2 | 1 | 0 | 10 | 4 | 6 | 7 |
| Swilly Rovers | 3 | 2 | 1 | 0 | 4 | 1 | 3 | 7 |
| Raphoe Town | 3 | 1 | 1 | 1 | 9 | 3 | 6 | 4 |
| Lagan Harps | 3 | 0 | 3 | 0 | 3 | 3 | 0 | 3 |
| Gweedore Celtic | 3 | 0 | 1 | 2 | 3 | 11 | -8 | 1 |
| Finn Valley | 3 | 0 | 1 | 2 | 2 | 10 | -8 | 1 |
| Gweedore United | 3 | 0 | 1 | 2 | 2 | 19 | -17 | 1 |
| Kilmacrennan Celtic | 3 | 0 | 0 | 3 | 1 | 11 | -10 | 0 |
| | | | | | | | | |
| --- | --- | --- | --- | --- | --- | --- | --- | --- |
| Under-16s | P | W | D | L | F | A | GD | Pts |
| Lagan Harps | 3 | 3 | 0 | 0 | 13 | 4 | 9 | 9 |
| Kilmacrennan Celtic | 2 | 2 | 0 | 0 | 14 | 3 | 11 | 6 |
| Mulroy Academy | 2 | 1 | 1 | 0 | 6 | 1 | 5 | 4 |
| Swilly Rovers | 3 | 1 | 1 | 1 | 7 | 6 | 1 | 4 |
| Illistrin FC | 2 | 1 | 0 | 1 | 5 | 3 | 2 | 3 |
| Raphoe Town | 3 | 0 | 0 | 3 | 4 | 16 | -12 | 0 |
| Finn Valley | 3 | 0 | 0 | 3 | 5 | 21 | -16 | 0 |