It felt like a trick of the mind that it was only when captain Anthony Doherty headed home in the 84th minute that Aileach FC could finally celebrate their first ever Ulster Junior Cup success at Dry Arch Park. 
Aileach FC 4 Cavan Town 2
Pictures by Joe Boland, North West Newspix
Doherty was picked out by a cross from the right-hand side and the Aileach skipper was able to pick his spot in Gary O'Rourke's net.  Doherty nodded in and the jubilant Aileach followers, who had been put through the mill by their men in the second half, toasted the arrival of silverware to the Lakeside.
Before this, Aileach's record in finals had been one win in 12 and even a 3-0 interval lead wasn't enough for them to be comfortable.
When Martin Dunne and Packie Sheridan netted within seven second-half minutes, Cavan – who had been second fiddle by a considerable distance and trailed 3-0 at the break – were right slap bang in the contest.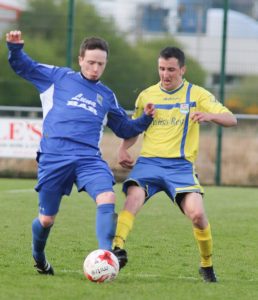 Cavan arrived in the game thanks to those pair of strikes and the game would have been right on the knife's edge had Aileach goalkeeper Peter Devlin not managed to thwart Kevin Morris with a fabulous save 20 minutes from time.
Aileach, it should be noted, had a plethora of chances and it was, for the most part, one-way traffic. The trouble with David McGeady's men was that they couldn't put Cavan to bed.
Aileach raced into a 3-0 lead by the half-hour and there were times in the first half when the contest looked a mismatch.
Aileach owned the ball and, after veteran Ronan Coyle flashed dangerously across goal in the seventh minute, Aileach took the lead less then a minute later.
Thomas McMacken got on the end of a through ball and applied the finish. The flag initially went up, but referee Joe McHugh awarded the goal and Aileach were on their way.
Coyle had an effort deflected over and Mark McElhonney headed too high before the Inishowen League doubled the lead when former Finn Harps man Thomas McMonagle scored straight from a corner, his curling ball in floating all the way past O'Rourke.
Just after the half-hour mark, Doherty added another when he headed home Darren McMonagle's centre.
Doherty's deflected effort almost crept in and, right on the stroke of half-time, Aileach were denied what looked a certain penalty when Cian Bryne appeared to upend McMacken, but the appeals fell on deaf ears.
Cavan began well in the second half and they got one back when Dunne, after powering clear and being denied by Devlin, netted in the 58th minute.
Somehow, Cavan found themselves with the momentum and when Sheridan's overhead kick beat Devlin low at the near post the unthinkable began to appear somewhat possible.
Aileach had plenty of moments of their own in that spell with Doherty drilling over the top from the right flank while Dermot Doherty's shot was always rising after the hour.
When Devlin saved from Morris, it was the warning to shake them into life and the subsequent introduction of former Derry City star Gareth McGlynn helped considerably bring Aileach back to a position of strength again.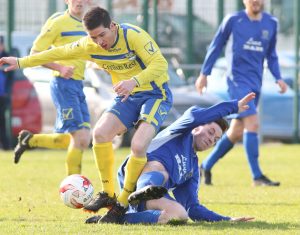 O'Rourke somehow saved from Anthony Doherty and the follow-up by Dermot Doherty was even more miraculously kept out.
McMonagle rounded the 'keeper after being fed by Anthony Doherty, but his shot was blocked on the line while O'Rourke saved from the Aileach captain in a one-on-one.
But just when Cavan were daring to dream of extra-time, Doherty sealed the issue and gave Aileach's followers relief at last and a Cup to aid in the club's 25th anniversary celebrations.
Aileach FC: Peter Devlin, Darren Gallagher, Mark McElhinney, Cathal McElhinney, Thomas McMonagle, Thomas McMacken, Darren McMonagle (Caoimghin McFeely 86), Dermot Doherty, Gavin Doherty, Anthony Doherty, Ronan Coyle (Gareth McGlynn for Coyle 70).
Cavan Town: Gary O'Rourke, John Heffernan (Brian Dolan half-time), Philip Mullen (Cian Bryne 24), Andy Fallon, Shane Cowley, Greg Meehan, Andy Graham, Jimmy Fallon, Packie Sheridan, Kevin Morris, Martin Dunne (Ryan Magarna 86).
Referee: Joe McHugh
Tags: