A first-class line-up of dancers and choreographers are coming to Letterkenny this August to share their expertise and inspire young local performers.
Well-known Letterkenny teacher and arts figure Andrea Emmett has booked an all-star schedule for her Triumph Performing Arts Summer School at Aura Leisure Centre Letterkenny. Professional tutors from theatre and dance circuits in Dublin and London will be delivering exciting masterclasses in their chosen art form throughout the week.
Triumph Performing Arts Summer School will run from Wednesday 8th – Saturday 11th August. The camp is open to all young people aged from 6-18+ and spaces are limited. Places can be secured this Saturday, May 5th at an open registration at the Aura Leisure Centre from 12-3pm.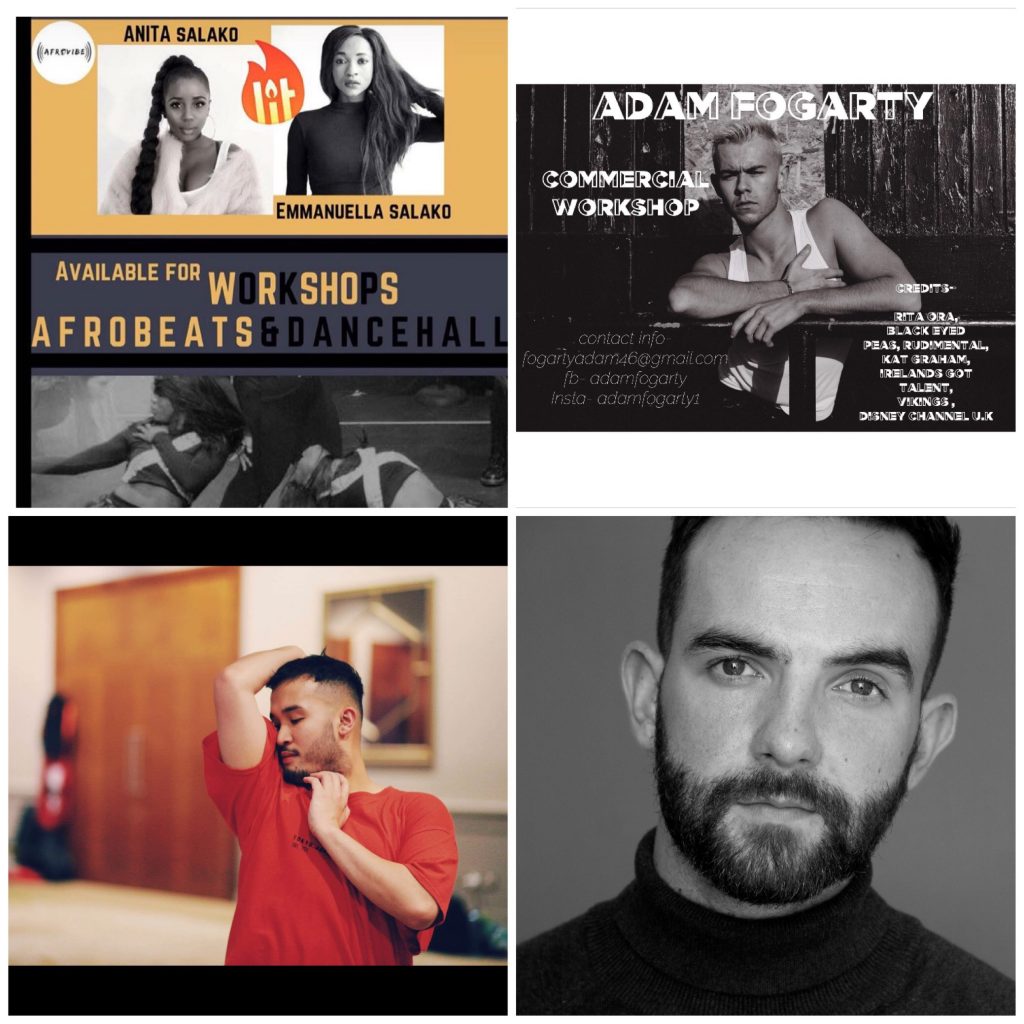 Masterclass Tutors include: Adam Fogarty ( commercial and hip hop dancer : credits include Rita ora and black eyed peas) top left : Emanuella and Anita Salako ( specialise in African dance and Dancehall)Bottom right: Brian Gillespie (choreographer/ founder of dance company B-Hybrid based in London) and bottom left: Jose Galang ( urban choreographer at Fly Dance Studios Dublin)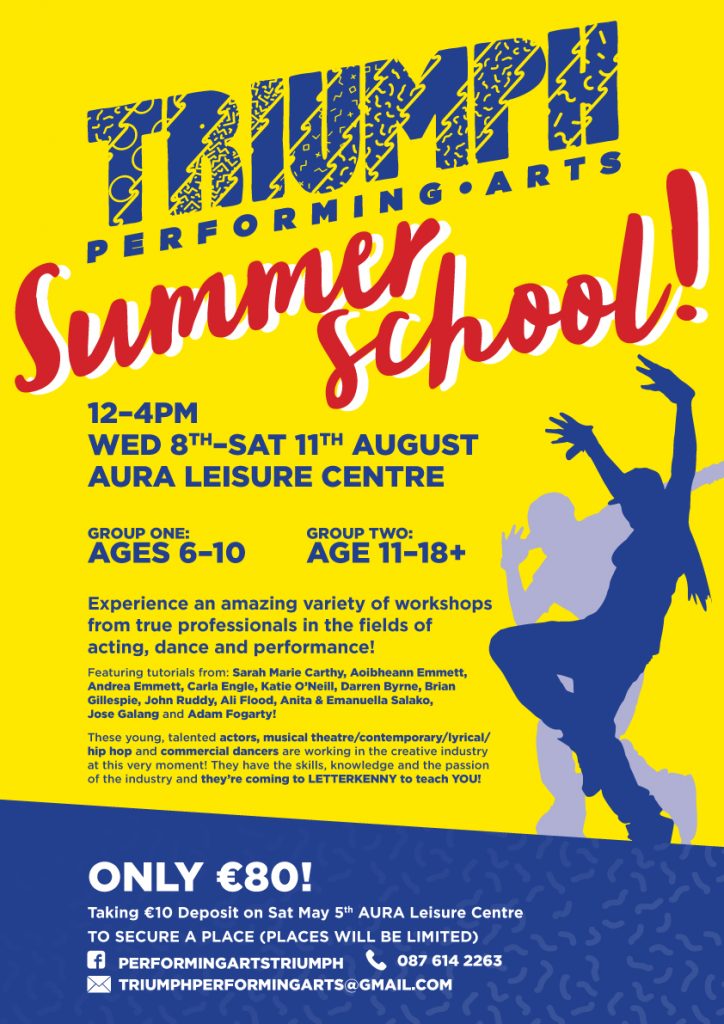 The Summer School is a dream project of Andrea's, whose passion for arts education inspired her to set up Triumph Performing Arts. Triumph provides workshops in acting, various styles of dance and musical theatre for young people aged 4-22.
Andrea is looking forward to welcoming a team of talented choreographers to the school this August.
She said: "Although there have been huge improvements and opportunities created in this town for the arts , I wanted the children to be inspired by these young talented professionals that are currently working in the industry.
"This summer school caters for a huge variety of dance styles from contemporary to urban choreography. Acting / musical theatre dance workshops will also be available.
"I would have wished for workshops like these as a young impressionable teenager in Donegal with a love for performance so if you're interested please get in touch."
Andrea's creative expertise in dance and acting stems from her studies in contemporary dance, jazz, hip hop, theatre and performance and her many years of experience directing and choreographing local productions.
She facilitates school workshops, entitled 'Creative Movement', which focus on a creative process that allows children to explore the full potential of movement and drama as a learning experience.
"Growing up in Donegal I found there wasn't enough arts opportunities available and I wanted to create a platform for children to enjoy the art form for what it is without the stress of competition and comparison. I hoped that arts opportunities could be on their doorstep, if they wanted a place to go to relieve stress and become lost on the dance floor.
"After working full time in Dublin as a primary teacher, I knew that coming back to Letterkenny to create more dance opportunities was something I was very passionate about."
"I also strive to continue to develop myself professionally so that I am up to date with dance and acting techniques that are current! Fortunately I gained significant experience in acting after completing the Worklab courses hosted by An Grianan and I thoroughly enjoyed them," Andrea said.
Andrea obtained a distinction in completion of the HNC Performing Arts course in Derry and has since been signed to Nova Artists Acting Agency. Locally, she has choreographed Hairspray (2017), Dancing at Lughnasa (2018) that won various adjudicator awards at this year's Amateur Drama Festival and very recently Footloose (2018) for a cast of 125 teens in TY Loreto Secondary School and St. Eunan's College.
Andrea adds: "My lessons are fun and versatile, supporting individuality but also encouraging co-operation. It is vital that emphasis is not on the 'performance', but is centred on the development of the student and their chosen art form."
The Triumph Performing Arts Summer School will be a summer highlight for many young people in Donegal. If you would like to register a place and meet Andrea, visit the Aura Leisure Centre on May 5th from 12-3pm. A €10 deposit is required to book.
For further information, call 0876142263
Check out: www.facebook.com/performingartstriumph
---
Sponsored Post
Tags: