There will be big celebrations this Friday 4th May at Restaurant Sage Letterkenny as they introduce a new management team and a fantastic new menu. 
Restaurant Sage is launching their new menu with a celebration of delicious locally inspired food. Everyone is welcome to join in the party as Head Chef Desmond Coll and his culinary team celebrate Sage's new management, diverse updated menu and soak up the atmosphere. To book your table now call 0749102269.
Guests will be treated to complimentary canapé's and champagne, so what better excuse to enjoy a Friday night out, admire the redecorated setting and join the team in toasting to their new endeavour!
Sage is proud to call itself home to high quality, simple, top-quality dishes, sourced from local suppliers – they use Donegal's finest ingredients, crafted with care, served to you in a warm and inviting atmosphere.
Sage is located in the heart of Letterkenny across from An Grianán Theatre, with a free car park directly behind the restaurant. Due to its location on the Port Road, the venue is always popular among pre-theatre goer-gatherings, local get togethers and tourist visits alike.
A top-quality lunch location:
In the coming weeks, Desmond and his team are looking forward to launching a brand new lunch menu. Now we'll have a handy and fully accessible new special setting to enjoy a work lunch, a catch-up or special occasion!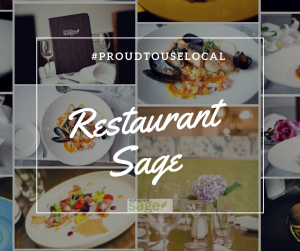 All-new dining menu:
The diverse new menu will be full of flavour and top quality Donegal ingredients.
Seafood is a Sage speciality, their seafood is caught locally and served fresh. New vegan options are now available, as well as wholesome vegetarian dishes, and exciting new menu items have been added to better serve many Sage customers who have expressed interest in options that better reflect a healthy lifestyle. Specific dietary requirements will always be catered to.
Click on the images in the gallery below to browse the new menu:
The food menu isn't the only menu we can look forward to sampling! 
Sage is home to a wide selection of gin, with everything from Sharish Blue to Gunpowder on the huge list. Gin enthusiasts can rejoice as their gin of choice and perhaps try some new options on the menu. Kinnegar beer has returned to Sage too. Kinnegar is available behind the bar and the beers also influence some Sage dishes (make sure to try out the Yannaroddy Soda Bread, Olive & Rosemary Focaccia, House Wheaten for that local flavour).
Sage pride themselves on endorsing and promoting local, through and through, and are looking forward to sharing that passion with guests on Friday night and in the months to come.
Bookings are now being taken for Friday night's celebration dinner, you can call 0749102269 to reserve a table now. Email restaurantsagelk@gmail.com
For more information and to see the new lunch menu launch in the coming weeks, follow: 
www.facebook.com/sageletterkenny
---
Sponsored Post
Tags: