For the month of May, Divers Hyundai are giving customers the opportunity to purchase any of the used cars on display at their forecourt at 0% finance!
If you have been thinking about purchasing a used car then this deal could be exactly what you are looking for. We invite you to come along to our premises on Canal Road and view our full range which includes everything from 2013  to 2017 registrations.
Some of our cars still have part service plans in place whereby customers who purchased a vehicle from new took out a five year plan and subsequently changed their car before the five year term was up.  This results in the service plan being carried over to the next purchaser. Coupled with this many of our cars have also part of the five year warranty remaining on them.
Zero percent finance could be exactly what you are looking for so if you call in and talk to our sales team of Gavin, Ray or Anthony they will look after all your requirements.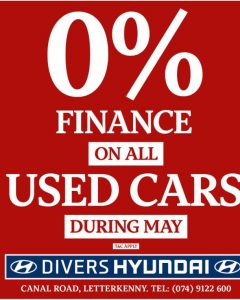 In many instances it's the new car purchaser who reaps the benefits of the various special offers that Hyundai Ireland puts in place for the beginning of year and mid-year registrations but this fantastic zero percent finance offer gives our valued used car buyers a very unique and special offer. (T&C Apply)
Visit Divers Hyundai today at: Canal Road, Letterkenny Co. Donegal
For opening times and a glimpse of the fantastic used car range, check out: www.facebook.com/divers.hyundai
---
Sponsored Post
Tags: