Local mothers and mums-to-be are invited to a special event for maternal mental health awareness this Saturday, 5th May.
Donegal's first 'Paint Your Baby Bump' event will be held at New Beginnings Wellness Hub, Glencar Shopping Centre, Letterkenny on Saturday 5th May 2018 from 1pm to 5pm.
The charity day invites mothers to hear from guest speakers, enjoy tasters of wellness treatments such as reflexology and Kinesiology, as well as bump painting.
The event is free to attend and any donations will be in aid of The Victoria Thompson Scholarship.
Co-Organiser and Counsellor Sarah Barr said: "Last year, Psychotherapists Fran Buckley and Elva Glynn launched the Maternal Mental Health Awareness Day's "Paint Your Bump" campaign.
"It is a campaign to raise awareness of maternal mental health. It aims to support women in their transition to motherhood and offer self-care to all mums. It is also about starting the conversation about the everyday struggles of being a mother and before the baby is even born."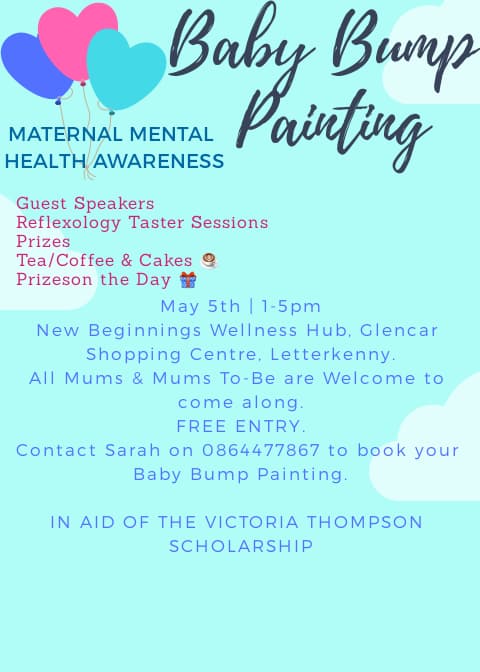 Guest speakers included The S-Mum, Yummy Mum, Homeopathic Specialist, Donegal Douala and Placenta Encapsulation Specialist, Simply Birth Donegal, Sarah Barr and G.P Tina Tooskey.
There will be refreshments available and lots of prizes to be won on the day. There will be a holistic approach to the day, with reflexology tasters from Harmony Lane, Feet First Reflexology, Gill McGlinchey and Reflexology by Nicola. Kinesiology taster from Donegal Kinesiology Sharon Lynch.
Mums-to-be will have the opportunity to have their bump painted by the talented Angela McFadden.
This is done in a private space, using safe and toxic-free paints. There are a few slots remaining, to book a slot please call Sarah on 0864477867 or send a message via New Beginnings Facebook page. 
For more information about The Victoria Thompson Scholarship please visit: thevictoriathompsonscholarship.com
For updates on the Letterkenny Paint Your Baby Bump event, visit: www.facebook.com/events/183731742351945
Tags: