Donegal-based Gin company Muff Liquor Co. is enjoying Stateside success this week after winning a top award in Las Vegas.
Americans have had a taste of Donegal at Caesars Palace – and loved it so much they gave it a Gold Award!
The movers and shakers of the wine and spirits industry from all over the world gathered in Vegas this week at the Wine & Spirits Wholesalers of America (WSWA) 75th Annual Convention & Exposition.
Winning Gold in the Spirits Tasting competition has been a career highlight for Inishowen woman Laura Bonner and her business partner Tom Russell from Manchester.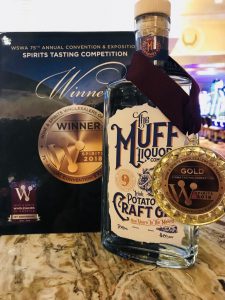 Laura describes the win as the Proudest Moment of her Life. Speaking to Donegal Daily, she said: "WSWA is the largest spirit and wine convention in the world so turning up here on Sunday was a bit overwhelming. We weren't too sure what we were doing but we did what we do best and invited people over to taste of gin and tell them our story.
"We had been entered into the competition before we arrived, which is a tasting competition so the judges are blind-folded. We just never expected it in a million years that we would come first. I thought it was a joke."
It has been a whirlwind experience for Laura and Tom ever since they launched the specially crafted potato-based gin 12 weeks ago in Donegal.
Laura said: "The feedback and support from home has been fantastic and this, coming to Vegas and winning Spirit of the Year 2018 is just amazing, it makes all the tears worth it.
"My wonderful Aunt Meave McClenaghan died while I was away so I dedicated this award to her."
Following this week's triumph, Laura is on the way to launch Muff Gin to the UK market.
The gin has already become many gin drinkers' favourites at home, where it is on sale in selected off-licences and in local bars.
The inspiration for creating quality handcrafted liquor came from Laura's grandfather, Philip McClenaghan. He was a well-known Donegal potato farmer and poitin maker, who is central to the liquor company's story. Granda McClenaghan illustration adorns the back of each bottle.
As well as potatoes, the gin contains locally inspired ingredients including elderflower mandarin, lemon, rosemary and one secret addition. It's best served with straight-up tonic or elderflower tonic.
No doubt there will be many M&T's (Muff Gin & Tonic) raised this Bank Holiday weekend as a toast to the latest gold medal win!
Tags: