Secondary school teams from Donegal enjoyed great success at yesterday's Young Social Innovators finals in Croke Park in Dublin. 
Students from Scoil Mhuire Buncrana, Mulroy College, Abbey VS and Loreto Letterkenny were among the 33 shortlisted YSI teams from across Ireland in the challenge awards on Tuesday 8th May.
Transition Year pupils at Loreto Secondary School in Letterkenny and Mulroy College Milford achieved top awards at the event, which is aimed at addressing social issues in the community.
The Mulroy College YSI Team Our Answer After Cancer won the 'Make Our World Healthier – Physical Health' challenge award. They were guided by their teachers Ms Stewart and Ms Friel.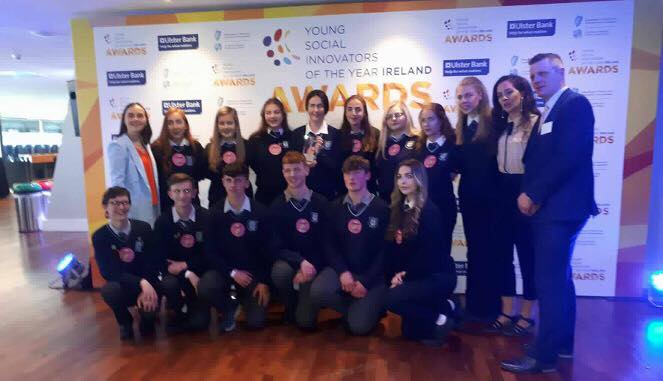 Two teams won from Loreto Secondary School:  Better Safe, Than Sorry won the 'Make Our Community Better' award and  F.R.E.E. – For Refugees Entering Éire won the 'Make Our Country More Inclusive and Poverty Free' award. Both teams were mentored by teacher Ms Siobhan McKeague.
All 33 shortlisted teams presented their projects to a panel of judges at Croke Park on Tuesday, followed by an Awards Ceremony at which the winning teams were announced. The prestigious award was presented by Sean Kyne TD, Minister of State at the Department of Rural and Community Development, together with Elizabeth Arnett, Head of Corporate Affairs at awards partner Ulster Bank and YSI Co-Founder, Sr Stanislaus Kennedy.
The Gold award, along with the title of Young Social Innovators of the Year 2018, went to Ardscoil Mhuire in Corbally, Co. Limerick whose project 'Sexting, Get the Message #keepitpg' posed questions about the lack of communication and education for young people around the topic of sex.
Rachel Collier, CEO and co-founder of Young Social Innovators, said: "Every year I am blown away by the work presented by the young people in the Young Social Innovators programme, and 2018 has been no different. Young people are one of our most valuable resources for fuelling social change, and at Young Social Innovators we are proud to capture their passion and to provide them with a platform on which to present their ideas and be heard."
Tags: