Clashes between Donegal and Cavan have been far from plentiful over the past few years.
Sunday's game will be the first time the sides have met in Ulster since 2012. Much has changed since then.
Donegal are onto their second manager since Jim McGuinness guided the side. Silverware has been tough to come by in the years since and eluded Rory Gallagher completely.
However, Declan Bonner has won the McKenna cup in his first year in charge which will give the side confidence moving on.
The last meeting of the two sides was last year in the national league when Donegal travelled to Breffni to take on their Ulster rivals.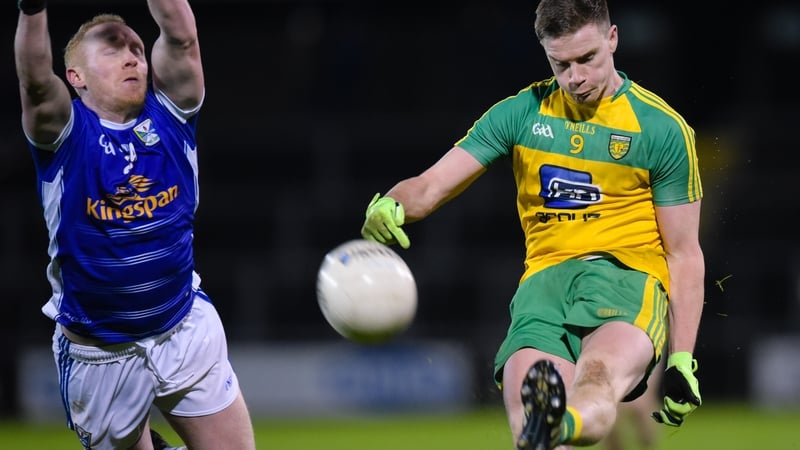 Cavan 0-11 1-16 Donegal, Sunday 4th March 2017
A mix of youth and experience started the game for Donegal but the visitors were missing some important players on the day. Donegal raced into a 0-5 to 0-0 lead inside the opening thirteen minutes, it took Cavan twenty-minutes to get their first score of the game. A red for Killian Clarke for the home team before half-time made their task even more difficult. Eoin McHugh's goal early in the second half put six between the sides and it proved to be a score that Cavan couldn't come back from.
Cavan: R Galligan, F Reilly, P Faulkner, K Brady, M Reilly, C Brady (0-1), G Smith, K Clarke, T Corr, M Argue, D McVeety (0-2), C Madden (0-2), N Clerkin, G McKiernan (0-3, 1f), S Johnston (0-3f)
Subs: R Dunne for Corr, N Murray for K Brady, S Murray for Argue, C Mackey for Johnston, J Dillon for F Reilly, J McCutcheon for C Brady
Donegal: MA McGinley, P McGrath, N McGee, EB Gallagher, C Ward, F McGlynn (0-1), E McHugh (1-1), J McGee, C Thompson (0-5, 1f), M Carroll, M O'Reilly, R McHugh (0-1), H McFadden (0-2), M Murphy (0-2f), D O'Connor (0-1)
Subs: J Brennan (0-3) for O'Connor, D McLoughlin for Carroll, M Langan for J McGee, E Doherty for McFadden, M McHugh for E McHugh, P Brennan for Gallagher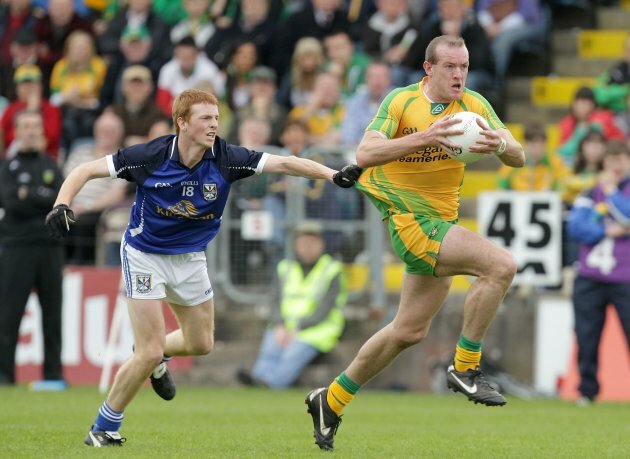 Cavan 1-10 1-16 Donegal, Sunday May 20th 2012
Donegal faced the trip to Cavan once again in the preliminary round of the Ulster championship in 2012. In what was the most successful year for the county since 1992, Donegal cruised to victory in Breffni. Cavan were leading the game 0-4 to 0-2 very early on but a Colm McFadden penalty and a strong end to the half put Donegal six up at the break. This was a lead they would refuse to surrender, and despite Cavan trying to force their way into the game, Donegal would go on to win by six. Colm McFadden in particular was on top form, showing the country exactly why he deserved to be nominated for footballer of the year in 2012.
Cavan: J Reilly; K Clarke, P O'Reilly, K Meehan; J McLoughlin, D Reilly, M McKeever; D Givney (0-2), G McKiernan (0-1); F Flanagan, R Flanagan, R Moloney-Derham; J Brady (0-1), E Keating (0-5), B Fitzpatrick. Subs: T Corr for Maloney-Derham, N McDermott (1-1) for Fitzpatrick, N Smith for F Flanagan, K Tierney for McKeever, R Galligan for Brady.
Donegal: P Durcan; P McGrath, N McGee (0-1), F McGlynn (0-1); A Thompson, K Lacey, Declan Walsh; R Kavanagh (0-3), N Gallagher (0-1); R Bradley, David Walsh, M McHugh (0-2); L McLoone (0-2), C McFadden (1-6), P McBrearty. Subs: M O'Reilly for Bradley, M McElhinney for David Walsh, D Molloy for Gallagher.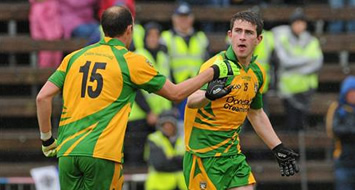 Cavan 1-8 Donegal 2-14, June 13th 2011
This Sunday will mark the first time that the sides have played in MacCumhaill Park over the past three meetings. The encounter in 2011 proved to be a big one in terms of Donegal football. It was Patrick McBrearty's first appearance as a senior footballer and the second victory for then manager Jim McGuinness. It took Paddy McBrearty that day to give Donegal the spark when he drilled low and hard to the corner before half-time. Colm McFadden then stepped up to the plate with some fine points after Michael Murphy had seen red. Going in 1-6 to 0-3 up at half-time Donegal were in cruise control and continued in the same manner for most of the second half.
Cavan: J Reilly; D Sheridan, P Carroll, D O'Dowd; N Murray, J McCutcheon, D Reilly, R Cullivan, D Givney, G McKiernan (0-1), M Lyng, F Flanagan (0-1), N McDermott (0-4, 3f), E Keating, S Johnston (0-1, 1f). Subs: G Smith for M Lyng, M McKeever for D O'Reilly, T Corr for D Sheridan, C Mackey for N Murray, M Brennan (1-1) for E Keating.
Donegal: P Durcan; K Lacey, N McGee, P McGrath; K Cassidy (0-1), A Thompson, Marty Boyle; R Kavanagh (1-0), K Rafferty (0-1), M McElhinney, P McBrearty (1-3, 1f), R Bradley; M McHugh, M Murphy (0-1, 1f), C McFadden (0-5, 2f). Subs: M Hegarty for M McElhinney, L McLoone (0-1) for K Cassidy, D Molloy (0-2) for R Bradley, N Gallagher for K Rafferty, D Walsh for M McHugh.
Tags: