Stevens Jewellers in Co. Donegal are celebrating the addition of 100 new Wedding Rings to their collections alongside a prestigious nomination in the North-West Bridal Awards. 
The popular Letterkenny wedding ring specialists are the only Donegal suppliers to be nominated in the Best Bridal Accessories category. Their attractive wedding ring packages, personalised service and beautiful jewellery collections make this store a go-to place for couples seeking precious pieces.
Stevens Jewellers have just added over 100 new and exclusive pieces to their wedding collection for 2018/19. Along with this extensive selection, they are looking forward to providing the same quality and value they have become celebrated for in recent years.
With wedding packages starting at €200 per set, the Main Street store presents an excellent selection and service for all couples.
Ladies' Wedding Rings at Stevens Jewellers:
Mens' Wedding Rings at Stevens Jewellers:
Wedding packages include free consultations, free personal inscriptions on rings and an engraved wedding coin as a symbolic gift.
Couples also receive a loyalty discount of 10% off all bridal gifts at Stevens Jewellers up to the wedding date. This is a welcome opportunity to get a reduction on jewellery for bridesmaids, groomsmen and children in the wedding party. Popular bridal gift brands at Stevens Jewellers include Knight & Day Jewellery, Kilkenny Silver, Rebecca, Dyrberg Kern, Cristallo Di Milano and the Swarovski Elements Collection.
The new 2018/19 Wedding Ring collection makes it much easier for couples to match their Engagement Rings perfectly in a wide range of designs and metals. The store also specialises in Irish Celtic Wedding Bands, which are admired for their unique, hand-crafted heritage qualities.
Book in store now and pay through the payment service plan up to the wedding date.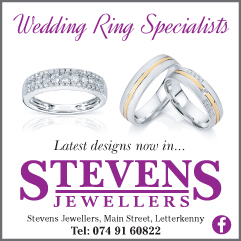 The team at Stevens are calling on customers to show their support by voting for them in the North-West Brides poll at http://www.north-westbrides.com/2018-best-bridal-accessories/. Voting closes on Friday 11th May 2018.
See why Stevens Jewellers are Donegal's leading wedding ring specialists and book your consultation today by calling 00353 (0)74 91 60822 or visiting www.stevensjewellers.ie
---
Sponsored Post
Tags: