Over 30 eager and enthusiastic young pupils from all corners of Donegal have received full Gaeltacht summer scholarships.
The Presentation of Scholarships took place in the Council Chamber on Wednesday night as part of the annual Donegal County Council Gaeltacht Scholarship Scheme.
The Scholarships were presented by the Cathaoirleach of Donegal County Council, Cllr Gerry McMonagle.  In attendance also was the Chief Executive, Seamus Neely, the Chairperson of Coiste na Gaeilge, Cllr. Micheál Cholm Mac Giolla Easbuig and Cllr John Shéamais Ó Fearraigh.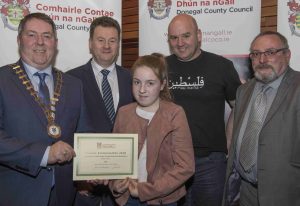 Donegal County Council is very grateful to the Gaeltacht Colleges of Donegal that support the scheme in a partnership involving joint funding between the Council and the Colleges.
The total value of the Scholarships each year come to an estimated €25,000 depending on the duration of the courses selected by the successful applicants.
The Scholarship Scheme has been in place for over twenty years now, with more than 600 pupils throughout the county having received full scholarships down through the years.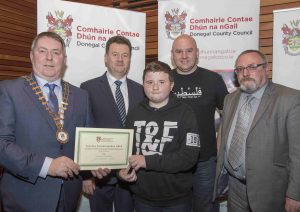 The Summer Colleges play a huge role in the economic life of the Gaeltacht, bringing jobs, income, retail customers and greater use of services. In return, the pupils get steeped in the rich native language of the Gaeltacht, and get a flavour of community and home life in the Gaeltacht. In addition to the courses and classes, many of the colleges offer a wide range of social events, activities, sports etc.
Most of the courses take place throughout the months of June, July and early August and feedback to the Council continues to be extremely positive.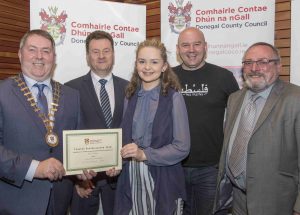 Scéim Scoláireachta 2018 Buaiteoirí –
Coláiste Bhun an Inbhir, Gaoth Dobhair:
Millie Allen
Patrick Mc Nulty
Cealum Mc Nulty
Teresa Sharkey
Fodhla Ní Fhearraigh
Coláiste Chara, Cill Charthaigh:
Sorcha Nic Aonguasa
Hannah Cunningham
Áine McGing
Donatas Zutautas
Ryan Johnston
Micheala Byrne
Joseph Stewart
Andrew Heward
Karen Harkin
Yusef Djedi
Coláiste Aoidh Mhic Bhricne:
Kayleigh Ní Bhaoill
Shauna Doherty
Jason Dobyn
Ciara McGee-Spratt
Erin Grant
Coláiste Árainn Mhóir:
Coláiste Chú Chulainn, Gaoth Dobhair:
Jessica Buchanan
Deirdre Brennan
Cait Ní Fhríl
Orlaith Cottrell
Coláiste Bhríde, Rann na Feirste:
Coláiste an Phiarsaigh, Dún Lúiche:
Lyndsey Mac Tomáis
Lauren Rowsome
Gráinne Coyle
Emma Ní Riain
Kelly McGeehan-Devir
Tags: