Big Life Fix is a new series which will be aired on RTÉ and it's calling for the people of Donegal to get involved.
The show will see Ireland's leading designers, engineers and computer scientists create ingenious and brand new solutions to a variety of everyday problems faced by people with life-altering disabilities.
This is a show designed to change lives for the better and we couldn't be prouder to be bringing this Studio Lambert format to Irish soil.
The series will look to help those struggling on a daily basis to ensure they can live a better quality of life with more freedom.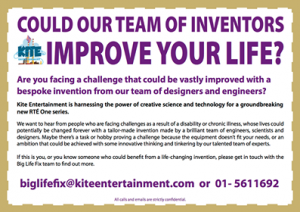 Tags: