This week Donegal Tile Centre are celebrating 30 years in business with a massive 3 Day Sale this Thursday 17th, Friday 18th and Saturday the 19th May:
To celebrate 30 years in business we are offering 30% discount off a huge selection of our products and with every purchase on these three days you will receive a Discount Voucher for Rossview Interiors.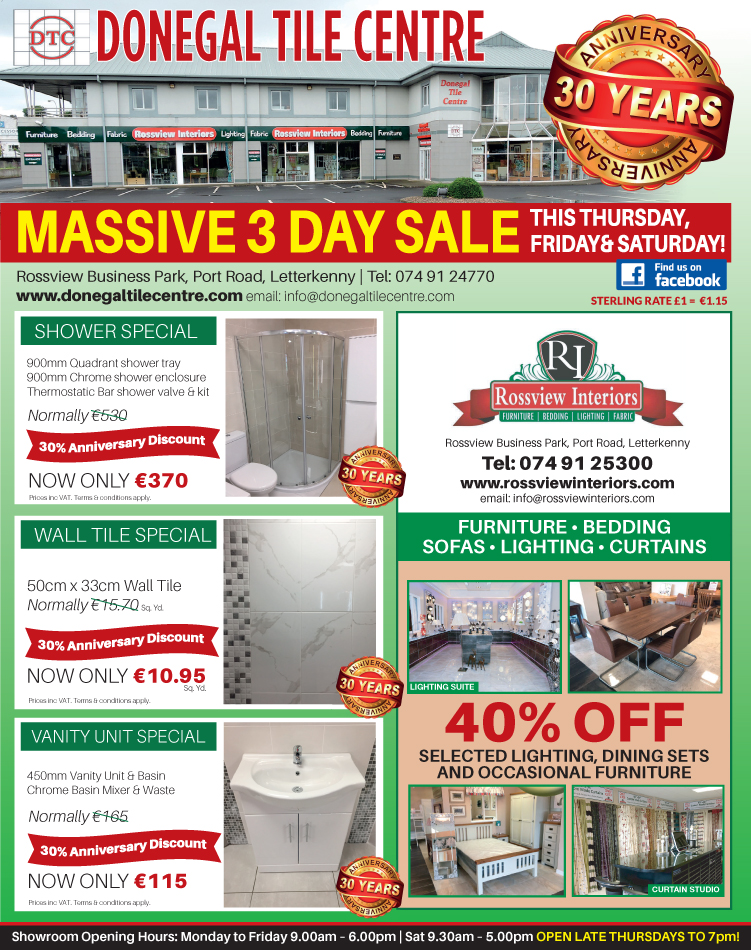 Donegal Tile Centre is rightly known as the North West's leading tile and bathroom centre since they opened in May 1988 at the Station Roundabout but as the business increased they outgrew the rented premises and acquired the site on Port Road. This move heralded a new era for the family business and they constructed Rossview Business Park which included their own state of the art showroom which opened in February 1999 and is still regarded as one of the best in Ireland. Donegal Tile Centre is part of Mc Gonagle Group which is owned by the Mc Gonagle Brothers, Eddie, Kevin , Hugh and Denis from Malin
E Mc Gonagle & Sons which is another part of the business, are also well established plumbing, heating and mechanical contractors trading since 1968 when the business was set up by their late father Eddie and have been since renowned for quality workmanship throughout the North West.
Their retail and trade business Allied Plumbing & Heating in Malin was set up in 1980 but they felt the need to expand and hence the move to Letterkenny and Donegal Tile Centre was set up.
The highly successful Donegal Tile Centre is rightly proud of their success which they believe is only achieved by hard work and the huge effort from their dedicated staff to continually maintain a high level of customer satisfaction. "The focus from the start was to provide quality products in a prime location with easy access for customers. There stunning showroom and warehouse contains one of the largest collections of tiles and bathroom suites in the North West and the well laid out and coordinated showroom will aid any customer in choosing the perfect solutions for your home. Expert and welcoming staff are always on hand to help you and with in excess of 100 parking spaces it makes it an ideal location for customers to shop.
Then in July 2013 Rossview Interiors was set up expanding the business into Furniture, Bedding, Lighting and Fabric which has proven to be a huge success as it complements the existing product range and now offers the customer a ONE STOP SHOP FOR ALL THEIR INTERIORS and is now appropriately known as 'The Home of Better Deals'
In addition 'Carpet Right' and 'Heatmerchants' are also located in Rossview Business Park so it makes great sense for anyone building or renovating to make that one stop visit and while you're there why not pop in to Sonder Café for a cuppa!
Donegal Tile Centre has become recognised as the foremost regional provider of top quality, stylish and exclusive design products. Some of the latest products are large format tiles such as 240cm x 120cm, 120cm x 120cm and 120cm x 60cm, a large cry from 15cm x 15cm sold back in 1988! Donegal Tile Centre offers the services of a tile design consultant who can visit your home and discuss your requirements. They also offer a comprehensive tile fitting service.
Massive Sale
The Massive Sale is on this Thursday 17th, Friday 18th and Saturday the 19th .
To celebrate 30 years in business we are offering 30% Discount off a huge range of our products and with every purchase you will receive a 'Discount Voucher' for Rossview Interiors.
SHOWROOM OPENING HOURS:

Monday to Friday 9.00 am – 6.00 pm
Saturday 9.30 am – 5.00pm and late opening on Thursday until 7.00 pm
e-mail:   info@donegaltilecentre.com
---
Sponsored Post
Tags: