The heart is arguably the most important organ in our bodies.
And at the North West Independent Hospital in Derry, the huge emphasis we place on our Diagnostic and Investigative Cardiology Services is a reflection of that.
We offer a diagnostic and investigative Cardiology Clinic within the hospital. This Consultant-led clinic offers a comprehensive cardiology service to patients with a range of different heart problems.
Each of our Consultants offers specialist advice that will be tailored to your exact needs and specific health concerns.
Depending on the complaint you are suffering from, you may be offered one or a number of the following diagnostics or treatments:
• ECG (Electrocardiogram)
• Echocardiogram
• Exercise Stress Test
• 24 hour heart and blood pressure monitoring
• Blood tests
• Chest x-ray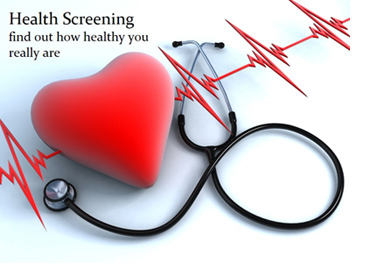 Your Consultant will discuss your results, prescribe medication if required, and arrange further diagnostics which may be required at the time of your consultation.
Our clinic is fully equipped with the latest cardiology equipment and technologies, ensuring detailed results that allow us to determine an accurate treatment plan for you.
Your GP may refer you to our Cardiology Clinic if you show signs of the following:
• General problems with your heart
• Complex or uncontrolled high blood pressure (hypertension)
• Arrhythmia (slow or fast heartbeat or palpitations)
• Shortness of breath
• Heart failure

The cardiology services we provide are delivered by our experienced Consultants who specialise in different areas of cardiac management and care.
We have expertise in areas such as valvular disease, electrical pathway studies, and hypertension. Our specialist team of nurses provide support for hypertension, arrhythmia and chest pain.
Professional Advice on Cardiac Prevention and Rehabilitation
Our Consultants and our support team deliver a cardiac prevention and rehabilitation programme designed to help patients with a heart condition to improve their outlook. This may be by helping you to make healthy changes, to get back on your feet or to prevent further heart problems.
We also help patients at high risk to make the necessary changes to prevent stroke and heart disease.
Our cardiology services are tailored to suit the needs of each patient. Through diagnosis using our state-of-the-art equipment, we can determine which treatment will be best to suit your needs, and how to plan your ongoing care.
Each member of our cardiology team is trained and qualified to offer excellent patient care, advice and treatment.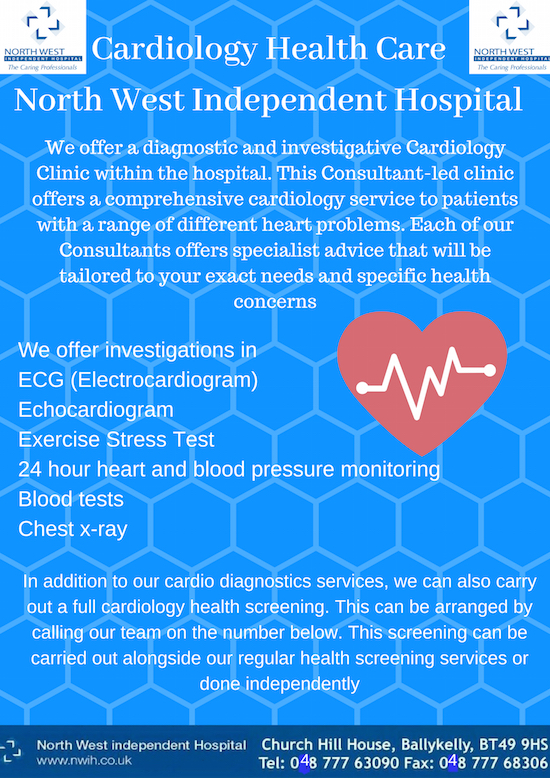 Arrange an Appointment at Our Next Cardio Clinic
In addition to our cardio diagnostics services, we can also carry out a full cardiology health screening. This can be arranged by calling our team on the number below. This screening can be carried out alongside our regular health screening services or done independently.
Whether you suspect you may have a heart problem, or you are trying to get yourself into better shape, a cardiology health screening can be very insightful.
Here at the North West Independent Hospital, we offer a range of cardiology diagnostic and treatment services, and all can be carried out within our modern and hygienic facilities.
Our Consultants can work closely with you to help you to keep your heart and cardiovascular system in perfect working order, or recover from surgery.
Regular health checks act as an early warning system and are a significant investment in your future well-being. They give you the opportunity to discuss any concerns you may have with a medical practitioner and also to seek advice on how to develop and maintain a healthy lifestyle.
All health screening is provided by our Consultant Cardiologists.
Our Health Screening Programme is designed to provide maximum flexibility and choice.
Consultations include: baseline investigations, male and female blood profiles, resting ECGs, exercise stress testing, prostatic screening and bowel screening.
Onward referral will be organised for any further follow-up or investigations which may be necessary.
A full written report will be forwarded to you by post.