On a number of fronts, Declan Bonner looks at Carl McHugh and wonders what might have been.
Bonner coached McHugh at underage level at Na Rossa, but by the time McHugh had reached his mid-teens it was evident that Na Rossa would soon be waving goodbye.
McHugh was perhaps Na Rossa's best prospect since the flame-haired Bonner. Although now the Donegal senior manager, Bonner remains deeply involved at Na Rossa and remains the club chairman.
McHugh's career path took a different twist when he went to Reading at 16. Now 25, McHugh will captain Motherwell in tomorrow's William Hill Scottish Cup final against Celtic at Hampden Park.
It will be his third major Cup final appearance. In 2013, he played for Bradford as they lost out to Swansea in the Capital One Cup final at Wembley and in November he skippered Motherwell to the League Cup final against Celtic; a game won 2-0 by Celtic. McHugh was also on the losing side at Wembley when Plymouth Argyle were beaten by Wimbledon in the League Two play-off final.
Bonner believes that McHugh would have been a contender for the Donegal seniors had he not headed across the water.
"I coached him at different times and he was a clear standout," Bonner says.
"Carl carried us from the middle of the park. He racked up big scores in every game he played."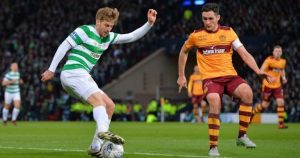 "He would definitely have gone on to play at county level. He was strong and forceful – that was just the way he played. He was outstanding at Gaelic football."
McHugh had a trial at Celtic in the company of Brian McGroary and a certain Patrick McBrearty.
The late Tommy Burns was among those who were close to the Donegal trio during their time at The Hoops and they acted as ball boys for a Champions League tie against Spartak Moscow at Celtic Park.
Celtic were keen for them to go back, but they never got the chance again. Burns became ill and changes were afoot at the Celtic youths.
It was a tale that Bonner could relate to.
In the early 80s, when he was doing his Leaving Cert at Rosses Community School, Bonner went back and forth regularly to Glasgow, where he trained with Celtic alongside Charlie Nicholas, Danny McGrain and Roy Aitken.
He lived with Packie Bonner and the Celtic manager, Billy McNeill, was keen for the flame-haired Rosses teenager to sign after his exams.
McNeill, though, left for Manchester City and Bonner's big chance vanished before his eyes.
That winter, of 1983, Bonner was called into the Donegal senior panel by Brian McEniff and the rest is history
McHugh's chance at Celtic was similar in ways, but soon he was packing his bags and leaving for Reading.
"Carl's attitude was always top class," Bonner says.
"Everything he did, he did it right. He had all the attributes to play soccer or Gaelic football at a high level; no doubt about it. It was hard for Na Rossa to lose a quality player. They are few and far between with us and he was a big loss. But he has gone on to greater things and the whole area is behind him.
"Carl never forgot where he came from. He came back and played a couple of games for Na Rossa when he was at Reading and even when he was at Bradford."
Bonner has an affinity to Celtic, but is a big Aston Villa fan and McHugh famously helped Bradford defeat Villa in the 2013 Capital One Cup semi-final.
It was around that clash that McHugh famously explained he was from Lettermacaward – 'a one horse town without the horse!'.
The Rosses and Celtic have always been joined at the hips and the legions will travel for tomorrow's final again. The majority of them will be shouting on the Hoops, but a small connection of them will be rooting for the Steelmen and their warrior captain, who overcame a career-threatening head injury to go on to become Motherwell's captain.
The long scar above his right eye is a war wound from a head clash with Dean Hawkshaw of Kilmarnock in August 2016.
It kept him out for four months, but McHugh – who admitted he questioned himself and his future during his time off – was back again and named captain last summer.
"To be captain of a side like Motherwell shows how highly he's regarded," Bonner says.
"All the focus now will be on winning the final, but it will be interesting to see what happens Carl now. He's only 25 and captain of a team in the Scottish Premier League."
McHugh has been capped for Ireland up to Under-21 level and is surely at least on the radar of senior boss Martin O'Neill.
Bonner says: "Carl is so determined. You can see that. He'd pop in to train at Na Rossa when he's home now. He'll still go for the 40-60 ball, you can see it in a 4v4 or an in-house game; he'd stick his head where others wouldn't put a boot.
"He was always very determined to win. It's great for our area and great for Donegal to see Carl being the success he is."
Tags: