Two goals in the opening tweny minutes, both by the alert Man of the Match James Kerrigan, set Donegal Town on their way to taking the Voodoo Venue Cup against Cappry Rovers Reserves at Orchard Park in Convoy.                                                                CAPPRY ROVERS RESERVES    0   V   4     DONEGAL TOWN RESERVES                                                                 Cappry got an early warning of what was to come in the fifth minute , when Gary Ward's excellent cross from the right wing found James Kerrigan in the box but his first touch let him down and the chance was gone. Donegal Town were on the front foot from the start and looked the more likely going forward.                They took the lead in the 14th minute when the quick thinking Sean Boyle slid a free-kick through to Kerrigan and he applied a cool finish. Four minutes later Ronan Mc Hugh almost made 2-0 when his flick from Eoin Slevin's free-Kick clipped a post and when wide. However a minute later Donegal Town did add a second goal. John Paul Byrne's long ball forward from half-way wasn't dealt with by the Cappry defence and in nipped Kerrigan to head neatly passed Eoghan Gallen.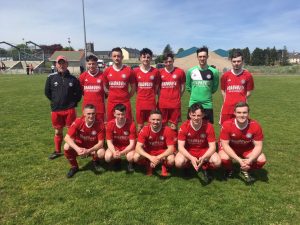 Conor Mc Hugh was almost in but was denied by Gallen in the 33rd minute and then at the other end Cappry finally produced something going forward but Darren Kelly was blocked out after doing well to create a goal chance. In the 41th minute it was pretty much game over, Ciaran O Reilly played a super pass for the inrushing Gary Ward and he applied a cool lobbed effort into the far corner of Gallen net giving the advancing keeper no chance. At 3-0 in Donegal Town's favour at the break it looked very much game over.                                                                                   Charlie Collins was in Orchard Park.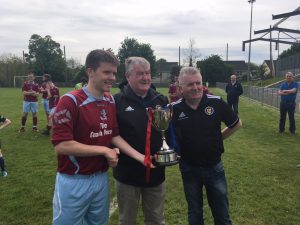 Following an opening quarter which produced very little in terms of goalmouth action it was Donegal Town who scored again to end any slight hope of a Cappry comeback. David Bustard's long ball forward sent Eoin Slevin in the clear and he kept his cool before drilling a cracker past Eoghan Gallen to make it 4-0. And that was very much that with both teams clearing their bench to give everyone a run-out. An impressive performance by Donegal Town Reserves from start to finish to take the Voodoo Venue Cup for the first time.                                     CAPPRY ROVERS RESERVES ; Eoghan Gallen , Kieran Neeson , David Carr ( Tony Carlin 85mins ), Pete Lafferty , Andrew Walsh , Paddy Long ( Sean O Donnell 57mins ), Niall P McDaid ( Liam Gallagher 80 mins ) , Conor Scanlon ( Kyle O Meara 70mins ), Kyle Lafferty , Joel Bradley-Walsh , Darren Kelly ( Cian McGlynn h-t ).                                                                                                                         DONEGAL TOWN RESERVES ; Enda Kenny , David Bustard ( Aaron Gallagher 85mins ), Shaun Kennedy ( Noel Gavaghan 70mins ), Ryan Hegarty , John Paul Byrne , Sean Boyle , Gary Ward ( Ben Sweeney 63mins ) , Ciaran O Reilly ( Avi Rosenthal 70mins ), Ronan McHugh , Eoin Slevin , James Kerrigan ( Stephen Curneen 75min ).                                                                                                     REFEREE ; Dessie Mc Laughlin. Assistants ; Mick Lagan and Joe Mc Hugh.