Some of the pro-life campaigners behind last week's white crosses display came together for another event on Sunday in Inishowen.
A group of 'No' campaigners had planted 17,000 white crosses along one of Donegal's busiest roads last week ahead of the May 25th referendum. A number of the crosses on the Letterkenny to Bridgend road had to be removed by Donegal County Council due to road hazards.
On Sunday afternoon, a gathering was held on Lisfannon beach outside Buncrana to reuse the white crosses. Locals spelled out 'Love Both Vote No' in a display designed "to show support for life", they said.
In an advert on Facebook, the group said crosses were pulled up by Yes campaigners on the N13 road "in an effort to censor the symbolic display of innocent lives that will be lost if the 8th amendment is repealed."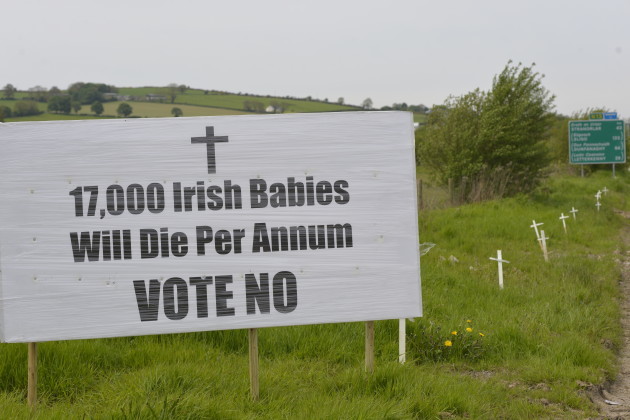 The 17,000 crosses were intended to demonstrate the number of abortions which they believe will occur per year if the 8th amendment is repealed.
Donegal Pro-Life has distanced itself from the white crosses to say they 'had nothing whatsoever to do with it'. In a statement, they said they were unaware of the demonstration until Friday. "This was done by a group of individuals and in no way sanctioned by DPL," they said.