Leo McLoone has been one of the most important and influential figures to Donegal GAA in recent years.
The imposing figure from Glenties has taken hit after hit and covered every inch of MacCumhaill Park on multiple occasions.
In the tie against Cavan we seen McLoone at his very best. Defensively he was his usual reliable self, winning tackles, making blocks and most importantly forcing turnovers.
McLoone is well used to playing a full on committed role like this. Under McGuinness his work ethic from centre-forward was integral to how the team played. Rarely used as an orthodox ball playing number 11, McLoone had a much more important role.
He blocked teams from breaking out of defence at pace, sometimes having to make a foul, other times simply slowing them up and on many occasions winning the ball back to start the counter-attack.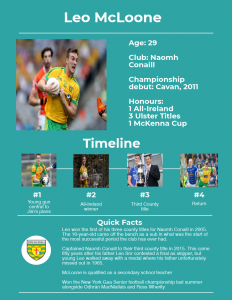 Against Cavan we seen much of the McLoone of old. Working around the middle sector non-stop and making contact at every possible opportunity. But for so many years what McLoone hasn't gotten enough praise for is his ability on the ball.
Few players can take a tackle like him, but in terms of making carries when yards have to be made, he's the go to man. Above all that we got to see the class he has with his feet against Cavan, his effort off the left-foot in the second half was nothing short of sublime.
This was the supposed weaker foot of the Glenties man, but he showed us exactly that he is much more than just a hard-working footballer.
Standing at six foot, McLoone is very much a commanding figure, and his ball carrying ability was highlighted at it's very best when he set up Michael Murphy for Donegal's second point of the game.
McLoone drove forward at pace to around the edge of the D holding off two Cavan men in the process. He seen Murphy coming on the loop and he blocked his marker before slipping the ball off leaving the Glenswilly forward with an easy score.
It was something that we have seen Donegal sides do multiple times over the past few years. Very similar to the loop-around so often performed by Johnny Sexton for Ireland in the way it blocks a defender and gives the attacking player space.
A highly effective move and one that McLoone can do so well due to his strength. He is certainly one of the first names on Declan Bonner's team sheet and another big performance will be expected from him against Derry.
At twenty-nine McLoone is one of the more experienced members of the panel and has won everything that there is to win for Donegal. There is in fact only three members of the current squad older than McLoone. Club teammate Anthony Thompson, Neil McGee and Frank McGlynn, showing how important his experience is.
After taking time away from the panel in recent years it's very clear to see that McLoone was indeed a big loss to the team.
Tags: