The Northern Ireland Bat Group and Bat Conservation Ireland have teamed up to launch the Donegal Bat Group to help protect and raise awareness on these amazing mammals across the county.
The Donegal Bat Group will organise a special event in Buncrana on Friday 24th August 2018 @8pm to officially launch the group.
Bats are small, shy, harmless mammals that are vulnerable to disturbance. Full protection in law makes it an offence to harm or disturb bats as well as the places where they live. There are currently nine species of bats known to live and breed in Ireland.
With a wingspan of 12 cm, Leisler's bat is our biggest species weighing in at around 15 grams, less than a packet of crisps. Our smallest bat, the pipistrelle can eat over 3000 midges in one night. Bats would surely make great guests at any barbecue or even on a calm day at the bog!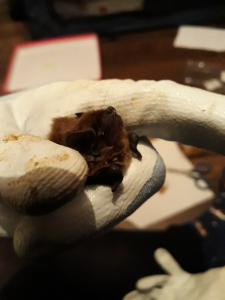 Families are invited to come along and learn all about bats at the event in August which will kick off with a slide show all about myths surrounding bats and why they need our help. Young bat enthusiasts will make their own bat mask and everyone will get to meet a real rescued bat to highlight how misunderstood they really are.
The best is saved until last when everyone goes on a guided moonlit safari with special bat detecting equipment to 'hear' bats foraging along the Crana River. The event is free but booking is essential as places are limited.
Karen Healy, Chairperson of the Northern Ireland Bat Group outlined why bats need our help.
"Bats continue to be one of the most misunderstood mammals on the planet, they are not related to rodents but in fact are more closely linked to dogs than rats or mice.
"They do not build nests or chew wires and they only have one baby (pup) a year so their population doesn't increase dramatically the way rodents do. Bats are very gentle, intelligent and above all adorable mammals – we invite people living in Donegal to come along to our event and see for themselves."
To book email: chair@bats-ni.org.uk.
Suitable for children aged 7+. All children must be accompanied and supervised by an adult.  Visitors should wear a warm waterproof coat and strong footwear. Event is also weather dependent so in the event of wet/windy weather it will be rescheduled.
More information and venue can be found on the group's Facebook page: www.facebook.com/DonegalBatGroup
Tags: