Ciara McGarvey scored the only goal of the game on Wednesday evening as Kilmacrennan Celtic won the Donegal Women's League U16 League, while it's tense at the top throughout the other grades. 
U16 LEAGUE
Kilmacrennan Celtic 1 Lagan Harps 0
Ciara McGarvey's goal after just 30 seconds ensured that Kilmacrennan Celtic won the Donegal Women's League's Under-16 League at Lurgy Park on Wednesday evening.
McGarvey fired a fine effort beyond the reach of Neve Scanlan, the Lagan goalkeeper, as Kilmac won the title shoot-out by the narrowest of margins.
In a winner-takes-all tie, McGarvey's goal made all the difference.
It was set up for a grandstand finale with just a point separating them heading into this one and it was Kilmac who had the edge, even though a draw would have done it.
After McGarvey's goal, Molly Page riffled wide from the right-hand side and after Lagan had a penalty claim waved away by referee James Malseed, Shannon Cunningham rose a shot just over the top as Lagan began to probe.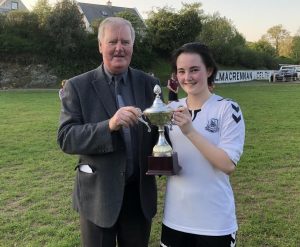 It was end-to-end stuff with Jenny McGettigan's shot going over the bar for the hosts.
But Lagan had a bit of pressure at the end of the first half and Brid McGinty's team might have been level. Erin Doherty had just too much height on one effort and a brave block by Aoife Kelly kept the visitors at bay.
Kilmac could have repeated the early-goal trick at the outset of the second half, but Scanlan saved superbly from Page after she was put through by McGettigan.
The same two players were at it again soon after, this time McGettigan shooting into the side-netting after Page beat Scanlan, who thwarted Grace Doherty midway through the second half.
Kilmac' fielded Coilín Hume, a defender, in goal and she managed to keep a clean sheet with a couple of excellent second-half saves, including one she turned onto the post when a goal seemed inevitable.
Kilmacrennan Celtic: Coilín Hume, Aoibhe Gallagher, Chelsea Gorman, Niamh McBride, Ciara McElwaine, Molly Page, Amy McLaughlin, Helena McGee, Jemma McFadden, Aoife Kelly, Ciara McGarvey. Subs: Katherine Black, Jenny McGettigan, Grace Doherty.
Lagan Harps: Neve Scanlan, Maria Bonar, Erin Doherty, Holly Canning, Lucy Canning, Shannon Cunningham, Emily McDevitt, Orla McGrath, Courtney Gallagher, Casey Barrett, Brenna Dunne. Subs: Niamh Sweeney, Niamh Monaghan.
Referee: James Malseed.
UNDER-12 LEAGUE
Lagan Harps 5 Finn Valley 1
Lagan had a great result on Monday evening against one of the stronger teams in the league. Orlaith Doherty was on fine form scoring four and Tanya Gillen scored direct from a corner.
Lagan opened the scoring as Orlaith Doherty blocked a clearance from young Aibhe McMenamin in the Finn Valley goal. Lagan extended the lead with Orlaith scoring again after Sine Harris Ryan and Kelsey Gallagher combined well on the right and played a through ball to Orlaith.
Maria Kelly for Finn Valley was having a great battle defensively.
Tanya Gillen then scored directly from a corner. With five minutes to half time Kim Logue raced through and scored for Finn Valley.
Orlaith Doherty responded for Lagan when she linked up with Sophie Canning and Aileen Sweeney. Sheila McElchar marshalled the defence for Finn Valley in the second half and made some great blocks.
Claire Diver pulled of a great save from Sonia Gallagher. Amy Doherty saved twice from Sarah Conaghan.
Mia Devenney and Shauna O'Donnell were excellent in defence.
Amy Moore was introduced and linked up with Orlaith Doherty to finished the scoring.
Best for Lagan Mia Devenney and Orlaith Doherty, while Avelina Ward, Caitlin Kelly and Laura Farry impressed from Finn Valley.
Bonagee United 0 Kilmacrennan Celtic 2
In a very tight and hard fought game kilmac came out on top with a 2-0 win over local rivals Bonagee.
Sarah McFadden got the first for the Kilmac girls. After a ball was played in from the right side to McFadden cooly slotted it into the corner of the net.
Bonagee were pushing hard and nearly got in on goal a few times with Grace Murphy and Sienna Doherty, but Siobhan Cameron played a pivitol role in the back for Kilmac.
Maeve Brady got Kilmac's second with 17 minutes gone in the second half.
Bonagee tried hard to fight back with Murphy's shot just going over the bar and their runs being cut out by the influential Cameron.
Best for Kilmac were Lauren Doherty, Siobhan Cameron and Maeve Brady.
Best for Bonagee were Katherine Hopkins and Aimee Cassidy.
Mulroy Academy v Gweedore United
In beautiful weather conditions on Monday evening, Mulroy M played host to a courageous young Gweedore side.
Clodagh Heron wasted no time getting her name on the scoresheet with a fine goal just seconds into the match.
This was followed soon after by two goals in quick succession from Megan McLoughlin. Some fine passing from Mulroy M saw Eva Blaney and Rachel Friel add to Mulroy's tally.
Although Mary Ann Ward broke away with some fine runs up the pitch, the Mulroy defence of Leah McLoughlin, Maeve McAteer and Olivia Friel ensured that her efforts were in vain. In the second half, Clodagh Heron completed her hat-trick while Hannah Gibbons added two goals. Two further goals from Olivia Friel left Mulroy well out of Gweedore 's reach.
There were good performances from Nadia McGee, Koraleigh McFadden, Neasa McFadden and Marie Gallagher for Gweedore, a young team who battled hard from start to finish.
Another solid team performance from Mulroy M sees them retain their position at the top of the league with only one goal conceded along the way.
FIXTURES
Under-14 League, Friday May 25, 6.30pm
Swilly Rovers v Gweedore United
Raphoe Town v Bonagee United
Illistrin v Mulroy Academy
Finn Valley v Kilmacrennan Celtic
Under-12 League, Monday May 28, 6.30pm
Raphoe Town v Lagan Harps
Finn Valley v Bonagee United
Kilmacrennan Celtic v Mulroy Academy
Gweedore United v Swilly Rovers
Mulroy (S) v Illistrin
Under-12 League, Wednesday May 30, 6.30pm
Illistrin v Raphoe Town
Under-14 League, Wednesday May 30, 6.30pm
Gweedore United v Lagan Harps